Top 5 Best Total Gym Models – Find the One For You
**We sometimes add affiliate links to our posts which mean we are compensated if you make a purchase after clicking on the links. This helps us offset the costs of running this site.**



Are you looking for the Best Total Gym? Then you are in the right place! These hugely versatile home gym machines are a great way to get fitter and stronger from home.
They use a combination of your body weight, gravity, and cable pulleys to provide a total body work out. They are hugely popular and can be seen in homes, gyms, and alongside Chuck Norris in infomercials.
While there are other brands that offer similar equipment using pulley systems and inclines, Total Gym was there first and has built a reputation for providing quality workouts.
In this article, we will compare different models to help you find the best Total Gym for your needs.
What is Total Gym?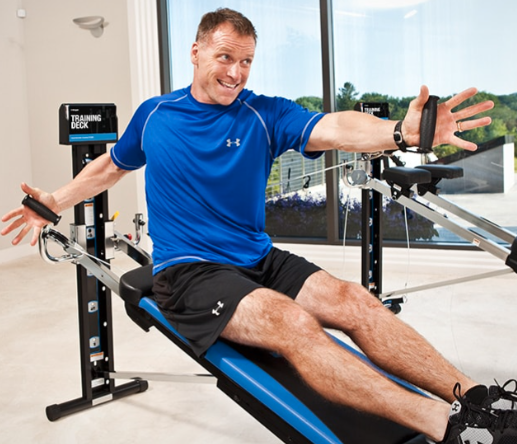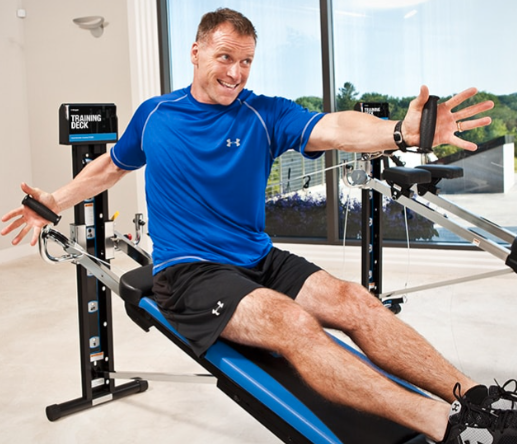 The Total Gym is a unique piece of fitness equipment that utilizes your body weight and gravity to provide resistance for a variety of exercises. Unlike traditional home gyms that rely on external weights, the Total Gym uses a sliding board and pulley system to challenge your muscles.
One of the biggest benefits of the Total Gym is its portability and the ability to change exercises without stopping to adjust weights.
The adjustable height of the slide board allows for a customizable workout, as a higher setting will increase the resistance by lifting a higher percentage of your body weight, while a lower setting will decrease the resistance by lifting a smaller percentage of your body weight.
The Total Gym also allows for a full range of motion during exercise and depending on the model, there are hundreds of exercises that can be performed for the arms, legs, and core.
Total Gym has been producing exercise machines for over 30 years and there are currently several versions of the popular home gym available on the market.
Each model has its own unique features and attachments, but they all utilize the same principle of using your body weight and gravity as resistance.
Best Total Gyms Compared
Total Gym FIT
Total Gym XLS
Total Gym GTS
Exercises
85+
80+
250+
Resistance Levels
12
6
22
Attachments
AbCrunch
Leg Pull
Upgraded Squat Stand
2-piece Wing Attachment
Leg Pull
Ribbed Squat Stand
Wing Attachment
Telescoping squat stand
Scrunch
Retractable dip bars
3 grip pull-up bar
+ loads more
Weight Capacity
450 lb
400 lb
650 lb
Warranty
Lifetime frame, 2 year parts
Lifetime frame, 6 month parts
5-year Warranty on Frame,
1-year Warranty on Parts
Price
$$$
Check Price Here
$$
Check Price Here
$$$$


Check Price Here
Total Gym FIT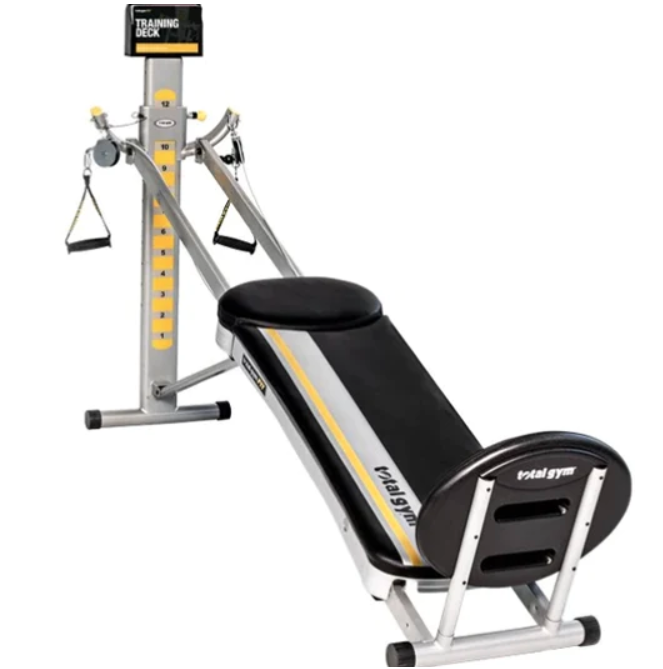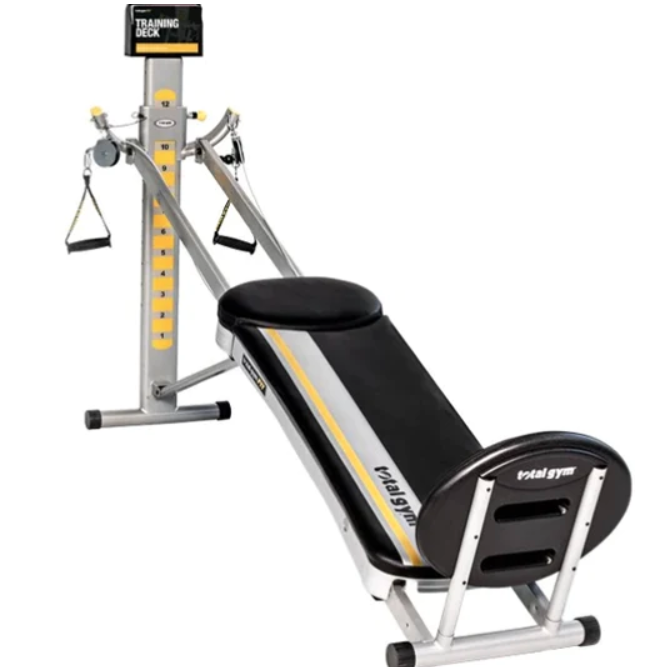 The Total Gym FIT model stands out as the most versatile option among the available models. It is more compact than the XLS model, yet offers a higher maximum load capacity and twice as many resistance levels.
It also comes with an Ab Crunch accessory, which allows for targeting the core in unique ways – this is worth $160 on its own.
The ergonomic glide board and redesigned wing attachment provide comfort and a wider range of motion for targeting muscles from various angles. However, some users have noted the small foot push plate and difficulty in completing the initial setup as potential downsides.
Overall, the Total Gym FIT is a great choice for those seeking the most variety in their workout and we think that it is the best Total Gym for most people.
We think that it is worth the extra money compared to the XLS whilst most people will not want to spend nearly $4000 on the GTS.
Pros
The ergonomic glideboard is more comfortable
Improved wing attachments
Ab Crunch attachment included
Cons
The foot push plate is a bit small
Total Gym XLS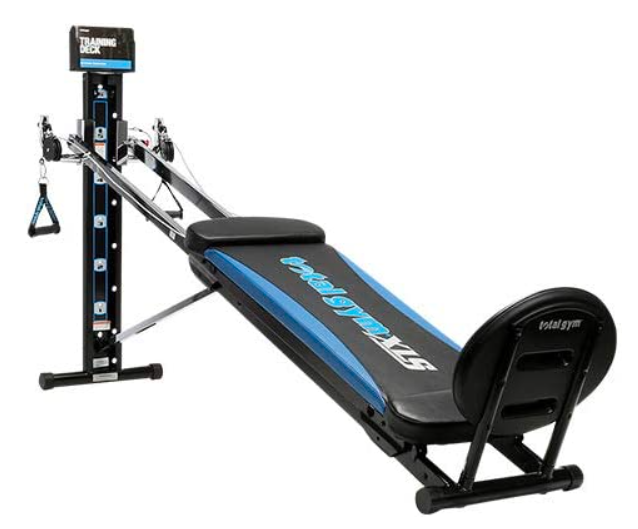 The Total Gym XLS is a versatile model that offers a balance of features from both heavy-duty and lightweight models. It boasts a weight capacity of 400 pounds, which is a combination of your body weight and additional weight plates.
The XLS also has the added benefit of being able to fold into a compact form, allowing it to easily fit under a bed or in a closet, significantly reducing its footprint.
With the XLS, you will have access to over 80 different exercises, six resistance levels, and the ability to adjust the amount of resistance contributed by your body weight.
If you're looking for a Total Gym that provides maximum resistance while taking up minimal space, the XLS is a great choice.
Pros
400-lb. max capacity
Bodyweight resistance adjustment from 0-54%
80+ exercise options
Cons
Fewer resistance levels than other models
At 82 lbs., the unit will be heavy for some users
Total Gym GTS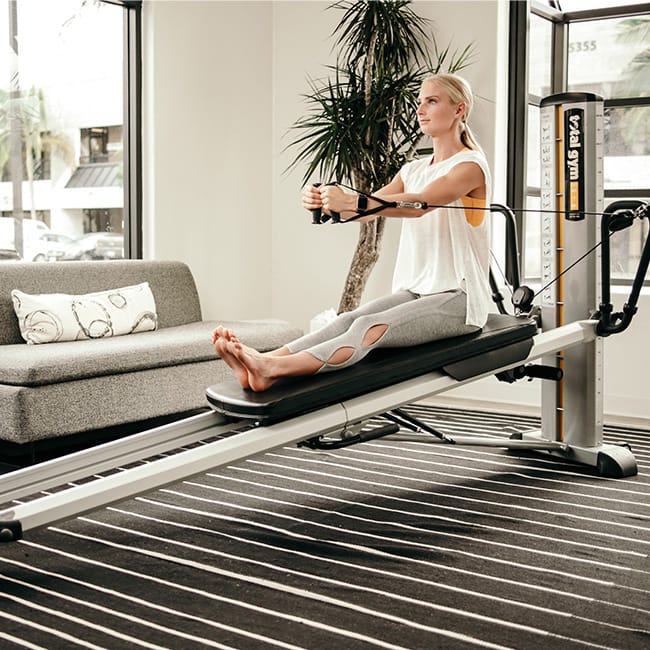 The Total Gym GTS is a high-performance model for advanced athletes seeking to take their fitness to new heights. Boasting a 650-pound weight capacity, the GTS presents a challenge even for the most seasoned athletes.
It's quite a bit more expensive than the other models as this is a commercial-grade Total Gym machine. If you are looking for the best total gym then this is it.
Total Gym GTS Specs
Dimensions: 106″ x 38″ x 57″
Weight: 180 lbs.
Maximum load: 650 lbs.
Resistance levels: 22
Number of exercises: 250+
Despite its compact design, the GTS is quite heavy at 180 pounds and may be difficult to move about this is a disadvantage compared to the other total gyms which are designed to be easy to pack away.
The GTS does fold up but it's still quite bulky compared to the other Total Gyms. If space is an issue for you it's worth noting that this machine is generally a but bigger and longer than the other models.
The Total Gym GTS provides the most comprehensive workout experience with over 250 exercises and enhanced features, such as a squat stand and a telescoping platform. It's an impressive piece of kit and if you aren't concerned about budget then go for this one.
Pros
Huge variety with over 250 exercises
High 650-lb. load capacity for use of weights
Squat stand and Pilates platform included
Cons
Very heavy unit
Bigger, longer and taller than other models.
One of the best things about Total Gym is that you can try them for yourself for free!
If you buy direct from Total Gym you get an amazing 30 days to try it out risk-free. If you don't like it you can just send it back and get a refund. It's an amazing offer and I think it's well worth giving Total Gym a try!
What is the Best Total Gym Model?
The Total Gyms described above are the three models that are currently available direct from Total Gym. To be honest, if you are looking for the best Total Gym, I would go for one of these three models:
The Total Gym GTS if cost isn't an issue and you just want the best Total Gym money can buy.
The Total Gym FIT is probably the best model for most people it has huge versatility, great build quality, and a good range of attachments.
The Total Gym XLS is also a great machine and is a great choice for anyone who is new to exercising at home or who is on a budget.
Other Total Gym Models
There are also quite a lot of other Total Gym machines that are still available from places like Amazon, so in the rest of this round-up of the Best Total gym models, I will focus on some of the best older Total Gym models.
These generally have fewer features than the latest models but the general design principles are the same and you might be able to get a Total Gym model that does everything you need it to for a nice low price.
So let's look at the best of the rest of the Total Gyms out there.
Total Gym APEX G5
Total Gym 1900
Number of Exercises
80+
60+
Levels of Resistance
10
12
Maximum User Weight
375 lbs
350 lbs
Attachments Included
4
2
Dimensions (WxLxH)
93 x 17.5 x 43.25 inches
92.5 x 16 x 43.2 inches
Unit Weight
53.2 lbs
75 lbs
Warranty
1 year warranty on Frame
1 year on frame
Price
$

Check Price HERE
$

Check Price HERE
Total Gym 1900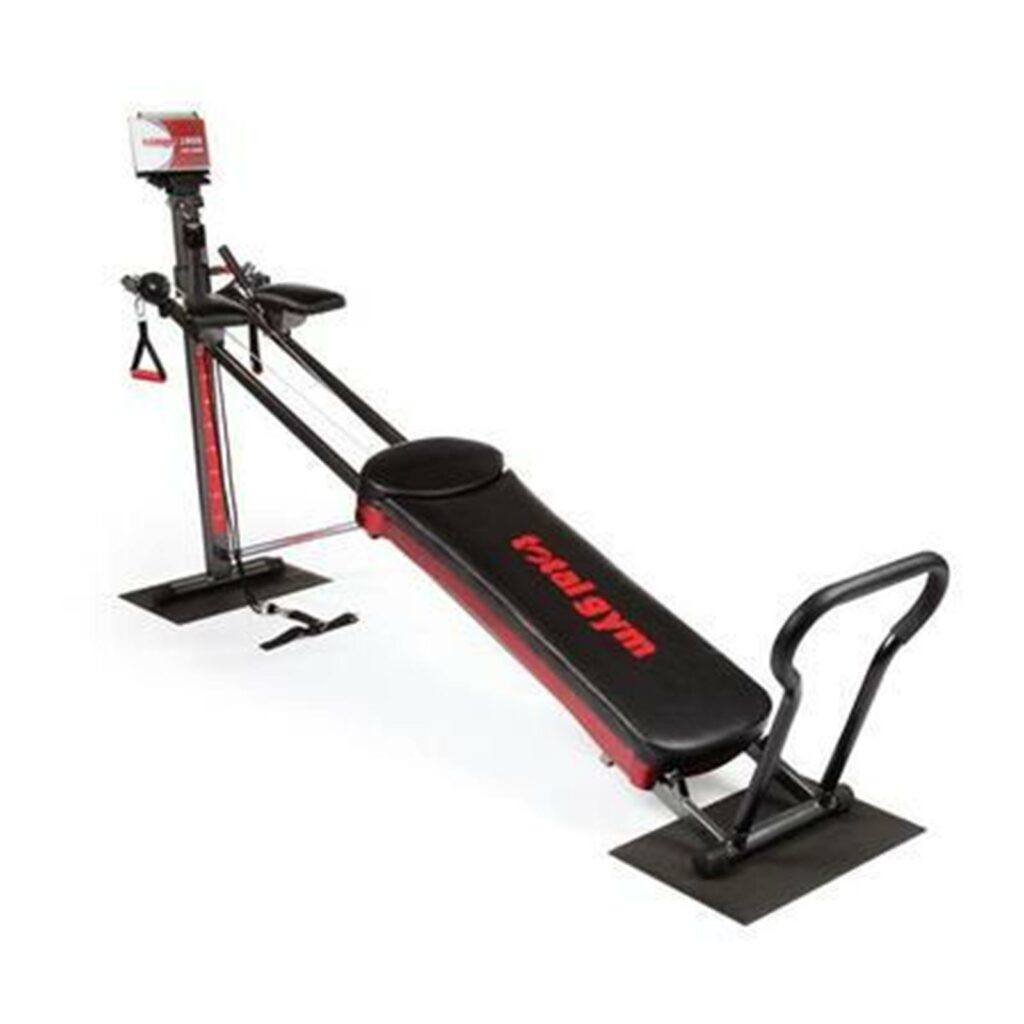 The Total Gym 1900 may be a slightly older model but it remains a good piece of equipment that is lightweight, durable, and it's ideal for both beginners more experienced home gym users. 
It does have slightly fewer exercise options than the likes of the XLS and FIT since it comes with fewer attachments.
The 1900 model allows for a total of 60 exercises. This is still a good number and it's enough to give users a full-body workout that includes stretching, cardio, and strength training.
You only get leg and wing attachments as standard but it is possible to upgrade the Total Gym 1900 by buying extra attachments separately (like a squat stand and ab crunch board), which will mean that you can do a larger range of exercises.
The Total Gym 1900 model has 12 different resistance settings which makes it one of the easiest Total Gyms to fine-tune.
This feature allows you to increase the difficulty level in smaller increments, this should allow for more rapid progress and reduces the sudden jump in difficulty between resistance settings.
This is a great feature to have but it's worth noting that the maximum resistance setting is lower than some of the other Total Gym models as the range is between 3% and 45% of your bodyweight (the XLS goes up to 54%).
This, combined with the fact that you cannot upgrade this machine with a weight bar (unlike the machines above) means that this model is probably best suited to beginners.
As with all Total Gym models the 1900 is easy to fold up and store out of the way when you are not using it.
You get a 1-year warranty with the Total Gym 1900 which is ok but significantly shorter than the warranty offered on the FIT, XLS and GTS.
Pros & Cons of Total Gym 1900
Pros
Suitable for Beginners
More control of resistance – 12 Resistance Levels
Low price
Cons
Only uses a maximum of 45% Body Weight.
Limited to 350lbs weight limit.
Less advanced features and fewer attachments.
Total Gym APEX G5
The Total Gym APEX G5 is another model that makes the list of the best Total Gyms.
The Total Gym Apex G5 10 different levels of resistance and comes with several attachments as well as the cable pulley system. You get a wing attachment, leg pull accessory, as well as dip bars and larger squat stand for added upper and lower body exercises.
The APEX G5 is very versatile and allows for over 80 exercises and limitless workouts. Whether you're looking to burn calories, build muscle or improve flexibility, the Total Gym APEX G5 will help you to achieve your goals.
Both ends of this top Total Gym have stability mats, and, as you would expect, it folds up for easy storage. The Apex G5 is made with a high quality steel frame and has a nicely padded glideboard.
The maximum weight limit is 375 pounds which shows how strong this is but you can't add to the resistance by using a weight bar.
This Total Gym comes with lots of extras included, you get a training card deck that shows you over 80 exercises & 30 workout programs, it mounts on the gym so you can easily read it.
You also get 24/7 access to Total Gym TV and all the streamed workouts that they show which is handier for most people than the old DVD's they used to provide.
What are the Differences between Total Gym models?
Exercise Variations
The range of exercises that can be performed on a Total Gym depends on the number of attachments available with the machine. The more attachments a machine has, the more exercise options it offers.
Even the most affordable Total Gyms offer over 60 exercises, while the higher-end models offer between 80-85 exercises. The commercial grade Total Gym can perform over 200 exercises.
Resistance Levels
The Total Gym models vary in the number of resistance levels they offer, which can affect the control and intensity of your workout. More resistance levels provide more options for adjusting the difficulty of your exercises.
The number of resistance levels on different models range from 6 to 22. The majority of machines have 6, 8 or 12 resistance levels, while the GTS model stands out with 22 resistance levels.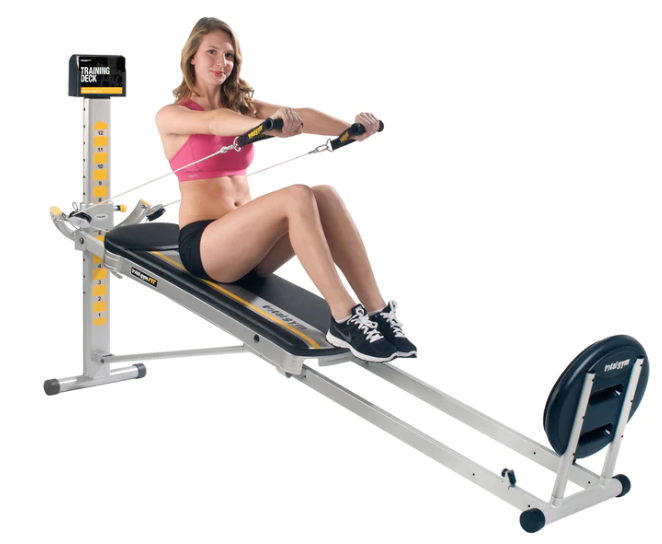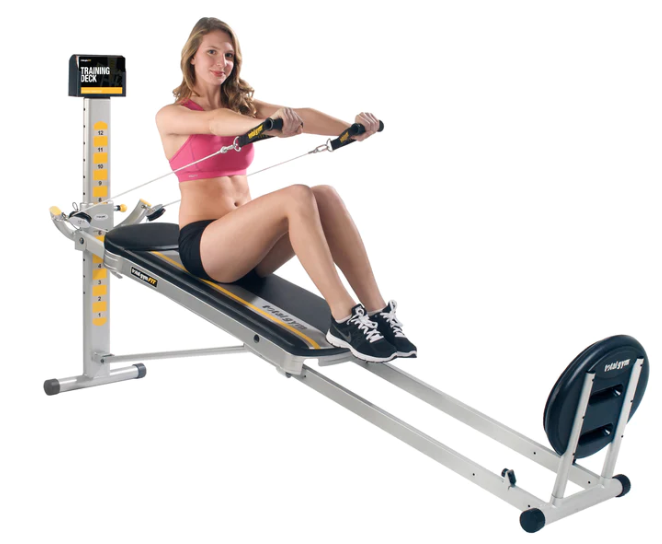 Attachments
Attachments are an important factor to consider when choosing a Total Gym model. The number of attachments included with each model varies, with more expensive models typically including more attachments.
However, all Total Gyms come with some basic attachments to get you started on your workout right away. These attachments may include a leg pull accessory, squat stand, wing attachment, and ab crunch.
Older Total Gym models come with workout DVDs whereas the newer ones come with access to streamed workout programs. You also get workout cards or posters, as well as a nutritional guide and meal plan to help you improve your overall health and fitness.
You May Also Like
Weight Capacity
When comparing Total Gyms, the weight capacity is an important factor to consider. The weight capacity of the machine indicates its strength and durability, and a higher capacity is always preferred.
However, as long as you fall within the given weight limit of the machine, you should be able to use it safely. The range of weight capacities for Total Gyms is between 250-650 lbs. The budget models typically have a capacity of 250-300 lbs, while the more expensive models can hold up to 400-650 lbs.
If you are planning to use a weight bar to increase the intensity of your workout you will need to ensure that your body weight plus the weight plates is less that the maximum capacity. This is a good reason to go for a machine with a high weight limit even if your own weight is well under the maximum.
Cost
The price of Total Gym machines can vary greatly, with the commercial grade GTS priced at almost $4000. However, the majority of models are around the $1000 mark or less.
Common Features of all Total Gyms
Pulleys
The pulley system is a core feature of all Total Gym machines. It utilizes a slide board and adjustable height setting to adjust resistance levels and provide a full body workout.
This system is consistent across all models, regardless of price or level of upgrades. So, even if you opt for the most affordable model, you can be confident in its functionality and ease of use.
Folding
A great benefit of the design is that it is foldable and easy to move. This means you can store the machine out of the way when not in use, saving you valuable space in your home. Some models have wheels for easy transport, making it even more convenient for those with limited space.
Ready to Use
All Total Gyms are designed for easy set-up, with the exception of the commercial-grade GTS model. Most models come ready to use straight out of the box, with minimal assembly required.
The process of setting up the gym typically involves inserting a few pins and adjusting the height to your preference. With a little practice, the process becomes simple and straightforward, and if you have any doubts, there are plenty of instructional videos available online that can guide you through the process.
Lightweight
The lightweight design of the Total Gym models makes them easy to move around and store, which is a great feature for those who have limited space or need to frequently change the setup of their workout area.
The exception is the GTS model, which is designed for commercial use and weighs about 180 lb. This makes it a more permanent solution for gyms and other similar settings.
Full Body Workout
All Total Gym models are created to provide a comprehensive workout experience. They enable you to perform exercises that target your arms, legs, and core muscles.
This type of exercise is ideal for improving strength and muscle definition, but it's not meant to significantly increase muscle size. But it provides a great low-impact workout that is great for seniors, beginners and anyone looking to improve their fitness from home.
Final Thoughts on the Best Total Gym Models
I hope that you have enjoyed reading this review of the best Total Gym home gyms. You can't go far wrong with any of the models that I have covered. They will all give you a great full-body workout in the comfort of your own home.
My suggestion is to go for one of the three models that you can get straight from Total Gym – XLS, FIT or GTS.
Get the one that suits your budget and take advantage of the 30-day trial. You've got nothing to lose and I am sure that you will love it!
Go to Total Gym to try it out risk-free.


*As an Amazon Associate I earn from qualifying purchases.