Total Gym 1900 vs XLS: A Head-to-Head Comparison
**We sometimes add affiliate links to our posts which mean we are compensated if you make a purchase after clicking on the links. This helps us offset the costs of running this site.**



Are you considering getting a Total Gym but can't decide between the XLS and 1900 models? No worries, we've got you covered in this Total Gym 1900 vs XLS comparison review.
We've put both machines to the test and compiled a detailed comparison for you to easily see the differences and make a decision.
From resistance levels to attachments and price, we'll break it all down for you. So grab a snack and get ready to finally decide which Total Gym is the perfect fit for your home gym.
Total Gym XLS vs 1900 – Resistance Levels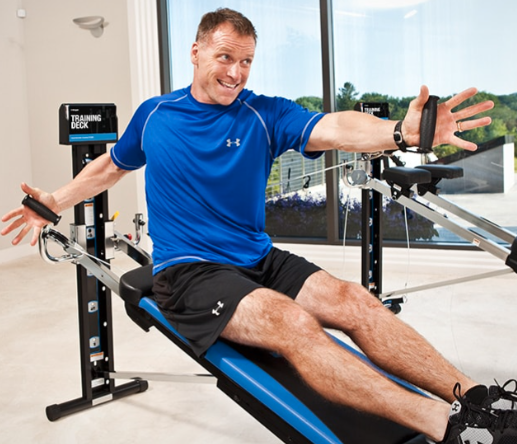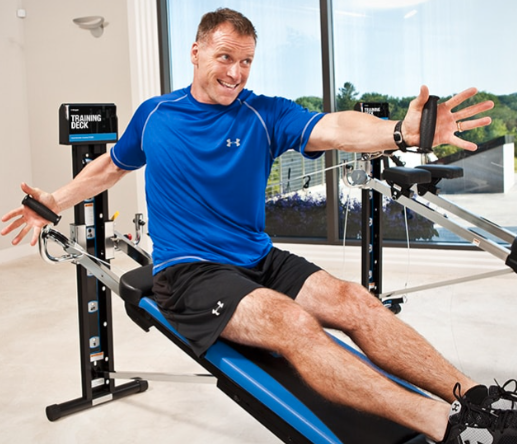 It is the amount of resistance that the Total Gym offers that will affect the difficulty of your exercises. When it comes to resistance levels, there are a few differences between the Total Gym XLS and the 1900 model. 
The XLS model has fewer incline levels, with only six, compared to the 1900 model's 12 levels. This is a bit surprising since the XLS is the more premium model. 
However, the XLS's incline levels offer a higher percentage of your body weight for resistance, reaching up to 54% at the maximum incline. 
The 1900 model's resistance levels range from 3% to a maximum of 45% of your bodyweight. 
So what does this all mean? Well, the XLS gives you less control over the level of resistance. When you make an adjustment it will be more of a jump between resistance levels. 
This could slow progress as you need to spend longer on a resistance level before you are ready to move up. However, the XLS wins out if you are looking to make your workout more challenging since the maximum resistance is quite a bit harder using a higher percentage of your body weight.
In fact, the XLS is upgradeable with a weight bar that allows you to add extra weight for an even more intense workout. This means that the XLS is far better than the Total Gym1900 for more advanced athletes who are looking to push themselves. 
With the 1900 model, you have more control over the gradual increase of difficulty in your workout but the highest setting is not as much of a challenge as you get with the Total Gym XLS.
Total Gym 1900 vs Total Gym XLS – Weight limit
When it comes to the user weight limit, the Total Gym XLS has an edge over the 1900 model. The XLS can handle up to 400 pounds, while the 1900 model is limited to 350 pounds. So, if you're a heavier individual, the XLS may be the better option for you. 
This weight limit includes any weights that you might add using the weight bar so the higher limit of the XLS could come in handy.
Both machines have similar height limits, so whether you're tall or short, you should be able to comfortably use either machine. Even people as tall as 6ft 6 inches are able to perform all the regular exercises on either machine without any issues.
What are the differences between Total Gym 1900 and XLS?
Total Gym XLS
Total Gym 1900
Number of Exercises
80+
60+
Levels of Resistance
6
12
Maximum User Weight
400 lbs
350 lbs
Attachments Included
4
2
Dimensions (WxLxH)
19" x 90" x 43"
92.5 x 16 x 43.2 inches
Unit Weight
68 lbs
75 lbs
Warranty
Lifetime Warranty on Frame
1 year on frame
Price
$$$

Check Price HERE
$$

Check Price HERE
Total Gym 1900 vs XLS – Versatility
When it comes to the functionality of the Total Gym XLS and the 1900 model, there are some key differences to consider.
The XLS model offers a wider range of exercises to choose from, with a total of 80 different exercises that can be performed. This gives users more options for variety in their workouts and the ability to target specific areas of the body. 
The 1900 model allows for a total of 60 exercises. This is still a decent number and both machines are still able to provide users with a full-body workout that includes stretching, cardio, and strength training in just 10-20 minutes.
Both the XLS and 1900 models are also designed for easy storage. They can be folded up to take up minimal space, similar to a regular ironing board. Additionally, all Total Gym models come fully assembled, so you can start using them right away, with no complicated setup required.
Whether you're looking to tone your muscles, increase your cardiovascular fitness, or improve your flexibility, both the XLS and 1900 models are great options.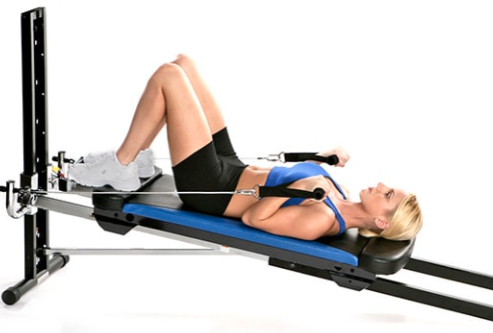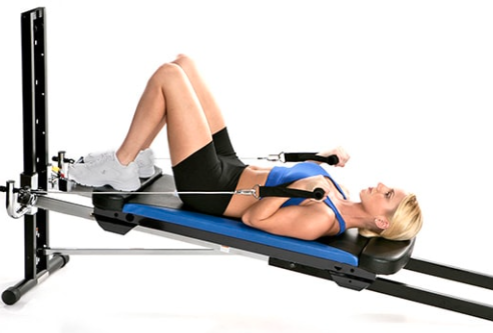 What attachments come with the Total Gym 1900 and Total Gym XLS?
When it comes to included features and attachments, the Total Gym XLS definitely has more to offer than the Total Gym 1900. 
The XLS comes equipped with the AbCrunch board, Ribbed Squat Stand, Leg Pull Attachments, and Wing Attachments, while the 1900 model only includes leg and wing attachments as standard. 
However, it is worth noting that the 1900 model does offer the option to purchase additional attachments like the squat stand and ab crunch board. 
A big plus of the XLS is that it allows for the use of extra weights, while the 1900 model does not. 
The XLS also comes with five workout DVDs, an exercise chart, a meal guide, and a training deck, while the 1900 model includes two workout DVDs and an exercise chart. 
Check out our Total Gym Reviews
Total Gym XLS vs 1900 – Build quality
When it comes to build quality, both the Total Gym XLS and Total Gym 1900 models are top-notch. They're constructed from premium quality steel, so you can expect them to last for a long time. 
The XLS model has an upgraded pulley and cable system and comfortable nylon strap handles for a better workout experience. Both models also come with padded glide-boards with head support for added comfort.
Even though the XLS is the newer model, the Total Gym 1900 is still a decent piece of equipment. It's lightweight, durable, and ideal for both beginners and more experienced home gym users. 
The 1900 model comes in a classic black and red, while the XLS comes in a sleek blue and black.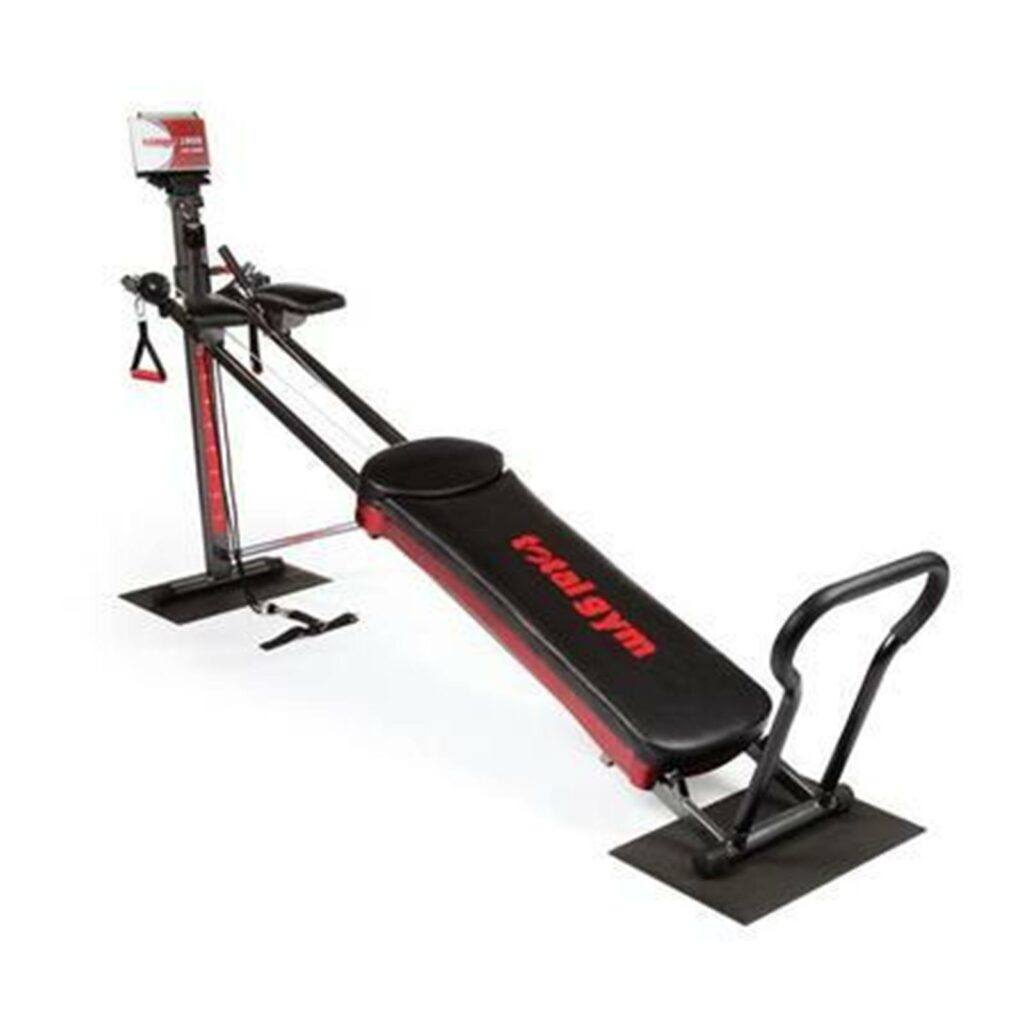 Is Total Gym 1900 cheaper than Total Gym XLS?
The Total Gym 1900 is generally quite a bit cheaper than the Total Gym XLS. Prices fluctuate so it's worth checking the price but the XLS is one of the top models in the Total Gym range and has a price tag to match.
The higher price is justified since the XLS is a newer and more advanced product with additional features and attachments. 
However, it's worth considering whether the added features and attachments of the XLS are worth the extra cost for you. Ultimately, it's a matter of personal preference and budget.
What's the warranty like for a Total Gym 1900 or XLS?
When it comes to the warranty,  the XLS model comes with a lifetime warranty for the frame and a 6-month warranty for other parts. This is way better than the 1 year warranty that you get with the Total Gym 1900.
While Total Gyms are known for their good build quality, the fact that the XLS has a much longer warranty is an indication that the materials used are far superior. This is what you would expect given that the XLS is the newer, more expensive product. 
Pros & Cons of Total Gym XLS vs 1900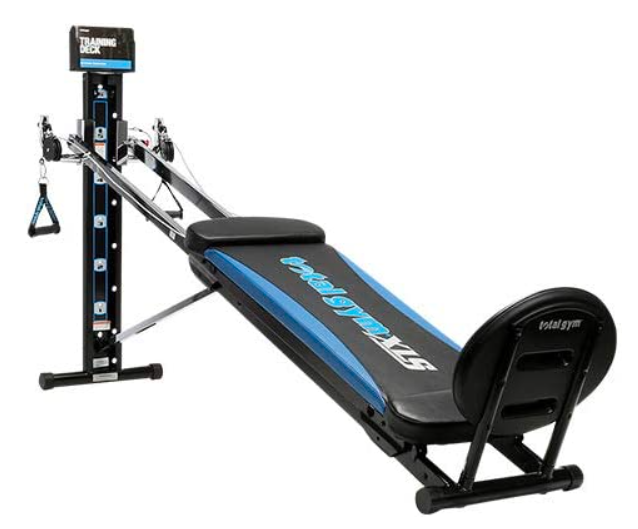 Pros
Greater resistance levels with incline reaching up to 54% of body weight
More versatile with additional workout attachments included
Constructed with superior quality materials
Extended warranty coverage for the product
Higher weight capacity, accommodating up to 400lbs
Able to perform Pilates exercises.
Go for The Total Gym XLS over the 1900 If:
You Weigh Over 350lbs or want to add weights.
You Don't Mind Spending More For A Premium Model.
You are happy with only 6 Adjustment Levels.
You Want lots of extras included
You are keen to have a higher level of resistance ( 54% of Body Weight) 
Pros & Cons of Total Gym 1900
Pros
Suitable for Beginners
Accommodates up to 350lbs
More control of resistance – 12 Resistance Levels
More Affordable than XLS Model
Cons
Only uses a maximum of 45% Body Weight.
Limited to 350lbs weight limit.
Less advanced features and fewer attachments.
Go for the Total Gym 1900 over the XLS if:
You're on a budget and don't want to spend extra for additional features.
You prioritize cost over additional attachments and resistance levels.
You don't need the ability to use more than 45% of your body weight for resistance.
You're comfortable with having fewer workout options and add-ons.
Final Thoughts on Total Gym XLS vs Total Gym 1900
In conclusion, both the Total Gym XLS and 1900 models are great options for a home gym. 
The XLS model is a more advanced and premium product, with more features and add-ons, but it comes at a higher cost. 
The 1900 model, on the other hand, is a great starter option that offers a high-quality workout at a more affordable price. The Total Gym 1900 is also an older model that is no longer available direct from Total Gym and may not be around for much longer at places like Amazon.
Ultimately, it comes down to your personal preferences, budget, and needs. But, if you can stretch the budget, I recommend going for the XLS. It's a machine that will last a lifetime and the higher body weight resistance plus the ability to add weights means that you won't outgrow it as your fitness improves.
And your fitness will improve if you use it regularly!!
Don't forget if you buy direct from Total Gym you get an amazing 30 days to try it out risk-free. If you don't like it you can just send it back and get a refund. It's an amazing offer and we think it's well worth giving Total Gym a try!
You May Also Like


*As an Amazon Associate I earn from qualifying purchases.