Total Gym XLS Review [2023]: The Good, The Bad, and The Results
**We sometimes add affiliate links to our posts which mean we are compensated if you make a purchase after clicking on the links. This helps us offset the costs of running this site.**



If you're on the hunt for a home gym system that can give you a full-body workout without taking up your entire living room, the Total Gym XLS is probably on your radar. 
In this Total Gym XLS review we will help you decide if this is the home gym you should go for.
This bad boy can help you perform over 85 different exercises, and it comes with a bunch of cool accessories like a wing attachment and leg pulley system.
You've probably seen the ads with Chuck Norris but is the Total Gym XLS really worth the hype? In this review, we'll dive deep into the pros and cons of this popular home gym system to help you decide if it's the right fit for your fitness journey. 
We'll cover everything from its physical features and dimensions to its versatility and durability, so you can decide whether to add the Total Gym XLS to your home gym setup.
Total Gym XLS – Quick Verdict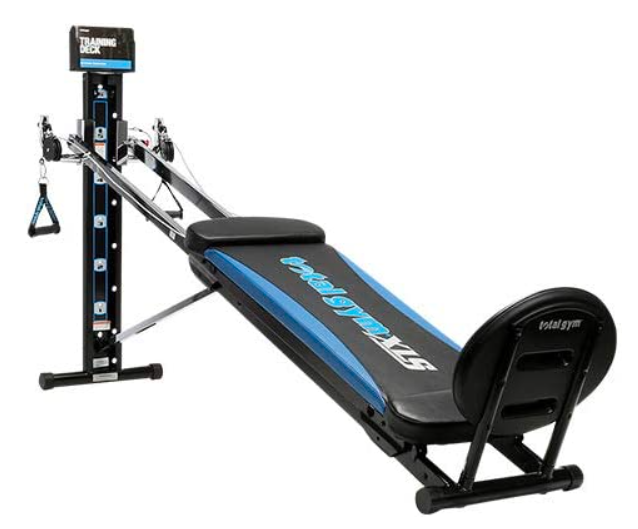 Pros
Huge variety: The innovative design offers over 85 exercises.
Well built: 1¼"x2" steel tubing with chrome-plated upper rails and powder-coated lower rails.
Six resistance levels (6 to 26 degrees to use 6% to 54% of body weight)
Compact: It's small any way plus it folds and has rollers so you can easily slide it under a bed.
1,000 lb vinyl-coated cables and soft synthetic rubber padded handles.
Upgraded pulley system.
High-density foam padding on glide board for extra comfort.
400 lb weight capacity.
Cons
Not ideal if you are focused on strength and muscle building.
I highly recommend the Total Gym XLS as a versatile and effective home gym.
Its compact design, adjustable resistance levels, and wide range of exercises make it suitable for users of all fitness levels, providing a convenient and comprehensive full-body workout experience.
Great price too.
What is the Total Gym XLS?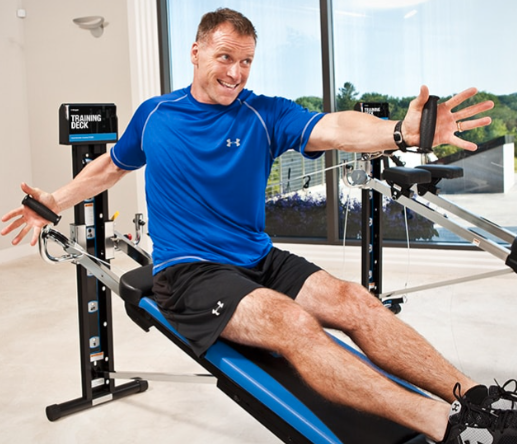 Okay, let's get into the nitty-gritty of the Total Gym XLS home workout equipment. First off, this machine is pretty darn compact, measuring in at 19 inches wide, 90 inches long, and 43 inches tall.
So, even if you're tight on space in your home gym, this baby should be able to squeeze in. It also folds up pretty easily for storage, so you can tuck it away when you're not using it.
But what about the exercises you can do on it? The Total Gym XLS allows you to do a full body workout with over 85 different exercises, available that target everything from your chest and arms to your legs and back.
It uses your own body weight to provide resistance, but you can adjust the incline of the bench to increase or decrease the difficulty level. 
The machine can be souped up with a few extra goodies like a wing attachment and leg pulley system to add even more variety to your workouts.
Total Gym XL Specs
Total Gym XLS
Exercises
80+
Resistance Levels
6
Attachments
Leg Pull
Ribbed Squat Stand
Wing Attachment
Weight Capacity
400 lb
Warranty
Lifetime frame, 6 month parts
Price
$$
Check Price Here
Total Gym XLS Construction & Quality
The Total Gym XLS Home Gym boasts top-notch construction and quality.
The frame is made of sturdy 1¼"x 2" steel tubing and the upper rails are coated in chrome while the lower rails are powder-coated for added durability. The 1,000 lb vinyl-coated cables are reliable and built to last.
The 16"x47" glide board is padded with 1.5" of high-density foam and features a head support for added comfort.
This home gym can hold a total user weight capacity of 400 lbs.
Total Gym offers a lifetime frame warranty and a two-year warranty on all moving parts for the XLS Home Gym.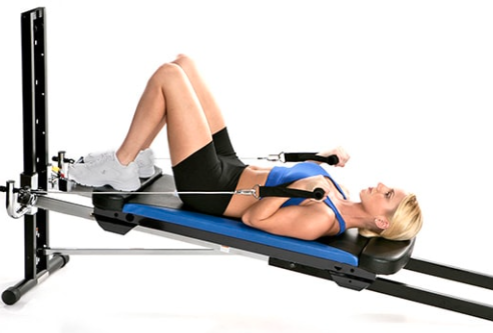 What we like about the Total Gym XLS
First things first, the compact size of the Total Gym XLS is definitely a major pro. If you're short on space in your home gym, this machine is a great option because it doesn't take up a ton of room.
And when you're not using it, it folds up pretty easily for storage, so you can tuck it away until your next sweat sesh.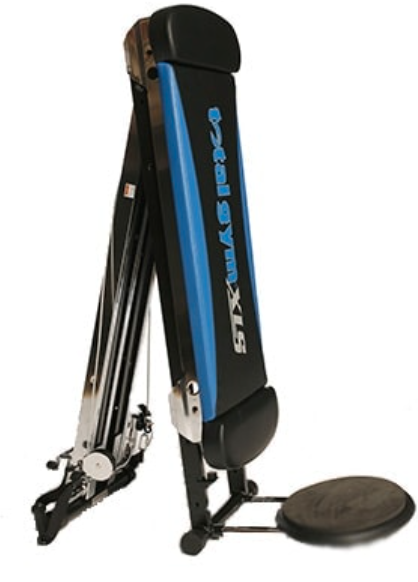 But you don't just want something that will fit in your home gym, do you? You want something that will actually help you achieve your fitness goals!!
Well, this is the biggest benefit of the Total Gym XLS as it has incredible versatility and gives you the ability to perform over 85 different exercises, you can target just about every muscle group in your body.
With the Total Gym XLS, you can work multiple muscles groups at the same time which means that you can train more productively. Win!
The adjustable incline levels make it easy to customize your workouts to your fitness level and mean that you will not outgrow the machine as your strength and fitness improve.
If you do ever get bored of the exercises available then you can improve the XLS Total Gym with accessories like an upgraded squat stand or a leg pulley system.
The Total Gym XLS is also super easy to use and adjust, making it a great option for people of all fitness levels. Whether you're just starting out on your fitness journey or you're a seasoned pro, this gym equipment can accommodate your training needs.
Oh, and you can use it straight out of the box, no need to get the screwdriver out and spend hours putting it together.
So far, the Total Gym XLS is looking pretty dang good. But are there any cons to consider? Let's take a look at the other side of the coin in the next section.
Total Gym XLS Review – What we don't like so much
As much as we'd love to sing the praises of the Total Gym XLS all day long, it wouldn't be a Total Gym XLS review if we didn't also highlight the potential drawbacks.
The main con is the limited weight resistance options. While the adjustable incline does provide some variety, the XLS has only 6 different settings (less than top-of-the-range Total Gyms) and relies on your own body weight for resistance. 
For most people looking at getting a Total Gym this won't be an issue, but if you're someone who really likes to push yourself with heavy weights, this might not be what you are looking for.
So, are the cons of the Total Gym XLS deal breakers? We don't think so but if you are looking for a more advanced workout then we are big fans of Bowflex home gyms which offer even more variety and can take your home workouts even further.
Final Thoughts
Alright, it's time to wrap up this review of the Total Gym XLS. So, is this machine worth adding to your home gym setup?
Yes.
Trust me, if you put in the work, this machine will deliver some seriously impressive full-body conditioning.
And the best part? It's suitable for all fitness levels, whether you're just starting out or you're an elite athlete.
Not to mention, it's super comfortable and can hold up to 400 lbs of weight.
Plus, you can trust that you're in good hands with the Total Gym brand – they've got a great track record for designing and producing top-notch products.
We definitely recommend the Total Gym XLS as a solid home gym option. It offers a lot of value for the price and is small enough that it won't take over your home. 
We hope this review has helped to give you an idea of what the Total Gym XLS is all about.
If you are interested in getting one (and you should be) we recommend buying directly from Total Gym, they even offer a 30-day free trial, so you have nothing to lose!


*As an Amazon Associate I earn from qualifying purchases.