Total Gym GTS Review [2023] – Is It Worth The Money?
**We sometimes add affiliate links to our posts which mean we are compensated if you make a purchase after clicking on the links. This helps us offset the costs of running this site.**



Welcome to my Total Gym GTS review. This is the top-of-the-line model from Total Gym and I'll say it right away, it's awesome! But, compared with most Total Gyms, it comes with a fairly high price tag. So, is it worth the money?
The GTS is a commercial grade machine, but it's designed to be used in your home. It's super robust and comes with tons of exercise options, attachments, and a great warranty. Basically, it's the ultimate Total Gym experience.
But, before you go ahead and invest in the GTS, it's important to figure out if it's really the right choice for you. That's where this review comes in – we'll take a close look at all the pros and cons of the GTS, and everything else you need to know about it.
After reading this review, you'll have all the information you need to decide whether the GTS is the right choice for your home gym.
Total Gym GTS Review – Quick Verdict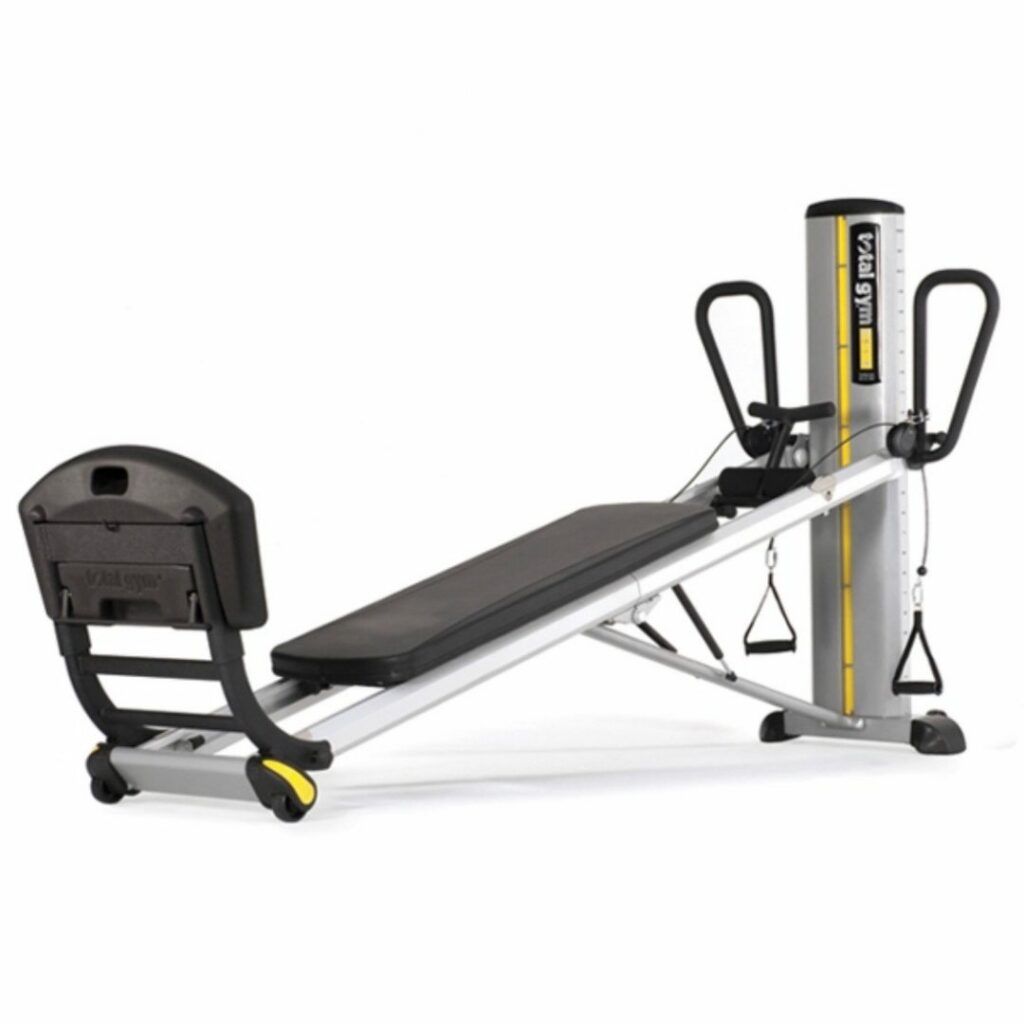 Pros
Huge variety with over 250 exercises
Solid build. Less wobble than other models
High 650-lb load capacity allows use of weights
22 resistance levels
Squat stand and Pilates platform included
Professional assembly included
Cons
Very heavy unit
Bigger, longer and taller than other models
The Total Gym GTS is an awesome piece of home gym equipment. It's super solid, incredibly versatile, and a joy to use. If you want to take your home exercise regime to the next level then this is the perfect addition to your home gym.
What is Total Gym?
The Total Gym is a unique piece of fitness equipment that utilizes your body weight and gravity to provide resistance for a variety of exercises. Unlike traditional home gyms that rely on external weights, the Total Gym uses a sliding board and pulley system to challenge your muscles.
One of the biggest benefits of the Total Gym is its portability and the ability to change exercises without stopping to adjust weights.
Additionally, the adjustable height of the slide board allows for a customizable workout, as a higher setting will increase the resistance by lifting a higher percentage of your body weight, while a lower setting will decrease the resistance by lifting a smaller percentage of your body weight.
The Total Gym also allows for a full range of motion during exercise, and depending on the model, there are hundreds of exercises that can be performed for the arms, legs, and core.
Total Gym has been producing exercise machines for over 30 years and there are currently several versions of the popular home gym available on the market.
Each model has its own unique features and attachments, but they all utilize the same principle of using your body weight and gravity as resistance.
What is the Total Gym GTS?
If you're looking for a top-of-the-line incline trainer for your home gym that matches the quality and versatility of those found in local gyms, the GTS could be the perfect choice for you. The Total Gym GTS is a professional-grade machine that is commonly used in health clubs and rehabilitation facilities.
The machine is designed with a wide board to provide a stable feel during workouts. The glide is smooth and effortless, especially when the incline is set to the horizontal position.
It offers 22 resistance levels that range from horizontal to maximum incline. You can also add weights to the board at any incline angle to increase resistance and allow for a wider range of exercises.
Changing the incline angle is a breeze thanks to the hydraulic rail lift, which makes it a simple process of lifting or pushing the board to the desired angle. Folding the machine is also an easy two-step process that reduces its length by about half.
The GTS comes equipped with versatile attachments for a full-body workout. The lat bars enable users to perform pull-downs and other lat exercises, and can be folded down for pull-ups.
The squat stand features a no-slip coating and can be adjusted to three different heights, with the Pilates toe bar allowing for calf stretches and upper body exercises.
Unlike many other machines in this category, the GTS has fully-adjustable cable pulleys that can be set to accommodate the user's height and shoulder width, allowing for targeted muscle group exercises.
The machine includes two sets of handles, with soft coated plastic handles for comfort and nylon web handles for a hammer grip.
The strength package is a comprehensive set of accessories that come with the GTS. If purchased separately, it would cost nearly $900. The package includes the Scrunch (which is an ab cruncher), a press bar, dip bars, and a tri-grip pullup bar.
With the press bar, you can easily maintain proper military press and target your triceps, upper back, and chest. The dip bars fold down and out of the way when not needed and are great for strengthening and building your pecs and triceps.
The tri-grip pullup bar allows for wide, narrow, and hammer grips, so you can easily target different muscle groups without making adjustments to the machine.
The package also includes a squat handle bar and a weight bar.
The squat handlebar helps to stabilize you while you push off the squat stand with your legs, and the weight bar attaches to the glide board, allowing you to add weights for more resistance.
All of these accessories, combined with the efficient and thoughtful design, allow for over 200 exercises, providing a full-body workout on a relatively compact machine.
What Exercises can you do on a Total Gym GTS?
When it comes to Total Gym systems, one of the major advantages is the huge range of exercises you can do. Even the basic models offer over 60 variations, which is pretty impressive. But, the GTS takes things to a whole new level with an impressive selection of over 200 different exercises.
Hands up who can think of 200 different exercises? No? Well, me neither. But, luckily, the GTS comes with a handy exercise manual that's filled with examples to get you started.
What's really cool about the GTS is that it has a few features that really increase the range of exercises you can do. For one thing, it comes with a bunch of different attachments which really open up your workout possibilities.
Another major advantage of the GTS is that it lets you do jumping or plyometric exercises – something that other Total Gym models don't offer.
Plus, it comes with a weight bar that lets you add weight plates to your exercises if you want to up the difficulty level. This is a great way to increase resistance and turn the GTS into a seriously effective strength training machine.
Overall, the GTS offers an incredible range of workout variety – I can't think of any other home gym that comes close to offering this much flexibility.
How many resistance levels does the Total Gym GTS have?
As with all Total Gym machines, resistance is provided by your own body weight and can be adjusted by changing the height of the base that the glide board slides on.
Most models (like the FIT, XLS, and 1900) come with around 6 to 12 resistance levels, but the GTS really stands out with a whopping 22 different levels of resistance.
This level of control is great for people with achy joints or who are recovering from an injury, as it allows you to gradually increase the intensity of your workouts without making any drastic jumps between resistance levels.
The GTS really gives you complete control over your workouts. With 22 different resistance levels, you have 10 more options than any other Total Gym model. And, to make things even easier, the GTS comes with a built-in hydraulic assist system that makes changing the resistance levels a breeze.
What attachments come with the Total Gym GTS?
The GTS really excels itself when it comes to attachments, offering more than any other Total Gym model out there. Here's a breakdown of what's included:
Total Gym GTS Accessories
Soft grip lat bars: These bars are super convenient and can be folded in and out of place to allow for pull-up exercises.
Telescoping squat stand: This upgraded version of the squat stand has three different height adjustments and a non-skid tread for better grip, making it perfect for jumping exercises.
3 grip pull-up bar: This attachment provides you with more variety in your pull-up grip, allowing you to target different muscle groups.
Scrunch: The abdominal attachment is designed to help you perform a wide variety of core exercises.
Weight bar: With this attachment, you can add external weight plates to increase the intensity of any move.
Squat handle bar: This attachment offers added stability during squat moves and can be helpful for those who are unsure about exercising on the sliding board.
Press bar: The press bar gives you the ability to perform military press exercises.
Retractable dip bars: Dips are an excellent strengthening exercise for your pecs and triceps, and this attachment makes it easy to do them on your Total Gym.
Overall, the GTS offers a fantastic selection of attachments that really add to the versatility of the machine.
Is the Total Gym GTS easy to assemble?
Unlike other Total Gym models that can be taken out of the box and unfolded, the GTS requires some assembly. But don't worry, Total Gym includes professional assembly in the price.
On average, it takes 2-3 weeks from ordering to delivery and assembly. If you're handy, you might be able to put it together yourself since most of it is already assembled. You just need to attach the lat bars, put the squat stand together, and add some handles.
However, given the size and weight of the machine, it's nice to have the professional assembly included.
Keep in mind that the GTS is a large machine that requires a lot of floor space, it's about 9 feet long when unfolded so you'll need a space of about 10 foot by 4 foot.
The Total Gym GTS dimensions are 106″ x 38″ x 57″.
So, before considering this home gym, make sure you have enough workout space, it's the largest of all the Total Gym models. But the good news is that it does fold for storage, which can save you some space when it's not in use.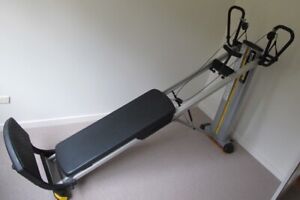 What is the Total Gym GTS weight limit?
The GTS boasts an impressive weight capacity of 650 lb, which is 200 lb higher than the next machine down in the Total Gym range, the Total Gym FIT.
This weight limit is a testament to the GTS's sturdy and durable frame. However, it is important to note that this weight capacity includes any weight plates added to the weight bar.
For instance, if an individual weighs 300 lb, they would only be able to add a maximum of 350 lb of weight to the weight bar.
What is the Total Gym GTS Warranty?
The warranty for the Total Gym GTS covers the frame for 5 years, other parts for 1 year, and a 90-day rubber and upholstery guarantee.
Given the price of this gym, the warranty is disappointing, especially since the Fit and XLS models offer a lifetime frame guarantee.
It's a really well-built unit and much more solid than the XLS or FIT so I am confident that most people won't need to use the warranty.
My guess is that the warranty is short because this unit is used by commercial gyms where they could get almost 24/7 use which could affect the life of the machine. In a home gym, this won't be the case and it should last a lifetime.
Total Gym GTS Specs
Total Gym GTS
Exercises
250+
Resistance Levels
22
Attachments
Telescoping squat stand
Scrunch
Retractable dip bars
3 grip pull-up bar
+ loads more
Weight Capacity
650 lb
Warranty
5-year Warranty on Frame,
1-year Warranty on Parts
Total Gym GTS Dimensions
106″ x 38″ x 57″
Machine weight
180 lbs
Price
$$$$


Check Price Here
How does the Total Gym GTS compare to cheaper models?
If you are thinking about upgrading from another Total Gym then it's worth knowing that the most obvious difference is that the machine feels more stable and the board glides more smoothly.
The GTS is well-suited to taller individuals who will appreciate the longer, wider board and the adjustable squat stand. The over 200 exercises mean that the GTS delivers on its promises of durability and versatility.
The other thing that is worth noting is that although the GTS folds up, it is still a big machine.
Unlike the cheaper Total Gyms, it's not easy to stow it away in a closet so the GTS is better suited to people that have a dedicated exercise space at home.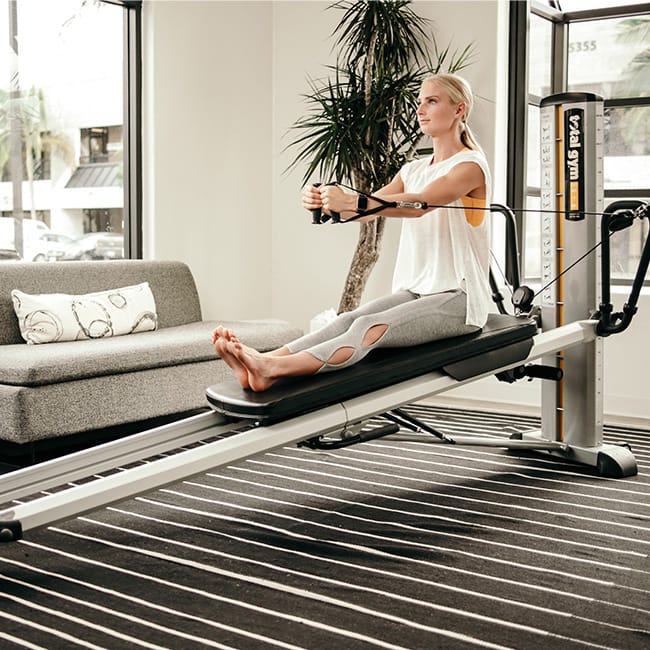 Total Gym GTS Review – Final Thoughts
The Total Gym GTS is a really impressive home gym system, featuring the most resistance levels, the most attachments, and the highest weight capacity among all Total Gym models.
The whole machine just screams quality and with the ability to perform a wide range of exercises, including plyometric style jumping moves, and the option to add weight plates for increased intensity, the GTS offers an exceptional workout experience.
It's a high-performance model for advanced athletes seeking to take their fitness to new heights. Boasting a 650-pound weight capacity, the GTS presents a challenge even for the most seasoned athletes.
If you are already familiar with Total Gym and are looking for their top-of-the-line model, then the GTS is the one to go for. However, if you are new to Total Gym, it may be best to try a more affordable model first to ensure it is the right fit for you.
One of the best things about Total Gym is that you can try them for yourself for free!
If you buy direct from Total Gym you get an amazing 30 days to try it out risk-free. If you don't like it you can just send it back and get a refund. It's an amazing offer and we think it's well worth giving Total Gym a try!
You May Also Like


*As an Amazon Associate I earn from qualifying purchases.