The 6 Best Bowflex Home Gyms [2023 Comparison]
**We sometimes add affiliate links to our posts which mean we are compensated if you make a purchase after clicking on the links. This helps us offset the costs of running this site.**



Most people only want or need one home gym. In fact, that's the whole point of them! Tons of different exercises on one bit of kit, but you want to make sure that it's the right bit of kit. So in this post, we will help you to choose the best Bowflex home gym.
There are quite a few different Bowflex machines on the market, and this post will highlight the pros and cons of each so that you can decide which is the best Bowflex machine for your home gym.
The Best Bowflex Home Gym Models
Let's just jump straight in and reveal our favorite Bowflex Home Gym right away…..
1. Bowflex Revolution – The Best Bowflex Home Gym Overall
The best Bowflex home gym is actually the one that dispenses with the famous flexing bow and embraces the Nasa backed SpiraFlex technology. The Bowflex revolution home gym is our top choice out of all the Bowflex machines, it's also the most expensive but if you are serious about exercising at home we feel that it is worth the price tag.
The SpiraFlex system has discs that use stretchy bands and spokes to provide resistance as they turn, this replicates the feel and benefits of free weights but without the weights.
The Revolution has over 100 exercises and offers a huge variety. The versatility of exercises is thanks to the design of the Revolution which includes two independent arms that can be adjusted into 10 different positions to offer 170 degrees of mobility.
This is great as it doesn't just create a lot of different exercises but it gives you the freedom to adjust each exercise position to fit you properly so that you feel comfortable during the exercise. 
The Revolution has an adjustable seat and a sliding seat rail. We love the sliding seat as it allows you to use the Revolution as a rowing machine so that you can add some cardio exercises into your routine.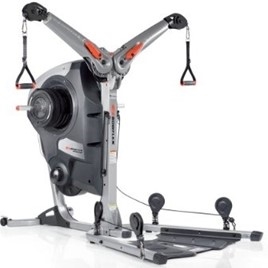 Pros
Consistent resistance without needing bulky weights
More than 100 different exercises
Upto 300 lbs of resistance
Easily and quickly switch between exercises
All accessories included
Excellent warranty
Suitable for users up to 300 lb
Easy to put together
Seat rail folds up for compact storage
Cons
It's fairly big and heavy
It's more expensive than the others (but often reduced so hit the button below to get today's price)
Verdict – This revolutionary exercise machine from Bowflex has taken the crown as the best Bowflex Machine. It has the biggest range of exercises and easily allows you to have a quick and varied exercise session.
If you want to find out more about our top Bowflex home gym, please check out our comprehensive Bowflex Revolution Review.
Bowflex Home Gym Buyers Guide
So, you know know that the Bowflex Revolution is the top Bowflex home gym. But how about all the others? Are any of them worth considering?
The rest of the options in our guide to the best Bowflex home gyms use the Bowflex power rod system. This is the system that made Bowflex famous and has been tried and tested for many years so you know that you are getting a reliable and popular Bowflex home gym.
The Bowflex home gym models that use bows feel a bit different from a standard free weights machine as when you start to pull it is fairly easy, but as the tension increases the resistance builds and you get a tougher workout. It's like when you draw the string to fire an arrow from a bow. It starts easy and gets harder the further you pull.
This system creates a smooth and fluid movement while you exercise that causes less strain on joints and tendons than a free weights machine.
The Bowflex home gyms allow you to do dozens of different exercises by connecting cables to the Bowflex power rods. This means that you can work on upper body, lower body, and core exercises.
The Xtreme 2 SE has the most exercises of the Bowflex power rod range and offers over 70 different exercises. 
2. Bowflex Xtreme 2 SE – The Best Bowflex Power Rod Machine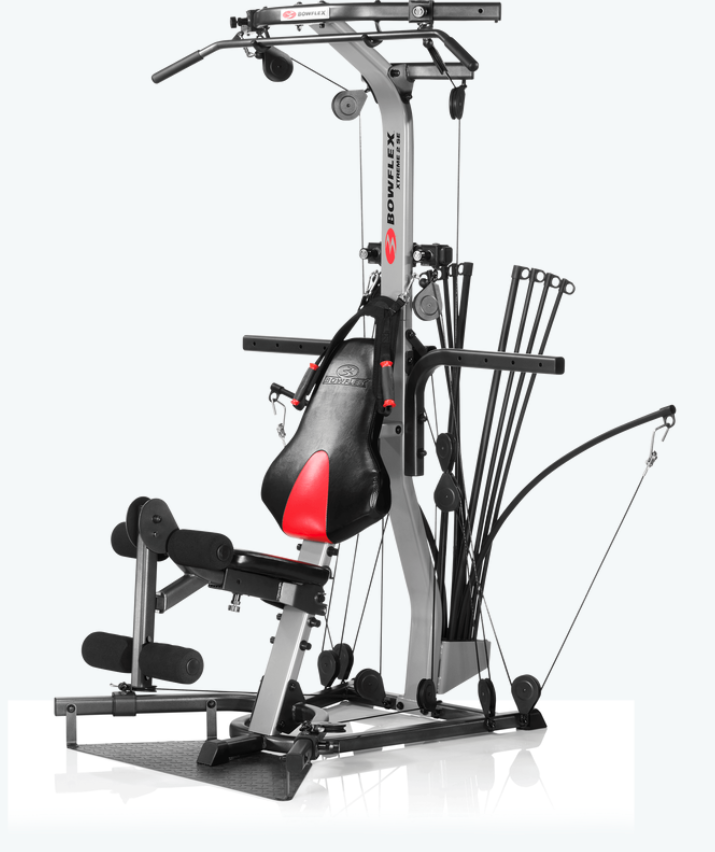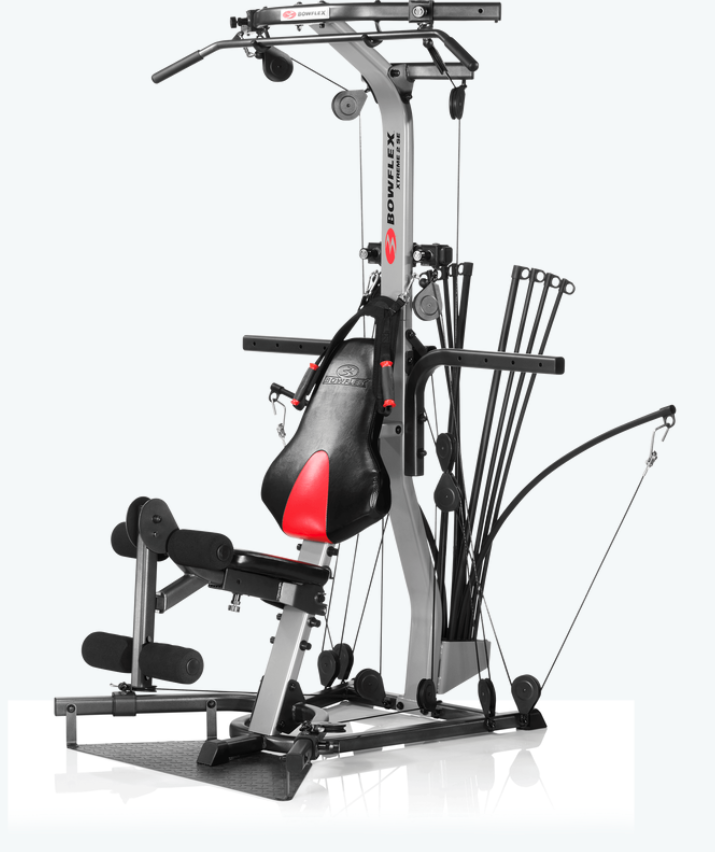 The Bowflex Xtreme 2 SE is the Best Bowflex machine that uses power rods to provide resistance. It has a huge range of different exercises available (70+) and a great quick-change pulley system that means you can have a really fluid exercise session without the need to stop and start whilst you change over the cables. All in all, it's a great Bowflex weight machine that has incredible variety, is upgradable to 410 lbs of resistance, and comes with loads of useful attachments
Pros
Over 70 exercises for a great full-body workout
Quickly switch between exercises for different muscle groups
Upgradable to 410lbs resistance
Good warranty
Suitable for users up to 300 lb
Easy to assemble
Cons
A little expensive
No horizontal bench or rowing machine
Verdict: Even though we have it second on this list, the Xtreme 2 SE is one of the very best home gyms you can buy. The quality of the machine, the variety of exercises on offer, and the convenience of working out at home will make you wonder why you ever dragged yourself to the gym. 
3. Bowflex Xceed – The Best Bowflex Gym for the Money
The Bowflex Xceed is a brilliant all-around machine that offers great value for money. It has a good range of over 65 exercises and is also upgradable all the way to 410 lbs. It is quite an affordable option out of all the Bowflex home gyms and this is because it lacks the quick change pulley system. Whilst this is a bit inconvenient and disrupts your exercise routine, if you are looking for value and versatility, this could be the best Bowflex gym for your home.
Pros
65 plus exercises for chest, shoulders, back, arms, abs, and legs
210 pounds of Power Rod resistance can be upgraded to 310 pounds or 410 pounds
Multiple cable or pulley positions.
7 training programs provided.
Heavy-duty steel frame ensures long-lasting protection and shape retention
Cons
No quick change pulley system
No rowing machine
Verdict- The Xceed lacks the quick change pulley system but has a great range of exercises for a good price and as it can be upgraded it is not a machine that you will outgrow. If you are keen to build strength and don't need a rowing machine option this is probably the best Bowflex home gym for the money.
4.
Bowflex PR 1000

– The Best Bowflex Home Gym for Beginners
This is the most affordable of all the options in this Bowflex Home gym comparison. This means that there are some compromises compared to the top machines. There is a smaller range of exercises, no quick change system and it is not upgradable to a higher resistance level.
For these reasons, we think that it is probably best suited to beginners who are just getting into working out at home and are happy with lower resistance levels and less variety. One of the best things about the PR1000 is that it can be used as a rowing machine (of the other machines, only our No1. pick the Bowflex Revolution can do this)
Pros
Great Value

Foldable, horizontal bench with rowing attachment

30+ different exercises

that cover the entire body
Over 200 pounds of Power Rod resistance
Bench converts to a rolling seat for aerobic rowing
Built-in media rack
Multiple cable pulley positions allow you to easily change the angle of resistance and increase the effectiveness of many exercises
Cons
The 210lb resistance cannot be increased (unlike the other Bowflex models)

Relatively few exercises compared to the others
Verdict – This piece of Bowflex exercise equipment offers great versatility for a very low price. The price point and range of exercises make it perfect for anyone that is looking to get started with home exercise. More seasoned gym-goers that are looking to build muscle might need higher resistance levels and should look at other options in this list. Overall, the low price and versatility mean that it's probably the Best Bowflex machine for beginners
5. Bowflex PR3000 Home Gym – Best Value Bowflex Machine for Versatility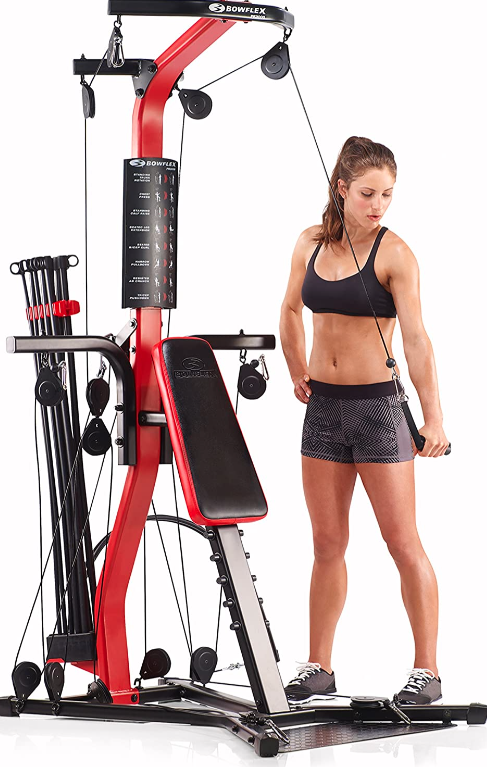 The PR3000 Home Gym from Bowflex is an easy-to-use machine that lets you take part in over 50 different exercises. This means that you will have a machine that you definitely won't get bored of quickly and it means that you can work out all of your muscle groups. 
This Bowflex workout machine uses a multiple pulley system which lets you easily switch between working on different muscle groups without having to interrupt your routine. 
The Bowflex power rod resistance means that this is a machine that is easy on your joints and perfect for safely exercising alone.  Overall, the PR3000 is highly recommended as a versatile and great-value home multi-gym
Pros
Over 50 exercises for a great full-body workout
Quickly switch between exercises for different muscle groups
Upgradable to 310lbs resistance
Cons
No horizontal bench 
No rowing machine
Some Bowflex machines can be upgraded to 410 lbs
Verdict: The PR3000 is a good value home exercise machine that has a great range of different exercises. The quick-change system helps your exercise routine to flow. If you can manage it, it's worth stretching the budget to the Xtreme 2 SE which is only slightly more, but this is still a decent machine.
Bowflex Blaze
The Bowflex Blaze is a great all-around home gym machine that is perfect for beginners looking to start exercising at home.
It is also a machine that will grow with you, as your strength improves you can upgrade the Blaze with extra power rods to increase the resistance level.
One of the stand-out features of the Bowflex Blaze is the horizontal bench. It's the only home gym in this Best Bowflex home gym comparison that has a horizontal bench.
This means you can do lots of exercises parallel to the floor, like a bench press lying on your back and it also doubles as a rowing machine allowing you to add some cardio workout to your exercise routines. 
If space is tight it's worth knowing that the bench makes this one of the longest Bowflex machines.
All in all, it's a great choice for a home gym.
60 plus exercises for a full-body workout
210 pounds of resistance as standard, upgradable to 310 pounds or 410 pounds
Bowflex provides 7 free workout regimens
Sliding seat rail allows you to perform aerobic rowing and leg presses
Lat bar and squat bar included
How to Choose the Best Bowflex Home Gym
In this best Bowflex machine comparison guide, we have looked at the pros and cons of various Bowflex home gyms. We hope that this has helped you to decide which machine is right for you.
All Bowflex home gyms are good home gyms. So deciding which one is best for you just comes down to your priorities. If you just want the best of the best then the choice is simple in my opinion, go for the Bowflex Revolution. It has the most exercises, the most versatility, and is just the best Bowflex gym overall.
If you are concerned about the cost of the Revolution then there are some other machines that are worth a look. The Bowflex Xtreme 2 SE is also a great machine with lots of variety and is definitely your 2nd best option. It has a quick change cable pulley system and plenty of variety to keep you busy. It's a good saving compared to the Revolution, you can compare prices here.
For an even more affordable option, you can look at the Xceed (good for strength building) or PR1000 (a good all-rounder for people looking to improve strength and fitness).
What to look for before buying a Bowflex machine
Before buying a Bowflex home gym it is essential to make sure that you have enough space to store and use it. Whilst they are compact for what they do you still need a decent amount of space. You should allow a minimum workout area of at least 8'4″ x 6'6″ (2.6 m x 2.0 m) for safe operation. You will also need a ceiling height of at least 7 feet (2.13m).
Once you are sure that you have enough space it is worth considering what sort of exercises you want to do and make sure that the machine you pick offers your favorite exercise. For example, the entry-level PR1000 has a horizontal bench and rowing attachment whilst many of the other machines have no bench.
If you need further information you might like to check out our comparison reviews: Revolution vs Xtreme 2 SE, Xceed vs Xtreme 2 SE, Xceed vs PR1000, PR1000 VS PR3000, PR3000 vs Xtreme 2 SE.
Which Bowflex Machine Is The Best? Final Thoughts
W Hopefully, you are no longer wondering which Bowflex home gym is the best or unsure what is the best Bowflex home gym.
This Bowflex home gym buyers guide has shown you that the Bowflex Revolution is the best Bowflex home gym but that the other machines might be worthy of consideration in certain circumstances.
Now, it's time to decide! Why not visit the Bowflex website and make your choice?
FAQs
What is the newest Bowflex home gym?
The newest Bowflex home gym is the Bowflex Revolution. This is the first home gym from Bowflex to utilize the Revolutionary SpiraFlex technology which was first developed for use by astronauts in space. It's the most versatile Bowflex machine with over 100 different exercises, including cardio and strength training exercises.
Does Bowflex really build muscle?
Bowflex home gyms will help you to build muscle. Of course, you have to put the work in, but the resistance offered by the Bowflex machine combined with repeated exercise will result in increased muscle mass. The more effort you put in the better the results!


*As an Amazon Associate I earn from qualifying purchases.