Total Gym Fit Review [2023] – Is It The Right Fit For You?
**We sometimes add affiliate links to our posts which mean we are compensated if you make a purchase after clicking on the links. This helps us offset the costs of running this site.**



Welcome to my comprehensive Total Gym FIT Review!
I know that when it comes to home gym equipment, it can be overwhelming trying to figure out what's worth the investment, which is why I'm here to help!
Today I'm going to be giving you the lowdown on the Total Gym FIT.
I've been really impressed with its versatility and ease of use. Plus, the variety of exercises and customizable resistance levels make it a great option for all fitness levels.
So, whether you're a beginner or a fitness pro, this review of Total Gym Fit is for you. I'll share all the nitty-gritty details of the Total Gym FIT including its design, exercise capabilities, and accessories. So, let's dive in and see if this piece of equipment is the right fit for you!
Total Gym FIT Review – Quick Verdict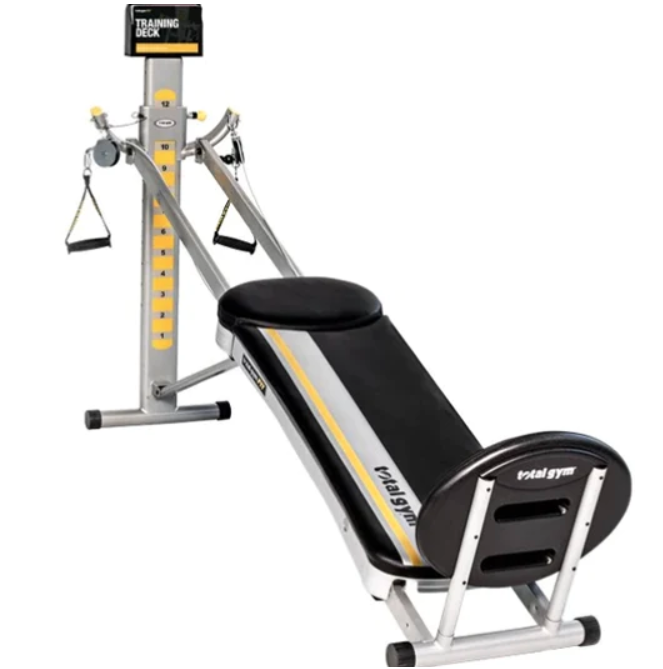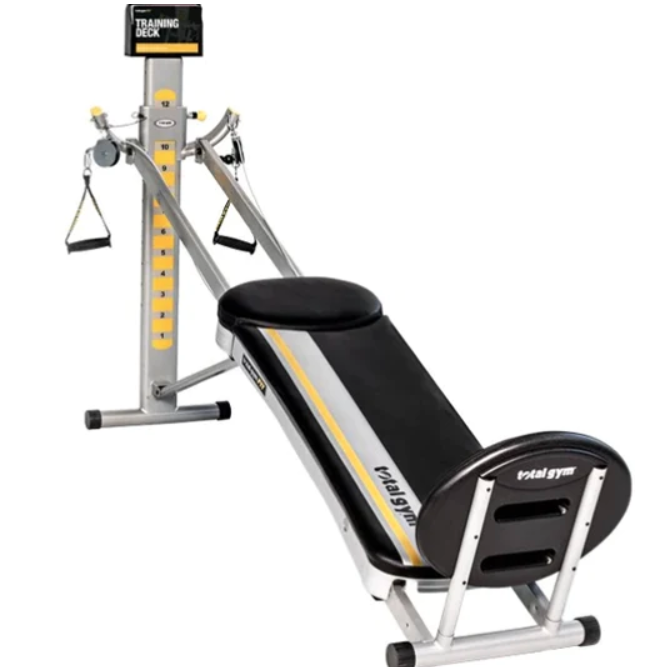 Pros
Huge variety with over 85 exercises
High 450-lb load capacity allows use of weights
12 resistance levels
Really smooth glide board
super stable
Ab-Crunch and upgraded squat stand included
Easy to fold
Cons
More for toning than building muscle
The Total Gym FIT is a great piece of home gym equipment. It's super solid, incredibly versatile, and a joy to use.
If you want to take your home exercise regime to the next level then this is the perfect addition to your home gym.
What is the Total Gym FIT?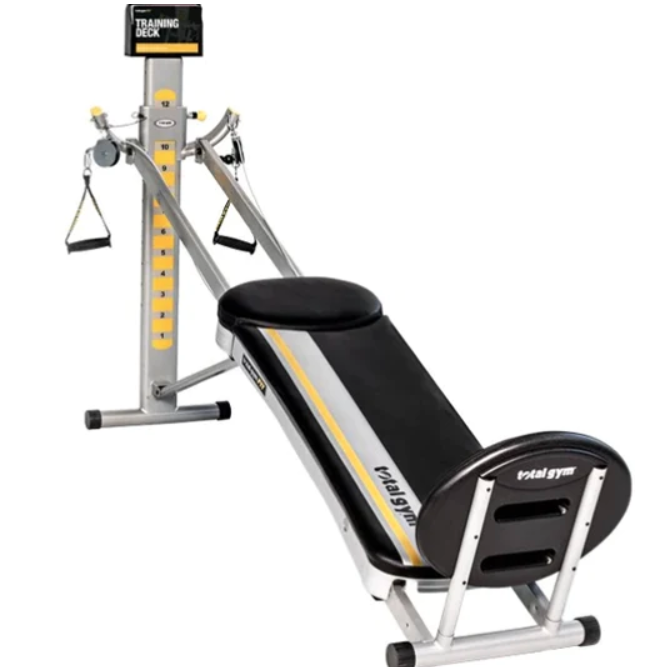 The Total Gym FIT is the latest addition to the Total Gym family of incline trainers. Designed by CEO Tom Campanaro in 1974, these unique, gravity-based machines have been used by professional athletes, rehabilitation specialists, personal trainers, and fitness enthusiasts for decades.
The FIT model is similar to the Total Gym XLS, but with more resistance levels, exercises, attachments, and a higher weight capacity.
One of the key features of the Total Gym is its design, which utilizes body weight and gravity instead of weights. You perform the exercises on a glide board that stands at an angle on an adjustable base.
This enables you to do a full body workout using a huge variety of customizable exercises. 
The FIT model offers more resistance levels than previous models. This gives an improved level of adjustability and makes it suitable for a wider range of fitness levels.
The Total Gym Fit also has a higher maximum user weight than other Total Gyms. 
The Total Gym FIT has a clever design that uses 2 pulleys and a height-adjustable stand, that's pretty much it.
But with this simple design, you can do a huge amount of exercises at 12 different difficulty settings. It's a really elegant design that allows you to have a full body workout.
The Total Gym FIT comes with a variety of accessories, such as a wing attachment and a squat stand, that provide a wide range of exercise options to target different body parts.
Whether you need a gentle stretch or a full-on sweat session, the Total Gym FIT can work your arms, core, back, and legs with one easy-to-use machine.
Total Gym FIT Specs
Total Gym FIT
Exercises
85+
Resistance Levels
12
Attachments
AbCrunch
Leg Pull
Upgraded Squat Stand
2-piece Wing Attachment
Weight Capacity
450 lb
Warranty
Lifetime frame, 2 year parts
Price
$$$
Check Price Here
How big is the Total Gym Fit?
The Total Gym FIT is a compact and streamlined home gym option that folds away nicely.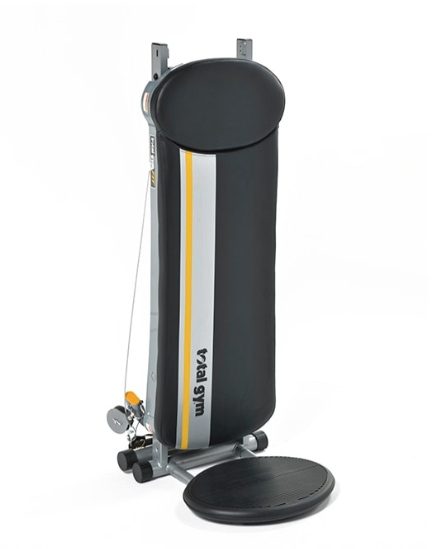 In use, the Total Gym FIT measures 18 inches wide, eight feet long, and nearly four feet tall. When folded, it is only four feet long and around one foot tall. It's lightweight, at 66 pounds, making it easy to fold up and store away when not in use.
You can get it under most beds, or shut it away in a closet between exercising. Just don't forget about it! You need to use it to get fit!
Total Gym FIT folded dimensions: 18.5″W x 50.5″L x 8.5″H
Total Gym FIT unfolded dimensions: 18.5″W x 93″L x 44.5″H
It's worth noting that the Total Gym FIT is a bit longer than other models like the XLS. While this means you need a few inches more space, it also gives you a great range of movement and helps your exercises to feel better.
The Total Gym FIT is best suited for users who are around six-foot-four and under. The 450-pound user weight capacity, shows that the machine is solidly built and can handle a significant amount of weight. 
If you purchase the weight bar accessory and add your own weight plates, it's important to note that the weight of the plates plus your body weight should be equal to or less than the total weight capacity for the Total Gym FIT.
You May Also Like
How do you set the resistance on the Total Gym Fit?
The Total Gym FIT offers a unique way to control resistance through the use of body weight and the glider seat, providing a low-impact workout option. The resistance level is adjusted by changing the height of the base, with a higher base providing more resistance and a greater challenge. 
The Total Gym FIT has 12 levels of resistance, with a dozen different height positions for the base to lock into place. This allows for a range of exercises and resistance levels, making it suitable for different fitness levels. Crucially, this means that you can increase the challenge of your workout as your fitness improves. 
Another aspect of the Total Gym FIT's resistance is that the incline of the base varies depending on the exercise. For example, exercises like squats will have less of an incline than exercises like ab crunches or tricep dips. 
This means that different exercises will require different levels of resistance and incline to target specific muscle groups, providing a customizable workout experience.
Our other favorite home gyms are made by Bowflex. Check out this post to find out how Bowflex and Total Gym compare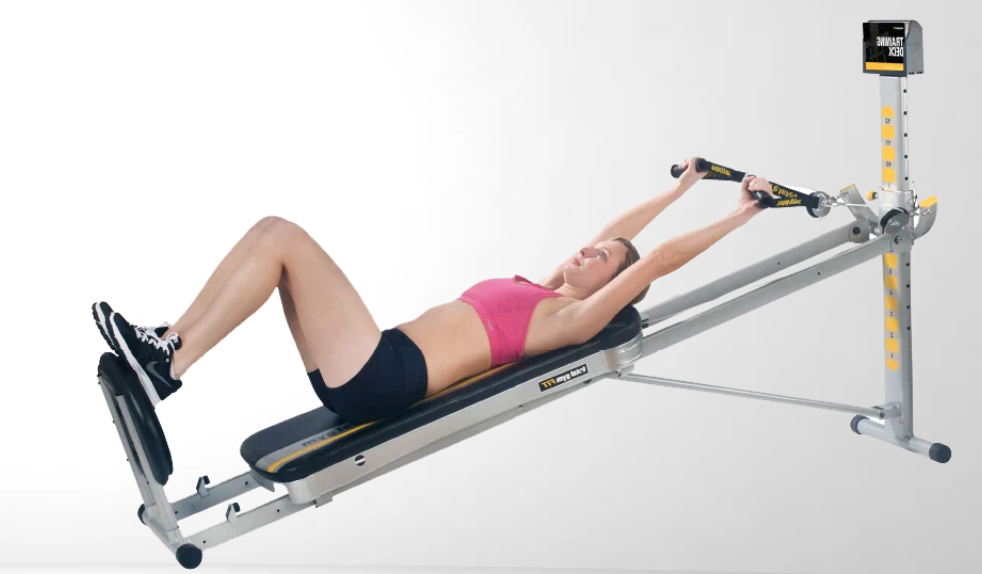 What accessories come with a Total Gym Fit?
Total Gym FIT reviews like this one need to give you an idea if the machine is worth the money or not.
Well, one of the things that make this a little more expensive than other Total Gyms is the number of accessories that are included. You get a variety of accessories that help you target different body parts and target your routine to fit your fitness goals.:
Total Gym AbCrunch: This accessory locks into the frame with a metal pin pushed into each side of the frame. It has nice cushioned handlebars and padded armrests which will help to keep you comfortable and supported for crunches and other ab exercises.
Ribbed squat stand: This is a wide and provides a sturdy platform that can be  installed at the base of the Total Gym FIT and used for a variety of leg exercises such as jump squats, basic squats, and single-leg squats.
Two-piece wing attachment:  This attachment allows you to exercise with a wider range of motion. It can be used to do chin-ups, pull-up or inversion exercises. The handlebars can be locked into place with a metal pin for security when in use.
Leg-pull accessory: This comes with a detachable bracket and two ankle cuffs. The ankle cuffs can be used to do basic leg presses, hamstring curls, inner thigh pulls, Pilates, yoga stretches, and more.
The Fit comes with the AbCrunch included. This is a big part of the additional cost over the XLS since the AbCrunch is one of Total Gym's most popular attachments and can be purchased separately for about $160.
In addition to the accessories that come with the Total Gym FIT, you can also purchase additional accessories to further customize your workout routine. These include triceps ropes, a Pilates toe bar (which is also great for ab workouts), dip bars, and a weight bar to add your own weight plates.
As a bonus, the Total Gym FIT also comes with the "Nutritional Program & Meal Plan" developed by Dan Isaacson, an established fitness expert and co-creator of the Total Gym collection.
This program is designed to help you achieve your fitness goals by providing you with nutritional guidance and meal plans to complement your exercise routine.
How many exercises can you do with a Total Gym Fit?
The Total Gym FIT boasts an extensive exercise library, with 85 different exercises and a variety of accessories to customize and diversify your workout routine.
The range of options allows you to keep your workout fresh and engaging, which in turn can help motivate you to stick to your workout schedule and push yourself to new limits.
Additionally, rotating through different exercises helps keep your muscles challenged and guessing.
The exercises allow you to work on every major muscle group and mix up your training schedule with enough variety that you'll never get bored and never want to miss a session…..Ok, so maybe sometimes your motivation will drop but there is definitely enough here to keep you coming back, and most importantly you will see the results that will get you motivated.
To help you make the most of the Total Gym FIT, a workout book is included that illustrates all 85 exercises you can do with the machine.
The Total Gym exercise wall chart serves as a quick reference guide, showcasing 35 exercises you can perform on the Total Gym FIT. 
Another handy resource is the Total Gym Training Deck, which can be attached to the stand and used as a reference during workouts.
When I decided to review Total Gym Fit, I was pleased to see that they have moved on from the DVD's supplied with earlier models. You now get a much more modern workout experience as you can take advantage of Total Gym® TV, an on-demand video platform that streams Total Gym workouts on various devices. 
The "Basic" package is included with your Total Gym purchase and provides introductory workouts led by trainers.
You can access the platform via the app on Apple, Android, Apple TV, and Roku devices or online.
If you want more workout options, you can choose the Total Gym TV Premium package, which offers new workout programs added every month.
There are also some great videos on YouTube. Check out Rosalie Brown and Total Gym themselves.
Overall, the Total Gym Fit is a great machine for anyone looking to improve their fitness, and strength while getting toned. Bodybuilders and anyone focused on strength training and putting on muscle might want to stick with free weights or a Bowflex home gym.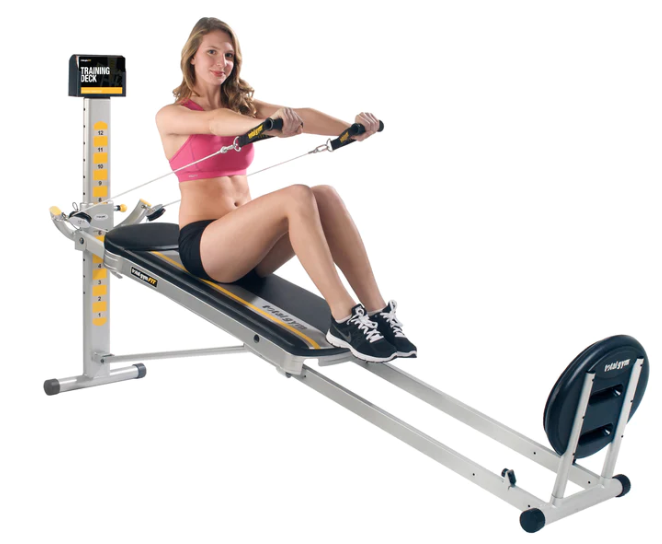 How Versatile is the Total Gym Fit?
The Total Gym FIT is a versatile home gym that offers a variety of features to help you achieve your fitness goals. Its key feature is its versatility, which allows you to target different muscle groups by plugging and playing with the accessories.
The customizable resistance means you can perform exercises based on your ability level, putting you in control of the weight and movement. You can use the included workout chart or on-demand videos for workout ideas, or get creative and build a workout that works for you, allowing you to accomplish short, effective workouts for weight loss, muscle gain, stretching, and toning.
Another advantage of the Total Gym FIT is that it comes fully assembled, making it easy to set up. Simply unfold it, and lock it into place with the safety hitch pin. The accessories also need to be configured to your personal preferences, but this can be done easily without the need for tools or an extra set of hands.
With the Total Gym FIT, you can enjoy a fully customizable workout experience in the comfort of your own home.
Does a Total Gym Fit come with a warranty?
The Total Gym FIT comes with a 30-day trial period, allowing you to try out the equipment and determine if it's the right fit for you. If for any reason you decide it's not suitable, you can return it within 30 days of receipt for a full refund or credit.
Additionally, the Total Gym FIT is protected by a lifetime warranty on the frame and an extended two-year warranty on parts such as pulleys, cables, and handles, providing you with peace of mind and assurance in your purchase.
What's different about the Total Gym FIT?
So, there are quite a few Total Gyms on the market. The FIT is one of the newest and most expensive so, of course, you are wondering why it's more expensive and whether it's worth the extra.
The FIT is one of the nicest machines made by Total Gym, only the Total Gym GTS is better but that is aimed at the commercial market and costs a lot more.
The main benefits of the FIT over cheaper models are, a higher number of exercises available, more levels of resistance, higher weight capacity, and more attachments.
All in all, you get a better-built machine that allows you to do more exercises and has a more premium feel, and comes with extra attachments as standard.
Pros and Cons of the Total Gym FIT System
Pros:
Quick and easy to set up, no need for tools or extra hands
Compact design, easy to store when not in use
12 levels of resistance, customizable to your fitness level
Wide range of exercises, and access to on-demand workout videos to keep your routine varied.
30-day trial period and a lifetime warranty on the frame and 2-year warranty on parts.
Cons:
May not be suitable for those looking to build muscle mass through free weights
More expensive than some other home gym options
Total Gym Fit Home Gym Review – Final Thoughts
The Total Gym FIT is a versatile and convenient home gym option that offers a wide range of exercises and customizable resistance.
It's compact and easy to assemble which makes it a great option for those looking for a space-saving piece of equipment that they can tidy away when they are not using it.
The included accessories, workout book, exercise wall chart, and access to on-demand workout videos allow you to tailor your workout to your specific fitness needs.
While it may be more expensive than some other home gym options, it comes with a lifetime warranty on the frame and an extended two-year warranty on parts, providing a sense of security for your investment.
I think it's worth the money, and since there is a 30-day trial period you can always test out the equipment and send it back if it doesn't work for you so it's risk-free and you have nothing to lose.
>> If you can get your hands on the signature edition it has a bigger, better squat stand which is a big plus in my opinion.


*As an Amazon Associate I earn from qualifying purchases.