Total Gym XLS vs GTS – How Much Should You Spend?
**We sometimes add affiliate links to our posts which mean we are compensated if you make a purchase after clicking on the links. This helps us offset the costs of running this site.**



In this Total Gym XLS vs GTS review I will help you to decide which of these well loved home gyms is the right choice for you.
When comparing the Total Gym XLS and Total Gym GTS it's worth knowing that they are essentially different versions of the same machine. They both have a glide board and attachments that can target different muscle groups to offer a full-body workout. Many of the exercises are common to both machines but the GTS has a lot more exercises available.
The Total Gym GTS is a commercial-grade top-of-the-line model that is a significant upgrade compared to the XLS. The GTS offers more resistance levels, higher weight capacity, and more exercise options than the XLS. It's also much more sturdy and feels like a premium piece of gym equipment.
Which, of course, is what it is!
The GTS has the higher price tag that you would expect of such a high-grade machine so you will need to pay quite a lot more to get a Total Gym GTS vs XLS, but, the question is whether the upgrade is worth the extra cost.
In this head-to-head Total Gym XLS vs Total Gym GTS comparison, we will be looking at all the key differences between the two models, including resistance levels, weight capacity, exercise options, and price. This should help you determine which Total Gym is the better option for your home gym needs.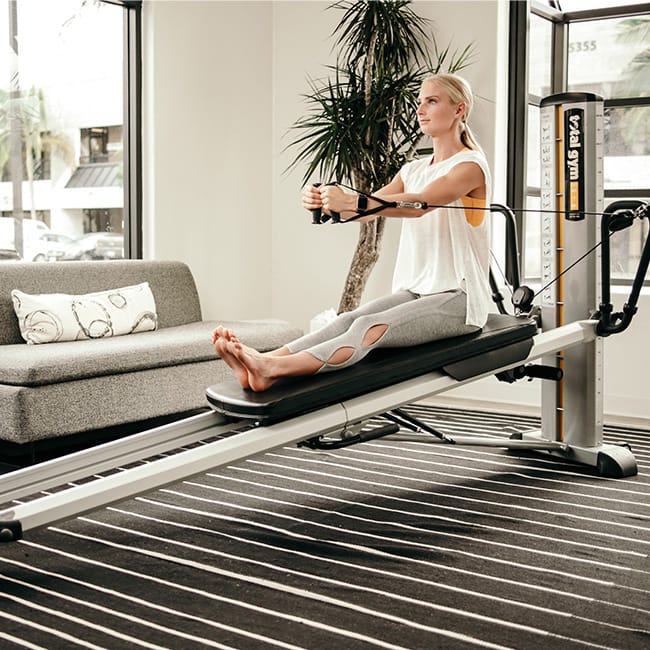 What is the difference between Total Gym XLS and GTS?
Total Gym XLS
Total Gym GTS
Exercises
80+
250+
Resistance Levels
6
22
Attachments
Leg Pull
Ribbed Squat Stand
Wing Attachment
Telescoping squat stand
Scrunch
Retractable dip bars
3 grip pull-up bar
+ loads more
Weight Capacity
400 lb
650 lb
Warranty
Lifetime frame, 6 month parts
5-year Warranty on Frame,
1-year Warranty on Parts
Price
$$
Check Price Here
$$$$


Check Price Here
Total Gym GTS vs Total Gym XLS – Quick Verdict
So, you are looking at the pictures and the Total Gym GTS and Total Gym XLS look pretty similar, right? Well, you're not wrong, they do look a lot alike at a distance but there are quite a few differences once you start to look closer or when you are actually using them.
I think the biggest difference is that the Total Gym GTS machine feels a lot more sturdily built and has a wider more stable board that glides much more smoothly.
This means that every exercise just flows a bit better on the GTS and there is less wobble. Heavier and taller athletes will feel more comfortable on the GTS.
In brief, the Total Gym GTS has
Much sturdier build
Higher weight limit
More exercises
More resistance levels
Bigger and heavier machine
More attachments
So, all in all, the Total Gym GTS is better than the Total Gym XLS. It's better built and offers more attachments and more variety of exercise.
So the Total Gym GTS is better. Case closed? Well, pretty much. If you want the best Total Gym experience then go for the GTS, it is brilliant.
But, the reason many people may still want to choose the XLS is that it costs significantly less. Like a few thousand dollars less.
The XLS is still a good home gym and is targeted at more casual users. It also has the advantage of being smaller and easier to fold away and store so if space is tight at home then the XLS is probably the better choice.
What I love about Total Gym is that you can try them for yourself for free! If you buy direct from Total Gym you get an amazing 30 days to try it out risk-free. So why not try one out for yourself!?
Do Total Gym GTS and XLS have the same resistance?
One of the key features of Total Gym equipment is the ability to use body weight as resistance for exercises. This can be adjusted by changing the height of the slide board, which in turn changes the angle of the pull and the percentage of body weight being lifted.
The Total Gym GTS offers 22 resistance levels and the XLS offers 6. So, you get more options for fine-tuning the intensity of exercises if you go for the FIT. This allows for incremental changes to be made to the difficulty of the workout, instead of having to jump up significantly or spend more time at a lower setting.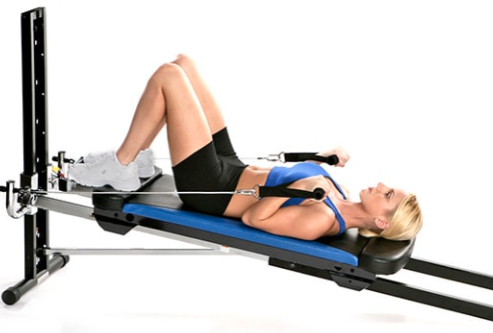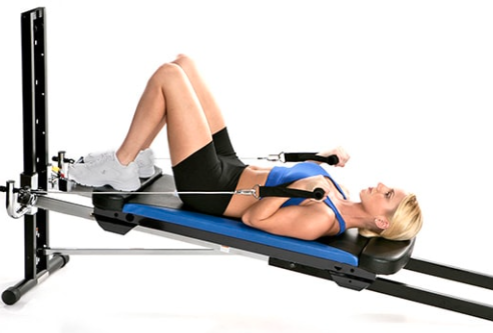 Having more resistance levels on the Total Gym GTS can provide more flexibility and customization for your workout routine. It allows for a gradual increase in difficulty, which can help prevent injury and burnout. It also means that you can progress at your own pace, rather than being limited by the number of resistance levels available.
If you're just starting out, you may want to begin with a lower resistance level and gradually increase as you get stronger. With 22 resistance levels, the GTS allows for more precise adjustments, making it easier to progress at your own pace. 
The XLS, with only 6 resistance levels, does not offer as much flexibility and control over the intensity of the workout. This could make it harder to progress as quickly or effectively, as the increments between resistance levels are larger.
The Total Gym XLS also has a lower maximum incline which means that the hardest difficulty setting is lower on the XLS although both machines can be used with weights for a more intense workout.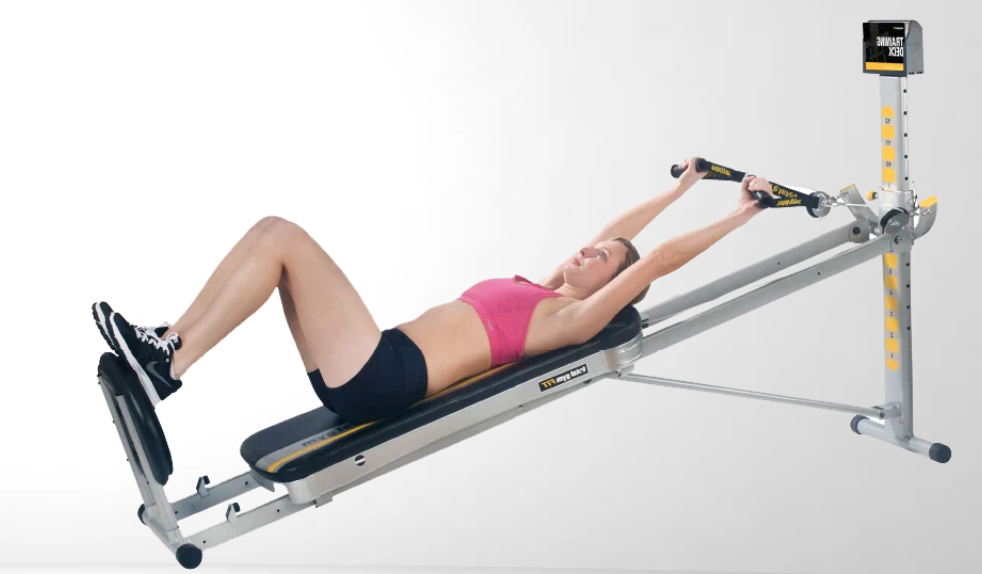 You May Also Like
What attachments come with Total Gym GTS compared to the XLS?
The range of attachments that you get with the Total Gym XLS and GTS are quite different reflecting the superior quality of the GTS.
The Total Gym GTS comes with:
Soft grip lat bars: These bars are super convenient and can be folded in and out of place to allow for pull-up exercises.
Telescoping squat stand: This upgraded version of the squat stand has three different height adjustments and a non-skid tread for better grip, making it perfect for jumping exercises.
3 grip pull-up bar: This attachment provides you with more variety in your pull-up grip, allowing you to target different muscle groups.
Scrunch: The abdominal attachment is designed to help you perform a wide variety of core exercises.
Weight bar: With this attachment, you can add external weight plates to increase the intensity of any move.
Squat handle bar: This attachment offers added stability during squat moves and can be helpful for those who are unsure about exercising on the sliding board.
Press bar: The press bar gives you the ability to perform military press exercises.
Retractable dip bars: Dips are an excellent strengthening exercise for your pecs and triceps, and this attachment makes it easy to do them on your Total Gym.
The much lower-priced Total Gym XLS comes with a Leg Pull Attachment a Ribbed Squat Stand and a Wing Attachment
Total Gym GTS vs Total Gym XLS: Weight
When it comes to weight capacity the Total Gym GTS and XLS can both withstand a significant amount of weight. But, the GTS has a higher weight capacity of 650 lbs compared to the XLS weight limit of 400 lbs. This makes the GTS the one to go for if you are a heavier athlete.
As this is the total weight limit of the machine, users who plan to increase the intensity of their exercise by adding weights will need to consider the combined weight of themselves and the weights they are using so the GTS gives a lot more scope for increasing the difficulty level.
It's important to note that weight capacity is also a good guide to how stable and sturdy it feels during use. A higher weight capacity can indicate that the machine is built with heavier-duty materials and can handle more intense workout sessions. The commercial-grade Total Gym GTS does feel a lot more substantial.
In terms of assembled weight, the GTS is much heavier at 180 pounds compared to the relatively lightweight XLS which weighs in at 68 lbs. This is worth thinking about if you plan to move your fitness machine about or pack it away since the overall size and weight of the GTS will make this more difficult.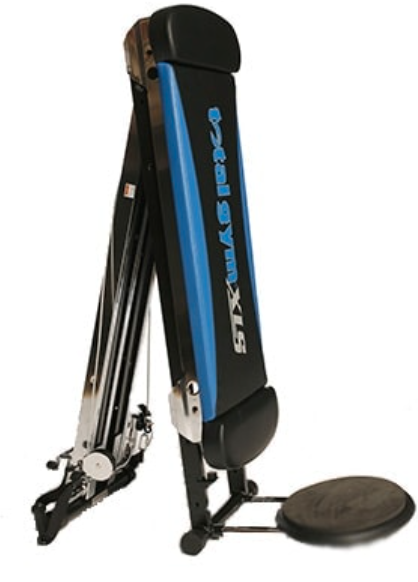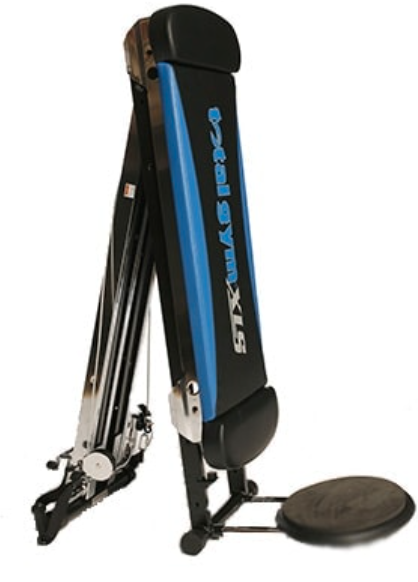 Total Gym GTS vs XLS: Warranty 
There is quite a big difference between the warranties offered on the Total Gym XLS and the Total Gym GTS, and it's probably not what you were expecting.
The XLS comes with a lifetime frame warranty and a 6-month parts warranty, while the GTS only comes with a 5 year warranty on the frame although the parts get a longer 1 year warranty.
All Total Gym models are built to last and have a reputation for being durable, so the likelihood of needing to use the warranty is relatively low but it is disappointing that the expensive top of the range GTS has a relatively short warranty.
I think that it's because the GTS is used in gyms where they get used and abused all day long rather than now and again as you get with a normal home gym.
Having tested the machine it seems incredibly well made and I am confident that it will last a lifetime.
Total Gym XLS vs GTS:  Price Comparison
Let's not beat about the bush. The biggest difference between the Total Gym GTS and XLS is the price. At the time of writing, there is a $3000 difference between the two machines.
This is not loose change and does reflect how much better quality the GTS is, it is the ultimate Total Gym experience.
You also get a larger range of attachments and huge range of exercises with the GTS.
The GTS is definitely worth the money, but for many people, the XLS will be more in line with what they want to spend on a home gym machine (if you are looking for the middle ground check out my Total Gym FIT review).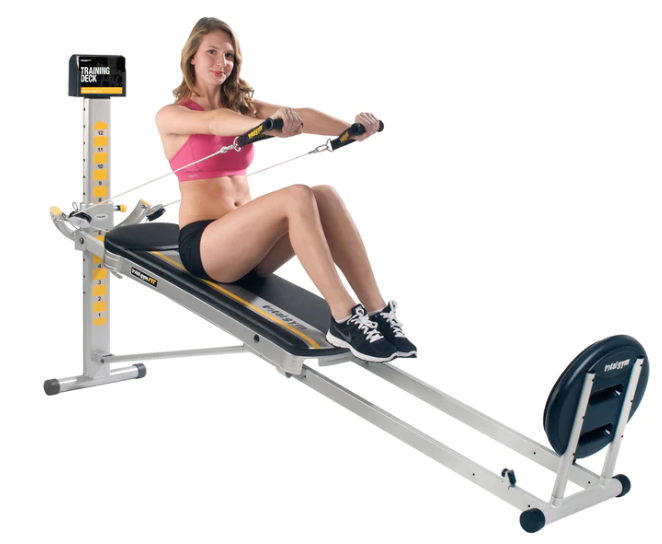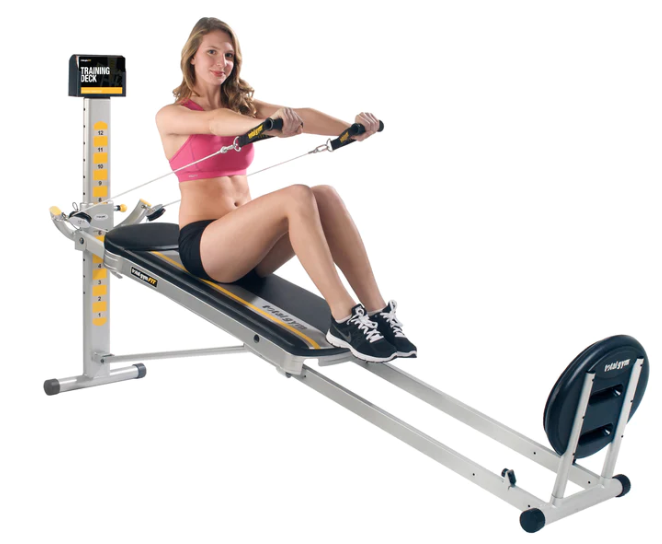 Total Gym GTS Vs XLS Which One Should You Get?
So this is the tricky part.
In my opinion, if you have the budget, are serious about exercising at home, and have used a Total Gym before (and liked it), then the Total Gym GTS offers the very best exercise experience and is worth the money.
It feels like the quality of machine that you would find in a commercial gym, which is exactly what it is. I guess what I am saying is that you get what you pay for and the GTS is quality through and through.
If, you are new to exercising at home or have a more modest budget then it's probably best to go for the XLS. It's still a great home gym and is a great way to hit your fitness goals.
One of the best things about Total Gym is that you can try them for yourself for free!
If you buy direct from Total Gym you get an amazing 30 days to try it out risk-free. If you don't like it you can just send it back and get a refund. It's an amazing offer and we think it's well worth giving Total Gym a try!
Check out our Total Gym Reviews


*As an Amazon Associate I earn from qualifying purchases.