Bowflex Xceed vs PR1000 – Which is Best for You? [2023]
**We sometimes add affiliate links to our posts which mean we are compensated if you make a purchase after clicking on the links. This helps us offset the costs of running this site.**



In this post, we will be comparing two great home gyms, the Bowflex Xceed vs PR1000. We are big fans of all the Bowflex home gyms, which allow you to participate in gym-quality exercises without the hassle, expense, and inconvenience of going to a membership gym.
You may already have seen some of our other reviews where we have looked at machines like the Revolution, PR3000 and Xtreme 2 SE. 
In the latest review in this series, we will compare the PR1000 to the more top end Xceed so that you can see whether the price difference can be justified for your home exercise regime. 
Bowflex Xceed vs PR1000 – Quick Verdict
Bowflex PR1000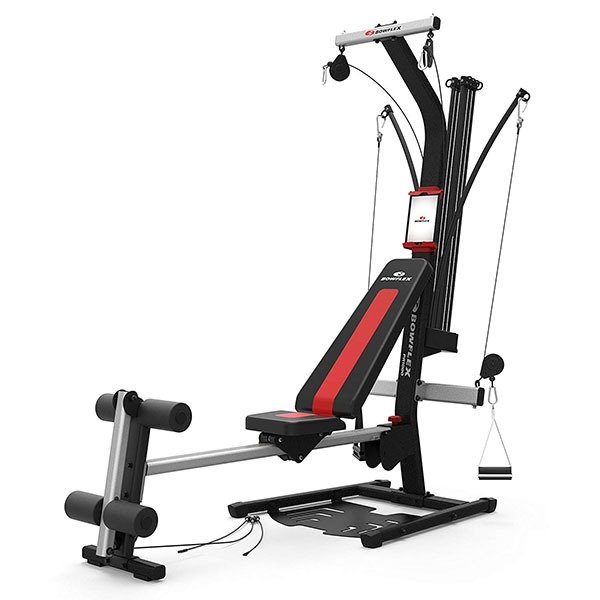 30 different exercises
210 pounds of maximum power rod resistance, no option to upgrade
Foldable, horizontal bench with an integrated rowing machine
Built-in media rack
Multiple cable pulley positions to change the angle of resistance and increase the effectiveness of exercises
Footprint: 103 x 80 x 82 inches
Bowflex Xceed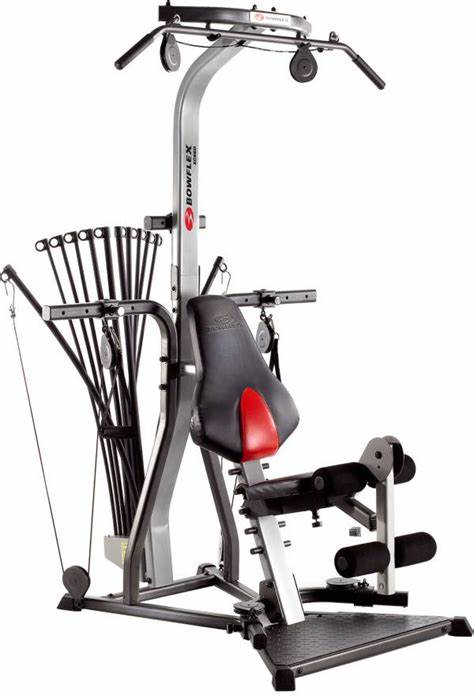 65 plus exercises
210 pounds of Power Rod resistance can be upgraded to 310 pounds or 410 pounds
Multiple cable or pulley positions for custom workouts
Bowflex provides 7 trainer build workout regiments.
Heavy duty steel frame ensures long lasting protection and shape retention
Footprint: 53 x 49 x 82 inches
Both the Bowflex PR1000 and Bowflex Xceed are very good home gyms. The key differences are that the Xceed has a vertical bench whereas the PR1000 has a horizontal bench. This means that the PR1000 needs more space, but it does allow you to use it as a rowing machine and do horizontal exercises.
The Xceed offers more than twice as many different exercises and can be upgraded to have twice the resistance (410 lbs), which I feel makes it the better machine for most people that are serious about exercising at home. If you are just getting into it then the PR1000 might be more suitable.
Power Rod Resistance
Before we go on it is worth looking at what is so special about the Bowflex home gyms compared to traditional machines. The key difference is that the Bowflex system uses its Power Rod resistance technology rather than relying on weights and gravity. 
This reduces the strain on joints and tendons whilst still providing the same great workout. It is also far safer and more efficient than using a standard free weight or weight stack system. 
The progressive resistance of the power rods increases as you work out so it gives your muscles a chance to warm up and ease into your exercise but then ramps up the difficulty level so that you can push your limits.  
So, without further ado let's move on to our Bowflex Xceed vs PR1000 comparison review.
Bowflex PR1000 Overview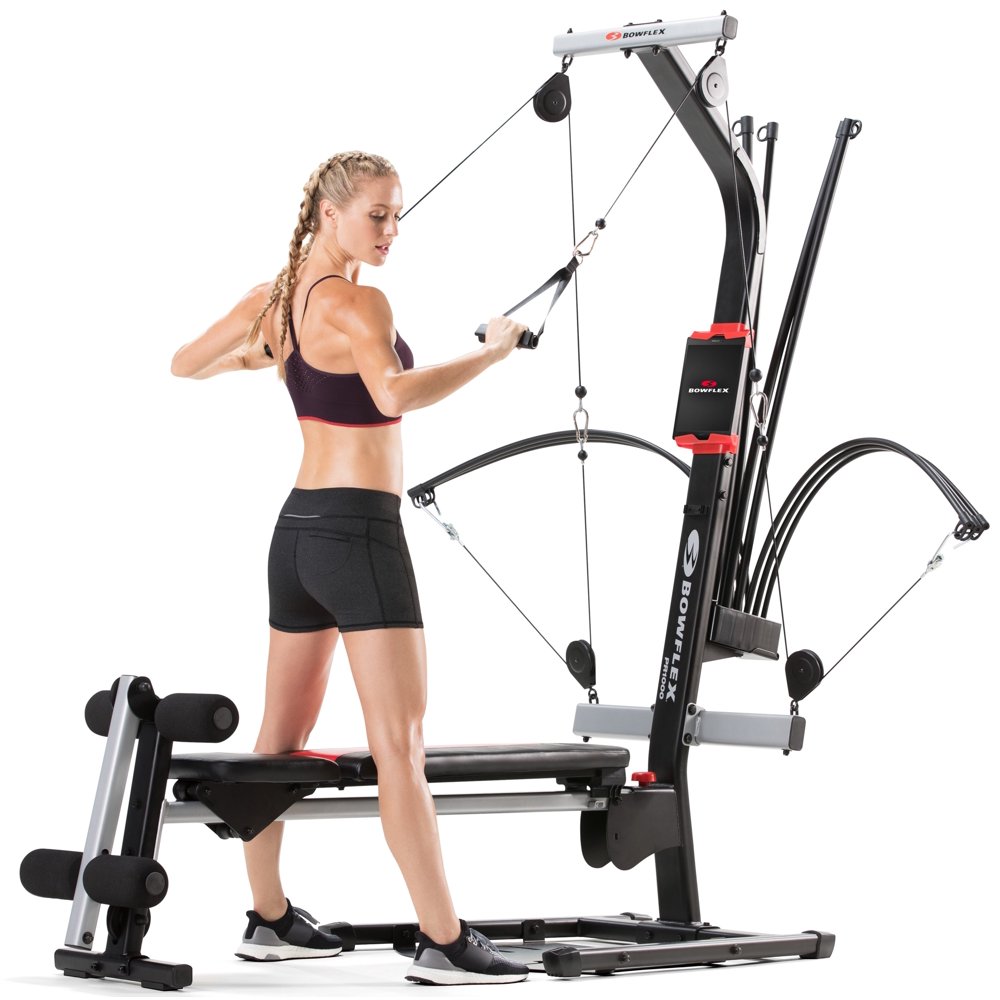 The PR1000 is one of the older Bowflex machines and is much cheaper than the Xceed.  Despite this, it is a very capable machine and offers a great variety of exercises. In fact, you can do 30 different exercises and exercise all the major muscle groups to give yourself a full body workout. 
You can build up your strength on this machine thanks to the power rods which offer up to 210 pounds of resistance. 
These lightweight rods are a great alternative to traditional weight stacks but they cannot be upgraded on the PR1000 like they can on the Xceed. 
Resistance starts at just 5lbs and builds up to 210 pounds. This is a decent amount but more seasoned gym-goers might find that they need the greater workout offered by the Xceed with extra rods.
The PR1000 has a fold-down bench, so you have the option of performing row cardio and supine movements that you can't do on the Xceed.  
We love that comes with a moveable bench seat that enables you to use this like a rowing machine. It is great to be able to get a cardio workout from your weights machine and this is a feature that we miss on the Xceed. 
Rowing is one of the best ways to improve your stamina as well as toning and building up your muscle. Rowing uses all the major muscle groups and gives you a great upper and lower body workout. As your heart and lungs get pumping it gives you an awesome aerobic workout helping you to lose weight and gain fitness. 
Check out this review from a happy PR1000 owner 
Bowflex Xceed Overview
The Bowflex Xceed home gym is a bit more pricey than the PR1000 so you would expect it to have a few more features! One of the immediate differences is that the Xceed allows you to perform 65 different gym exercises with just the one piece of equipment. This is a pretty impressive number and twice as many as you get on the PR1000. 
This makes the Xceed a good option for intermediate to advanced gym users that are looking for a complete workout. The Bowflex Xceed comes with a Lat Tower, Squat Station, Leg Attachment, an adjustable pulley system, and lumbar support.
The Xceed has an angled lat tower, which is great for building back and shoulder faster muscles faster. You can use the upper and lower pulley or squat station to do squats and work on your glutes, quads and hamstrings. The leg extension or leg curl attachment is a nice addition and will help you to develop strong, muscular legs. The Xceed adds to its versatility thanks to an abdominal crunch attachment with harness.
Another feature that will appeal to more seasoned home exercisers is the option to upgrade the power rods on the Xceed. This home gym comes with 210 lbs or resistance as standard. This is a decent amount but people looking to push themselves will appreciate that you can upgrade the rods to give you 310 lbs, or even 410 lbs of resistance. This makes it a home gym that can grow with you as your strength improves. 
The Xceed has a vertical in gym style seat that is adjustable and has quick release system for a speedy change over. It is made with a hard wearing (and comfy) polyurethane high density foam cushion. 
The Xceed comes with triple function hand grip and has multiple cable or pulley positions for a variety of custom workouts.
One of the great things about the Bowflex system is that it is far safer than a free weights machine and you can safely push yourself without the need for a spotter. Having said that, some users claim that the weight resistance is not directly comparable to that of a free weights machine. Having said that the fact that you get a great workout is undeniable and the progressive resistance of the rods offers great flexibility.  
The Bowflex system means that the whole machine is far lighter than a free weights machine would be so you can easily push it out of the way when you aren't using it. We think that these machines are ideal for anyone that has young kids at home. With little children about, getting to the gym can be a struggle and having one in the corner is perfect for those occasional moments that parents get to themselves.  
Bowflex has incorporated X shaped base legs which gives the machine a really stable feel. When you purchase any Bowflex machine, you will need to assemble it yourself (or pay extra to have it built – Amazon so this). It is pretty straightforward and should only take an hour or two. The instructions are good and easy to follow. A couple of hours of your time to build it is not bad for a machine that is so capable and will last you for many years. This owner confirms our findings that he Xceed is easy to put together.
Whilst this owner thinks that the Xceed has been lifechanging. Praise indeed!
Bowflex PR1000 vs Bowflex Xceed – Which is the most Versatile?
One of the main reasons for choosing a home gym is the huge amount of different exercises that you can do with just one machine, in a fairly small space and for a low price. The greater the variety in your workout, the more different muscles get worked on and you should get fitter and stronger. 
Both of these machines will allow you to perform loads of different  exercises whilst you are at home. The Xceed has a far greater range of exercises to keep you busy – over 65 exercises. The PR1000 is far fewer, only around 30, but that is still enough to improve your strength and fitness. 
The one area where the PR1000 has the advantage is that it can offer a cardio workout as you can use the bench and moving seat with the rowing attachment. The Xceed has a vertical bench so there is no cardio row option.
Despite the lack of a bench on the Xceed we think it wins this category due to the sheer amount of different exercises that you can do on the machine. There is a great variety in what you can do and will allow you to build up a huge range of different routines. 
It's worth noting that the incline bench is designed to give you a more intense workout, a horizontal bench allows you to work out with slightly more relaxed muscles. Anyone who suffers with a bad back might light the option of using the horizontal bench on the PR1000. 
Bowflex PR1000 Home Gym vs Xceed – Design and Build Quality
Both Bowflex PR1000 and Xceed come with a stylish design, and are built to last out of steel. We think the bows look great and it is pretty clear where the company got its name.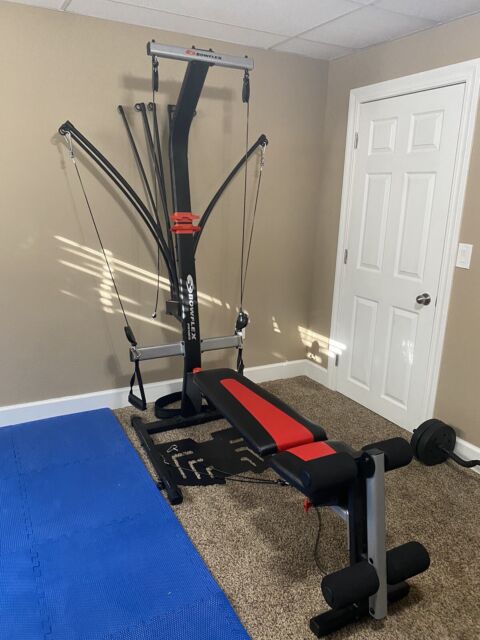 Bowflex knows how good their products are and always offer a good warranty. But it is clear from the warranty that the Xceed is the premier machine. It has a 7 year warranty on the frame and a lifetime warranty on the rods. This compares very favourably to the 1 year frame warranty on the PR1000 and 5 year warranty on the power rods.
Both machines are suitable for a maximum user weight of 300 lbs.
Xceed vs PR1000 – How much space do you need?
A key feature of a home multi gym is the vast amount of exercises that you can do in a small space. But, just how much space do these machines take up? And is there much difference between the PR1000 and the Xceed?
The PR 1000 is quite a lot larger than the Xceed. It is 103 x 80 x 82 inches compared to 53 x 49 x 82 for the Xceed. 
It is quite a big difference and is largely due to the lack of horizontal bench on the top of the range model.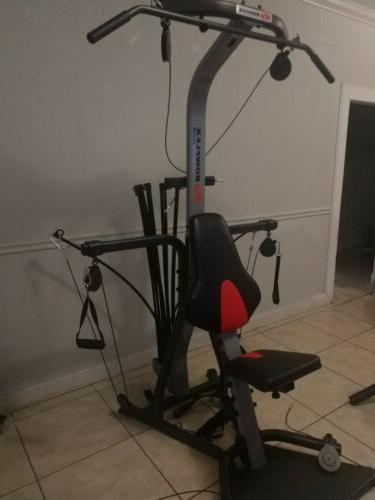 Remember that you will need space around your machine so that you can exercise comfortably and for the bows to stretch out. If space is really tight the machines are easy to move around when you need to use them. 
PR1000 vs Xceed – Price Comparison
Both the Xceed and PR1000 cost a decent chunk of money so you are right to be researching them before you buy either. We do think that they offer great value for money though, especially compared to the cost of a gym membership and the added convenience of being able to have a proper workout from home without having to go anywhere. 
This post is all about comparing the PR1000 vs Xceed and when it comes to price there is a considerable gap between the two. The Xceed is a more premium machine and comes with plenty of accessories to enable you to perform a wide range of exercises. It is upgradable and is more likely to satisfy experienced gym goers than the PR1000. 
The PR1000 offers fantastic value and is a perfect entry level machine. It is a great price for a machine that can do so much and offers plenty enough variety for people just getting into home fitness. 
Final Thoughts on the Bowflex PR1000 vs Xceed
We hope that you have enjoyed reading our Bowflex Xceed vs PR1000 comparative review and that you now have a better idea which is the right one for you. If you need more opinions then check out these owner reviews to see what other people have made of these two machines. 
In our view they are both great home gyms but they cater towards slight;y different markets. The PR1000 is perfect for people that are just getting into home fitness. Maybe you aren't sure if you will really use it that often and aren't keen to invest too much to begin with. 
The Xceed is the better machine and offers far greater versatility and many more combinations of exercises. It is also possible to upgrade the resistance to give a tougher workout for stronger bodies. This all comes with a higher price tag but we think that it still represents great value for money, especially compared to the cost of going to the gym, or buying your own free weights system.
We hope that we have helped you to make your choice today if you are still not sure, check this out: "The ability to literally have a complete gym in my home in a single piece of equipment for under $1000 is truly amazing."


*As an Amazon Associate I earn from qualifying purchases.