Bowflex Xceed vs Xtreme 2 SE [In Depth Review]
**We sometimes add affiliate links to our posts which mean we are compensated if you make a purchase after clicking on the links. This helps us offset the costs of running this site.**



Welcome to our Bowflex Xceed vs Xtreme 2 SE comparative review. If you are looking for the perfect way to workout at home then you are probably considering getting your own home multi gym.
Bowflex has been making great quality home gyms for over 30 years and they offer amazing versatility in just one exercise machine. 
At first glance, it can be hard to tell them apart, which is where we come in! In this Bowflex Xtreme 2 SE vs Xceed comparison review, we look at the ins and outs of these machines to help you to decide which machine is right for you. 
Bowflex Xtreme 2 SE vs Xceed: Quick Verdict
The Bowflex Xtreme 2 SE and the Bowflex Xceed both offer a great alternative to exercising at a gym and they both offer a huge variety of exercises in one machine.
The key difference is that the Xtreme 2 SE has a no-change pulley system which makes it quicker and easier to switch between exercises for different muscle groups.
Doing the same changes on the Xceed is a little more cumbersome and time-consuming. For this reason we wait the Bowflex Xtreme 2 Se as better than the Bowflex Xceed
The trade-off is in the price. The Xtreme 2 SE is a little bit more expensive. But we think it's well worth the extra for a smoother workout without interruptions to change the pulleys
If you prefer to save a few bucks and move the cables and pulleys about between exercises then you will still get some great exercise out of the Xceed and it's a total bargain!
Xtreme 2 SE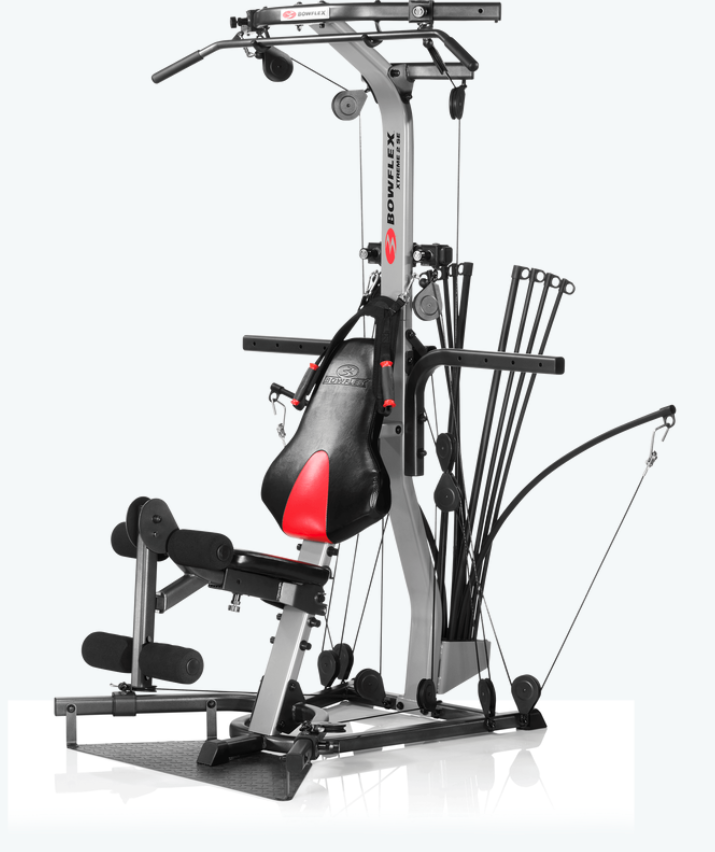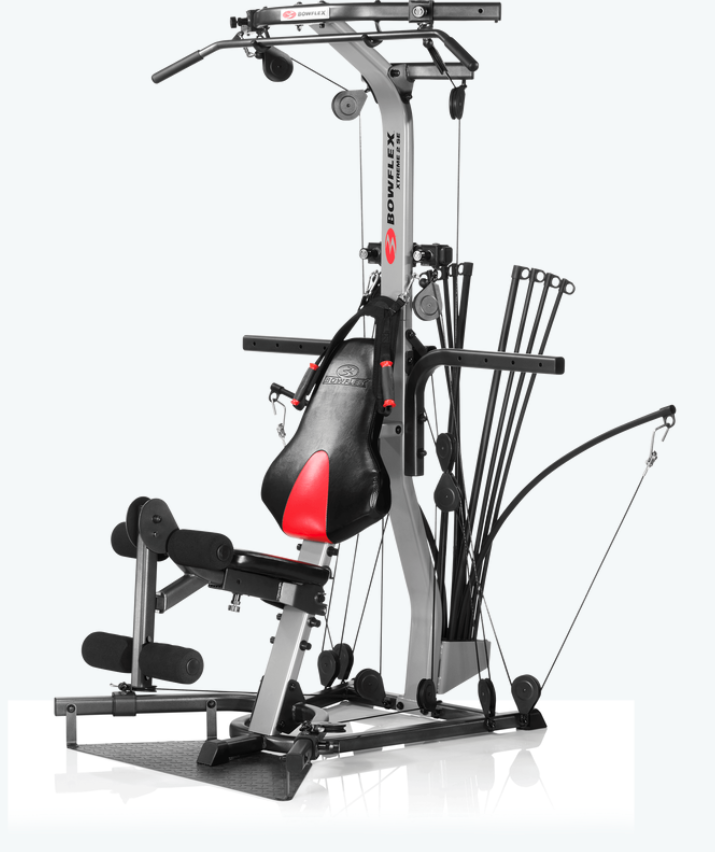 70 plus exercises that cover the entire body. Exercises are described well in the manual
210 pounds of Power Rod resistance, upgradeable to 310 pounds or 410 pounds
Multiple cable or pulley positions with the Quick Change Power Rod system
Bowflex provides 7 free trainer built workouts
Heavy duty steel construction frame offering long term durability
Ergonomic adjustable seat with polyurethane high density foam cushion
Ab training strap, squat bar and lat bar included
5 way hand grip or ankle cuffs
Xceed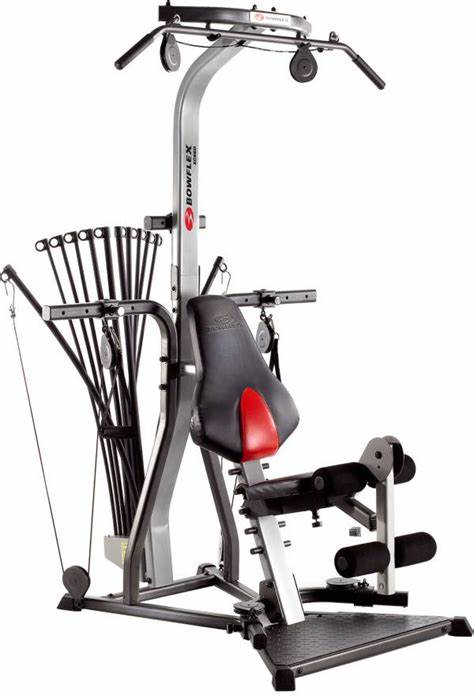 65 plus exercises for chest, shoulders, back, arms, abs and legs
210 pounds of Power Rod resistance can be upgraded to 310 pounds or 410 pounds
Multiple cable or pulley positions. No quick change system
7 training programs provided.
Heavy-duty steel frame ensures long-lasting protection and shape retention
Footprint: 53 x 49 x 82 inches
Bowflex Xceed vs Xtreme 2 SE Review
The Bowflex Power Rod Resistance System
Before we go into the finer details of where the Xceed and Xtreme 2 SE differ, it is worth looking at the resistance system that they have in common. 
Bowflex home gyms are instantly recognisable to anyone that has ever seen one before. The characteristic bows at the back give the machines their distinctive look and the resistance system is unique to machines made by Bowflex. 
Bowflex clearly got its name from the bows that flex out to the sides when you exercise. It's the bows that create resistance and provide strengthening exercises for your muscles. 
All Bowflex home gyms use a system of flexible polymer rods to provide resistance. This idea is quite different from a normal free weights machine which uses heavy weights and gravity to provide resistance.
The Bowflex system has taken inspiration from the design of a traditional bow and arrow. When you first pull, it is fairly easy, but as the tension increases the resistance builds and the further you go, the harder it gets.
This design creates a smooth and fluid movement which puts less strain on joints and tendons. This, in turn, reduces the chance of your home exercise causing any connective tissue injury. 
The power rods themselves do not move (other than to flex). To provide resistance to the range of exercises, you have to connect a different series of cables to the power rods. By using the pulleys you are able to perform dozens of different upper body, lower body, and core exercises.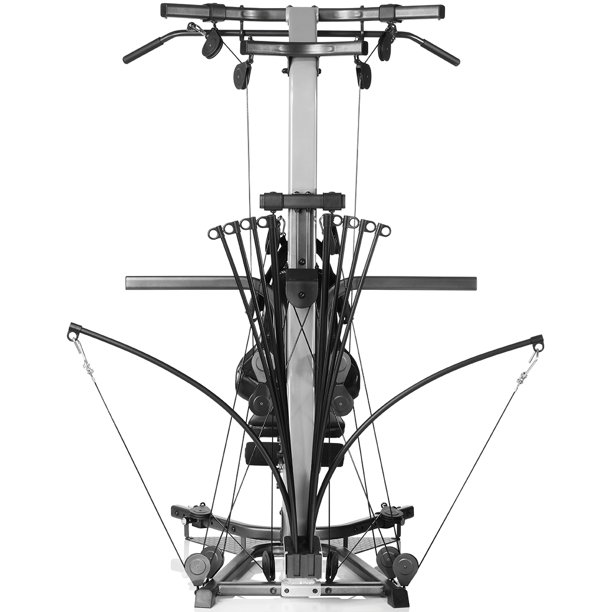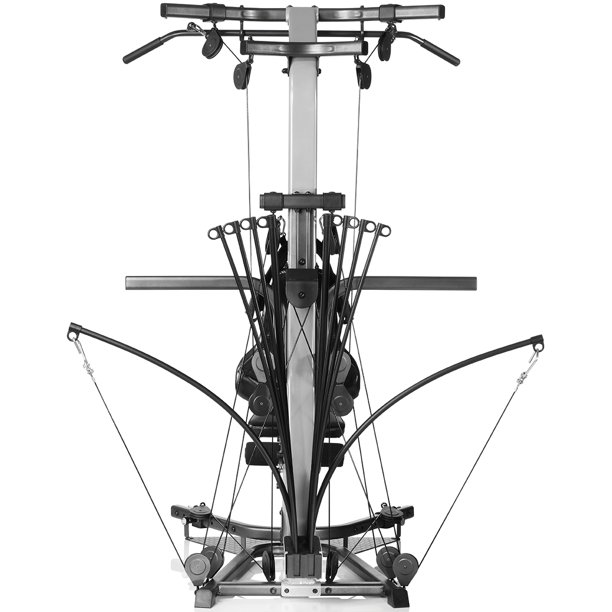 As the resistance is greatest when the bow is fully flexed, it means that you do not get constant strain throughout the pull in the same way that you would with a dumbbell or free weights system. Some people like to know the exact weight they are working with and aren't so keen on this.
On the other hand, it offers a progressive workout that is good for your muscles,  and it is surprising how quickly you will adjust to the feel of using a Bowflex gym.
Research has shown that the use of elastic resistance provides much the same benefit as conventional weight training. These machines still allow you to increase strength and gain bigger, better-toned muscles. If weight loss is your main aim then these machines offer a great way to reduce your body fat percentage. 
In many ways, resistance machines can actually offer a better workout than traditional weights as they are better for increasing your functional strength.  Your support muscles, tendons and ligaments will gain strength too. 
One of the benefits of the Bowflex power rod system is that it is much safer to use when you are on your own. The lack of heavy weights means that there is no need to have a spotter with you, and this makes it ideal for use at home. 
As there are no weights,  it is easier to move the machine around. This means you can put it away in the corner when you aren't using it. When it is time to exercise you can easily pull it out to where you workout. This makes it an ideal home gym for anyone in a small house or apartment.
You May Also Like
Xceed vs Xtreme 2 SE: Which has greater resistance?
Both the Bowflex Xceed home gym and Bowflex Xtreme 2SE allow you to start with a very low impact base rod resistance of 5 pounds. As your strength and fitness improve, you can work your way up to 210 pounds. 
If you are looking for a tougher workout than this then you will be pleased to hear that both pieces of gym equipment can be upgraded to 310 lbs or 410 lbs weight resistance by purchasing additional rods.
A pair of 50lb rods should cost under $100, 2 extra rods will give you 310 pounds of resistance whilst you will need 4 to raise resistance to the maximum level of 410lbs. 
This should be more than enough for most home users but falls short of what s needed for true bodybuilding.
One of the great things about the Bowflex system is that you can use the lower resistance rods to increase resistance in small increments. This allows you to make small gains – adding ten pounds may not seem like a huge difference, but repeat the exercise multiple times and you will definitely make progress. This progress should provide a huge mental boost at the same time.
Bottom Line: The Xceed and Xtreme 2 SE are perfectly matched on resistance levels. They both come with 210 lbs as standard and can both be upgraded to a maximum of 410lbs.
Xtreme 2 SE vs Xceed: Which has the most Versatility?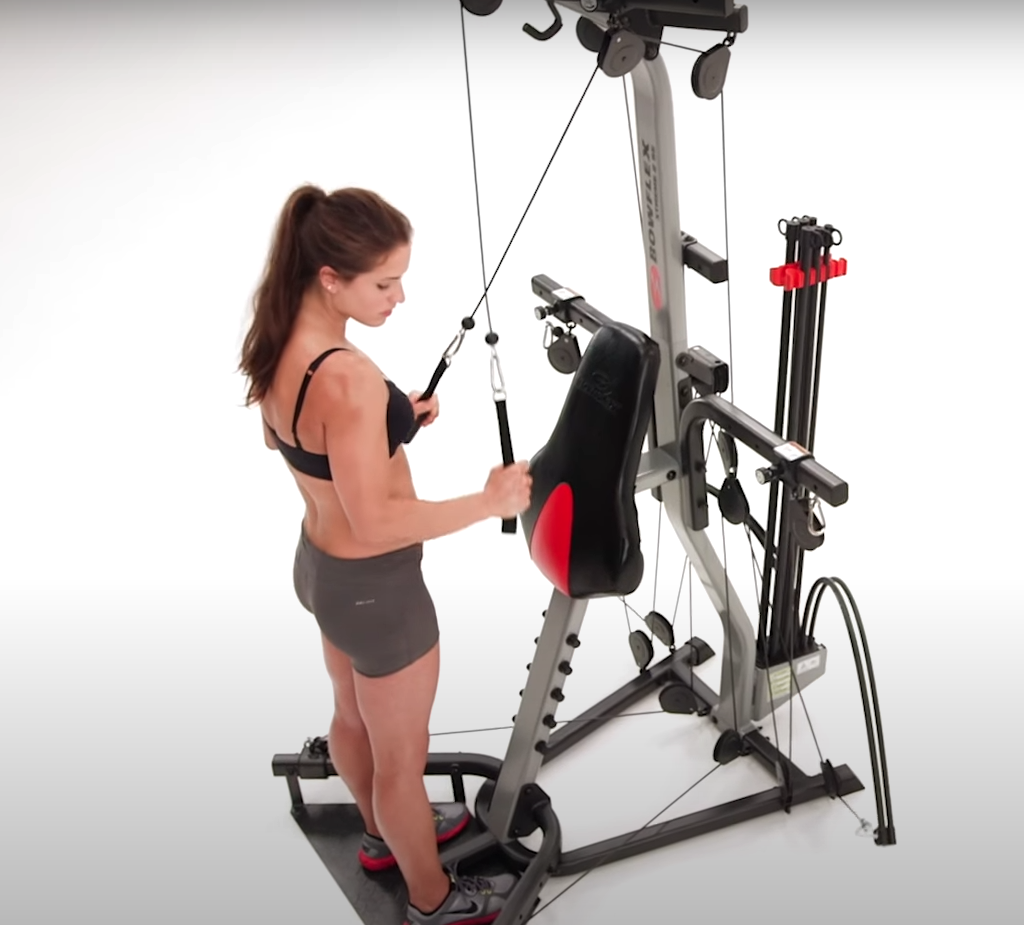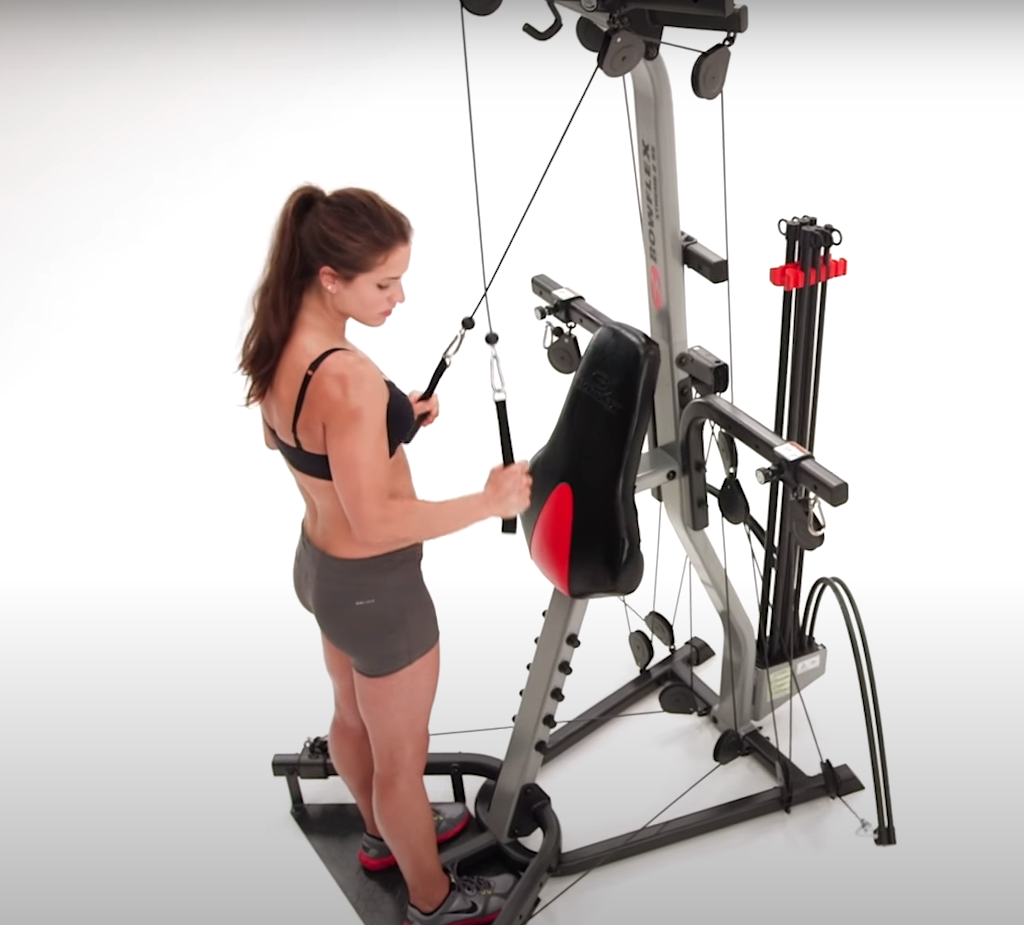 One of the biggest benefits of a Bowflex gym, the huge range of exercises you can perform from a single machine. Only the home gyms made by Total Gym come anywhere close to the variety offered by the Bowflex machines. 
The Xtreme 2 SE has the most exercises of the Bowflex range and offers over 70 different exercises, whilst the Xceed is not far behind with 65. 
As you can see, they both have a huge range of exercises and you will not get bored quickly. This range of versatility allows you to put together lots of different exercise routines, and vary the muscle groups that you work out on throughout the week. 
In terms of a comparison between the two, there is very little difference. Both come with a vertical bench and squat bar. The two machines have a very similar design and what you can do on them is almost identical. They both feature: 
Lat Tower with Angled Lat Bar – To build back and shoulder muscles quickly with this integrated tower.
4-Position Lower Pulley/Squat Station – Use this station to do squats and build your glutes, hamstrings and quads.
Leg Extension – Use for exercises to develop strong, muscular legs
You can do so many different exercises including, tricep pushdowns, tricep extensions, rope pushdowns, biceps curls, tricep kickbacks, wrist curls and extensions, seated abdominal and oblique abdominal crunches, trunk rotations, lat pulldowns, low back extensions from standing, squats, calf raises, leg extensions, hip extensions shoulder extensions, hip flexions, etc. The list goes on, but you get the idea!
Both machines come with a booklet that describes in detail and with diagrams, how to do the exercises.
But, the Xtreme 2 Se goes one further and includes 7 free trainer-built Xtreme 2 SE workouts including a 20-minute better body, 20-minute upper body, 20-minute lower body, bodybuilding, circuit training anaerobic, true aerobic and strength training routines.
Bottom Line: Both the Xceed and Xtreme 2 SE offer a great range of exercises. The Xtreme 2 SE has slightly more to offer with an extra 5 exercises advertised and you get free workout plans included.
Xceed vs Xtreme 2 SE – How quickly can you switch between exercises?
The Xceed and Xtreme 2 SE really do look very much alike and have many of the same features.
We think that the key point of difference is that the Xtreme 2 SE has a quick-change pulley system. This means that you can move from squats to lats to leg workouts without changing cables. You'll save time and keep your heart rate up as you progress through your workout.
The Xceed lacks the quick change system. This means that when you want to switch between exercise setups you need to spend a bit of time moving a few pulleys and re-routing a few cables in order to get the gym ready for the next exercise.
This interrupts your workout and even though it isn't really that hard, it is a bit annoying and breaks the flow of your workout. 
This is not a problem with the top-of-the-range Xtreme 2 SE, which has extra pulleys and cables conveniently positioned so that you don't have to switch cables around and you can switch straight between exercises without taking a breath (ok, maybe you should stop and take breath or two!).
This means that you don't waste time during your exercise or break your flow. (Only the PR3000 and the Revolution have this quick change feature). 
It is an important feature that means you can have short rest periods between exercises rather than wasting a few minutes moving pulleys and switching cables, which can be tricky if you have sweaty hands. 
You will still have to make occasional adjustments on the Xtreme 2se, for example, the horizontal bar in the middle of the lat tower has several pulley positions and this can be adjusted for different exercises. These changes are really quick though, taking only a few seconds. 
Bottom Line: The Xtreme 2 SE is the big winner here as it is far quicker and easier to switch between exercises.
Xceed vs Xtreme 2 SE – Which looks best and how well built are they?
To be honest, they look the same. If you look closely you can see that there are a few differences related to the different pulley systems. But, they are more or less the same design, the same colour and even come with the same attachments!
Both machines are of the same sturdy heavy duty steel frame construction and are built to last. Problems with Bowflex machines are rare, but it is always nice to get a good warranty. It shows that the manufacturer has faith in their product.  
Both the Xtreme 2 SE and the Xceed come with a 7 year warranty on the frame, and a lifetime warranty on the power rods. This is great as the rods can weaken after extensive use, but you can purchase with the confidence that you won't ever need to buy replacement rods.
The sturdy construction means that the Xtreme 2 SE and Xceed are suitable for users up to 300lbs.
Both machines will need to be assembled one they have been delivered to your home, The instructions are great and they aren't too hard to put together, but it will take a couple of hours.
Having said this, they should last a lifetime so it's not that long in proportion to the amount of use that you will get out of it. You will need a few of your own tools like, screwdrivers and an adjustable wrench. It is easy enough to do on your own, but a bit easier to do with a helper. 
The Xtreme measures 53″ L x 49″ W x 83.25″ H when constructed, the Xceed home gym is a tiny bit shorter but otherwise identical. 
A home gym is always going to be a fairly large thing to have in your house but this is much smaller than gyms form other companies like Total Gym. It will fit in a decent-sized living room or garage, just check that your ceiling is at least 7 ft high.
Thanks to the power rod system it is fairly light and can be pushed in and out of position when it is needed for exercise – when built, the Xceed weighs 157 pounds and the Xtreme 185 lbs. 
Bottom Line: There is nothing to choose between them on this. They are both really well-built machines. The designs have a lot in common and they have the same warranty. 
Bowflex Xceed vs Xtreme 2 SE – The Verdict
The Bowflex Xceed and Xtreme 2 SE are both very good home gyms. They are well built, offer a huge range of exercises, and are available for an affordable price. 
Whilst the Xtreme 2 SE offers a few extra exercises, the key difference between the two is the quick-change pulley system.
We think that this is an important feature that leads to a more continuous exercise routine without the need to stop and rearrange cables and pulleys. 
Based on this, we are happy to conclude that the Xtreme 2 SE is better than the Xceed.
However, there is a price to pay for this advancement, and this price is the actual price!
The Xtreme 2 SE comes with a slightly higher price tag than the Xceed. The prices vary so click the button below to check the latest price.


*As an Amazon Associate I earn from qualifying purchases.