Bowflex Xtreme 2 SE Review – Is This the Perfect Home Gym For You?
**We sometimes add affiliate links to our posts which mean we are compensated if you make a purchase after clicking on the links. This helps us offset the costs of running this site.**



In this Bowflex Xtreme 2 SE review, we will help you to decide whether the Xtreme 2 SE is the right home gym for you. The Xtreme 2 SE is the top of the range model from Bowflex and comes with a higher price tag than the likes of the Blaze, Xceed, PR3000 and the entry-level PR1000. 
The latest model, the Revolution is close in price, but that does not use the classic power rod resistance familiar to Bowflex home gym users. The Xtreme 2 SE is a top-of-the-range offering that combines a great variety of exercises with a fluid quick-change pulley system.
Does the Xtreme 2 SE offer enough to justify the outlay? Keep reading as we review the Bowflex Xtreme 2 SE and show you the key features that set this machine apart from the other Bowflex models.
Bowflex Xtreme 2 SE Review – Quick Verdict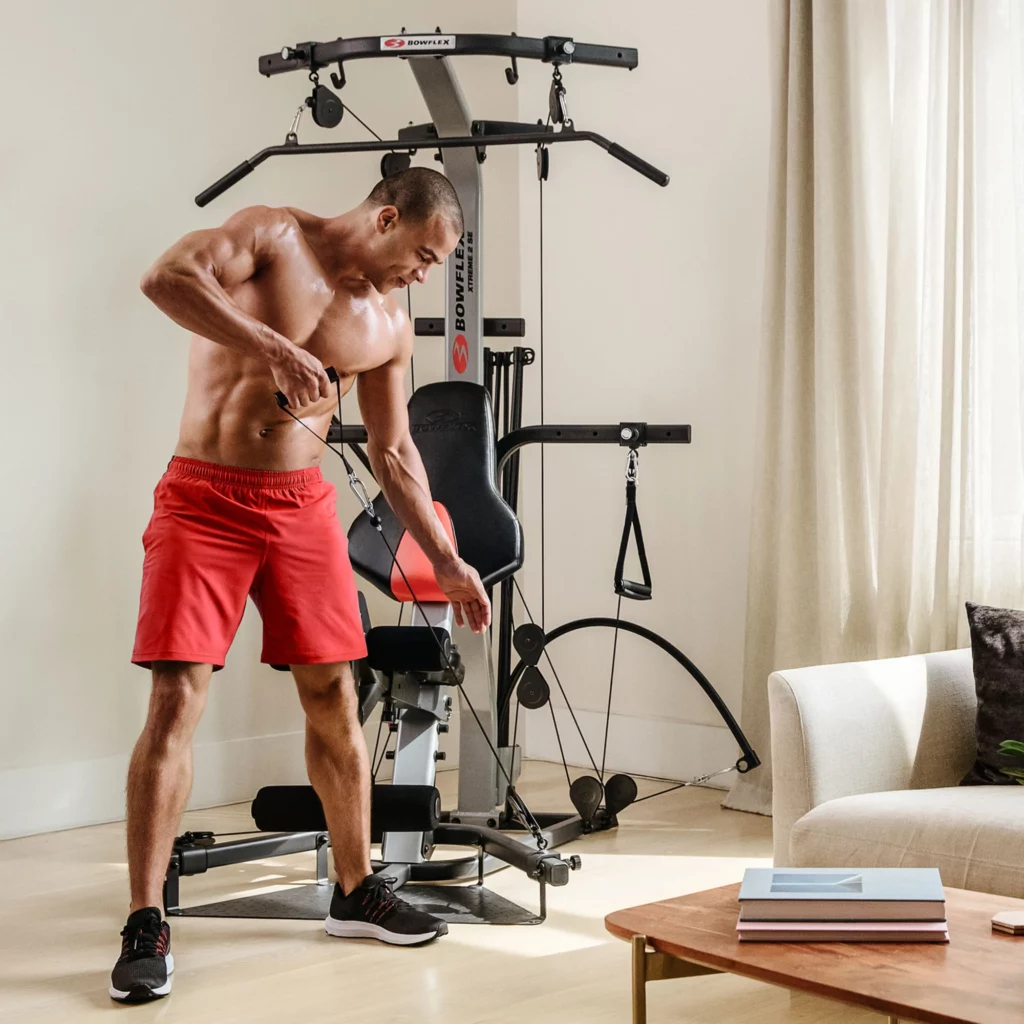 Pros
Over 70 exercises for a great full-body workout
Quickly switch between exercises for different muscle groups
Upgradable to 410lbs resistance
Good warranty
Suitable for users up to 300 lb
Easy to assemble
Cons
A bit expensive
No horizontal bench or rowing machine
The Xtreme 2 SE is one of the very best home gyms you can buy. The quality of the machine, the variety of exercises on offer, and the convenience of working out at home will make you wonder why you ever trekked down to the gym. 
Bowflex Xtreme 2 SE Home Gym Review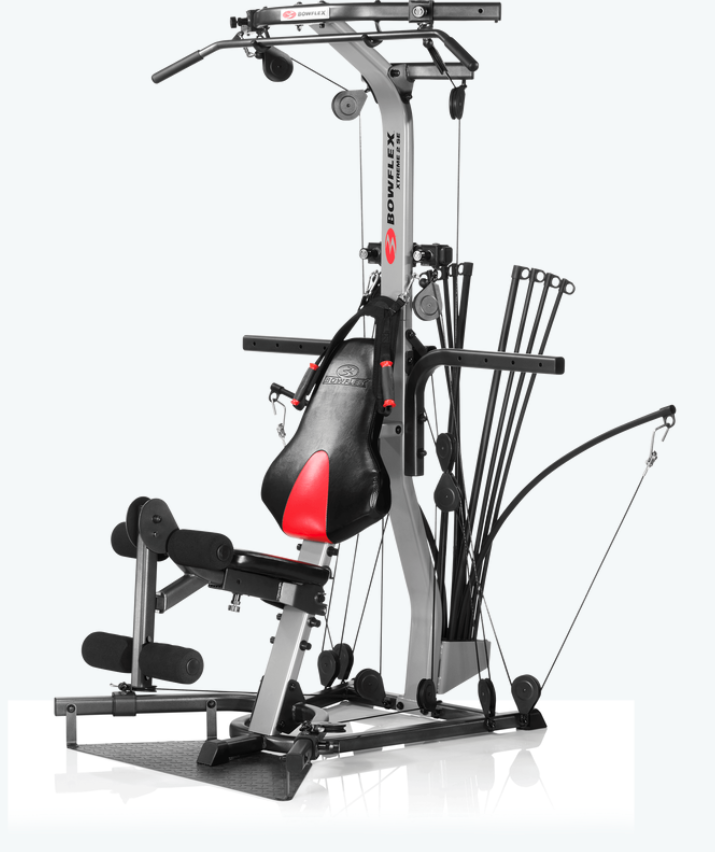 Bowflex Xtreme 2 SE –  Power Rod Resistance System
We have reviewed a lot of Bowflex home gyms now and they are instantly recognizable to anyone that has ever seen one. They get their name from the bows that flex out to the sides when you exercise. It is the bows that create resistance and provide strengthening exercises for your muscles. 
The system is unique to Bowflex machines as it has been patented by them. Bowflex machines have been around for over 30 years and have always proved popular with people exercising at home. 
All Bowflex home gyms use a patented system of flexible polymer rods to provide resistance. This feels quite different to a standard free weights machine which uses heavy weights and gravity as the force for you to push or pull against.
The Bowflex system has clearly taken inspiration from the design of a bow and arrow. As you start to pull it is fairly easy, but as the tension increases the resistance builds and you get a tougher workout. 
This creates a smooth and fluid movement that causes less strain on joints and tendons. This, in turn, reduces the chance of suffering from connective tissue injury. 
The progressive resistance of the power rods increases as you pull, giving your muscles a chance to warm up. The difficulty ramps up the harder you work to give you an intensive workout at the full resistance setting.  
The power rods themselves do not move (other than to flex). To provide resistance to the range of exercises, you have to connect a different series of cables to the power rods. By using the pulleys you are able to perform dozens of different upper body, lower body, and core exercises.
As the resistance is greatest when the bow is fully flexed, it means that you do not get constant strain throughout the pull in the same way that you would with a free weights system or dumbbell. Some people aren't so keen on this, but it does offer a progressive workout that is good for your muscles,  and you will probably get used to it quite quickly.
Studies have shown that the use of elastic resistance provides many of the same benefits as conventional weight training. You can still increase strength, gain bigger and better-toned muscles, and reduce your body fat percentage by using resistance machines. 
In fact, resistance machines can actually offer a better workout than standard weights as you will gain more functional strength.  Your support muscles, tendons and ligaments gain strength too and the Xtreme 2 SE allows you to quickly and easily change which muscle group you are working on. 
This is one of the biggest benefits of a Bowflex gym, the huge range of exercises you can perform from a single machine. Only the home gyms made by Total Gym come anywhere close to the variety offered by the Bowflex machines.
The Xtreme 2 SE has the most exercises in the Bowflex range and offers over 70 different exercises. 
Bowflex power rods are made from a composite material and covered in a protective rubber coating. Each rod provides resistance from 5 lbs to 50 lbs. 
The Xtreme 2 SE has up to 210 lbs of resistance with the included power rods. If you are looking to build strength further you can purchase additional rods to upgrade the Xtreme 2 SE to 310 pounds of resistance or even 410 lbs with 4 extra rods. 
One of the benefits of the Bowflex power rod system is that it is much safer to use when you are on your own. The lack of heavy weights means that there is no need to have a spotter with you, and this makes it ideal for use at home. 
As there are no weights,  it is easier to move the machine around. This means you can put it away in the corner when you aren't using it. When it is time to exercise you can easily pull it out to where you workout. This makes it an ideal home gym for anyone in a small house or apartment and one of the best Bowflex home gyms.
You May Also Like
What exercises can you do on the Bowflex Xtreme 2 SE?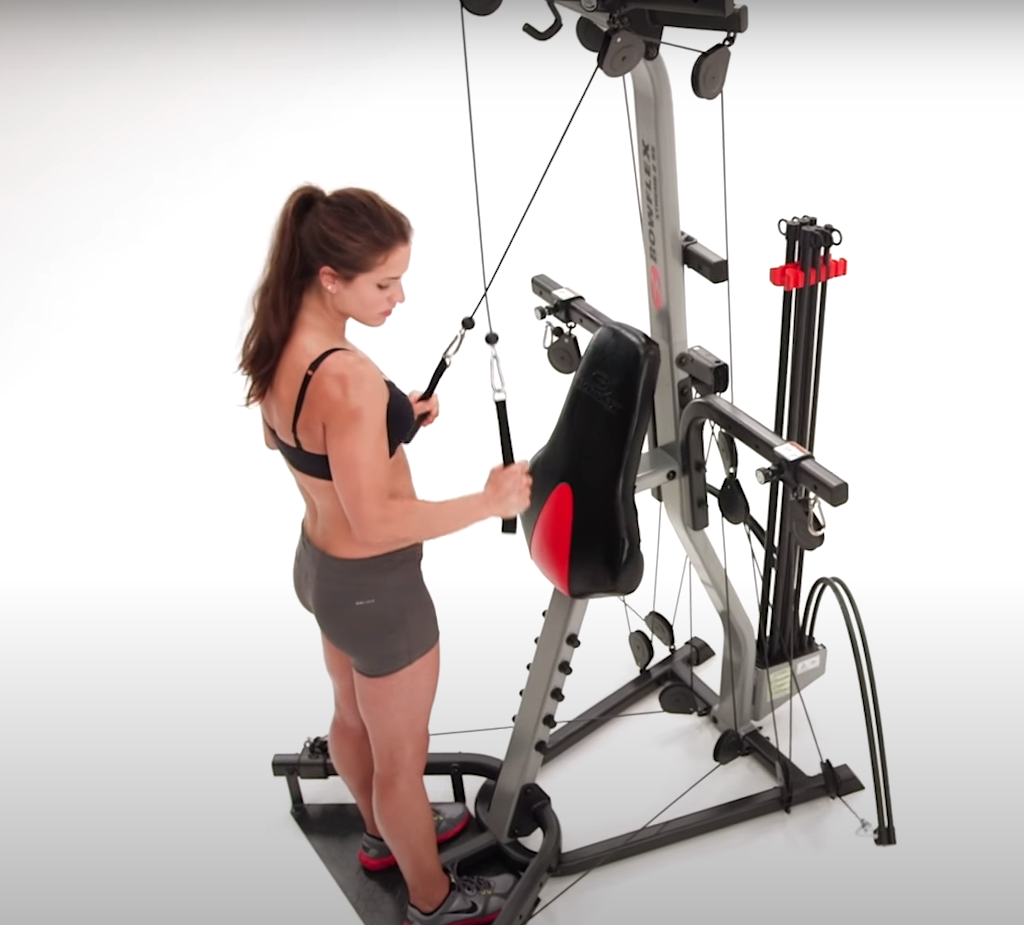 The Xtreme 2 SE allows you to start with a base rod resistance of 10 pounds and work your way up to 210 pounds.
If you are looking for a tougher workout than this then you will be pleased to hear that the machine can be upgraded to 310 lbs or 410 lbs by purchasing additional rods. A pair of 50lb rods should cost under $100. 
This should be more than enough for most home users.
Where we think the power rod system excels is that you can use the lower resistance rods to increase resistance in small increments.
This allows you to make fractional progress – adding ten pounds may not seem like a huge difference, but do it multiple times and you will definitely make progress and give yourself a mental boost at the same time. 
There are over 70 exercises that you can do with the Bowflex Xtreme 2 SE so you will find plenty of ways to maintain and build your fitness. It is easy to learn the exercises as you get a booklet that describes 73 different exercises in detail. The descriptions include diagrams and tips on how to get the most out of each exercise.
As well as describing the actual exercises, Bowflex goes above and beyond by including multiple Xtreme 2 SE workout plans and nutrition tips for losing weight.
The 7 free trainer-built workout regimes include a 2-minute better body, 20-minute upper body, 20-minute lower body, bodybuilding, circuit training anaerobic, true aerobic and strength training routines.
The Xtreme 2 SE includes the following attachments as standard:
Multi-use hand grip/ankle cuffs
Angled lat bar
Squat bar
Ab harness
Leg developer
The Xtreme 2 SE has a leg developer which allows you to do leg extensions using the sturdy padded foam rollers, or you can remove it to work on your upper body. 
The Xtreme 2 SE tower houses a lat pulldown handle which is perfectly curved to match the shape of your hands. There are two handles, front and rear so that you can strengthen different muscle groups in your arms, shoulders and back. If you choose to sit and face the tower you will also work on your core strength.
The Xtreme 2 SE also has a squat platform made of steel with grooves and a powder coating for safety and traction. On either side of the platform, there are two pulleys for you to pull, and the power rods will provide the resistance.
It is a little different to doing a squat with a loaded bar sitting on your shoulders, but it is still an effective workout. It requires less space and is safer to do on your own.  Unlike some home gyms, the squat stand comes as standard.
Bowflex Xtreme 2 SE Review – Build Quality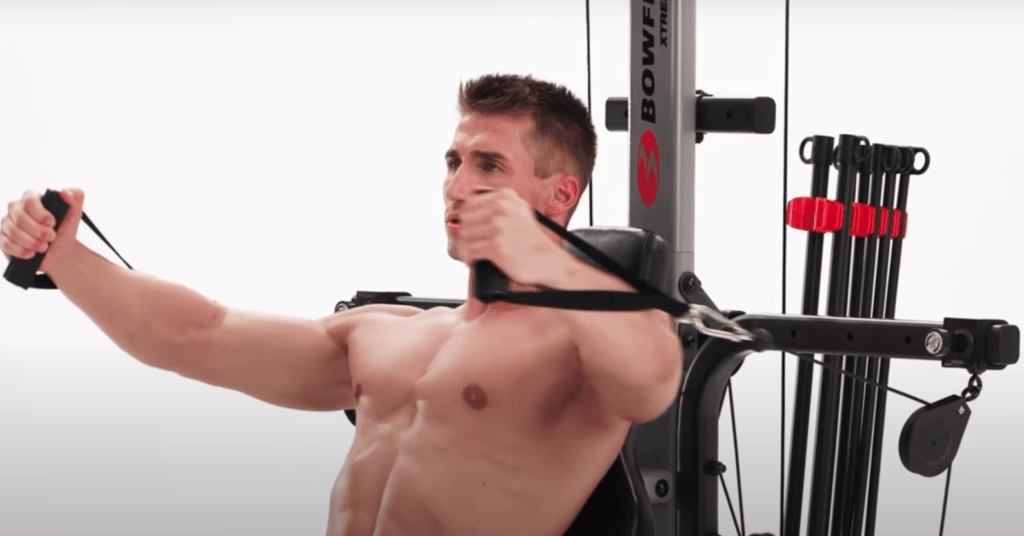 We like the design of the Xtreme 2 SE and think that the bows make it look pretty stylish and it will look good in any home gym.  
What is more important is that it is of really sturdy construction and it feels like it is built to last. A good home gym should last you for years and years and many hours of exercise so we are pleased that the Xtreme 2 SE meets the usual high standards that we have come to expect from Bowflex. 
Bowflex Xtreme 2 SE Warranty
If something does go wrong, you can be reassured that the Xtreme 2 SE is covered by a 7-year warranty on the frame and a lifetime warranty on the power rods. This is great as the rods will weaken over time, but you can purchase with the confidence that you won't ever need to pay for replacement rods.
We like to see a good warranty provided. The chances are that you won't need it, but it shows that the makers have confidence that the product will do the job.
Bowflex Xtreme 2 SE Space Requirements
The Bowflex Xtreme 2 SE dimensions are 53″ L x 49″ W x 83.25″ H when constructed. You will need a space of at least 8 feet by 6.5 feet to exercise comfortably. This will mean that there is enough space for the bows to stretch out and for you to comfortably move around the machine.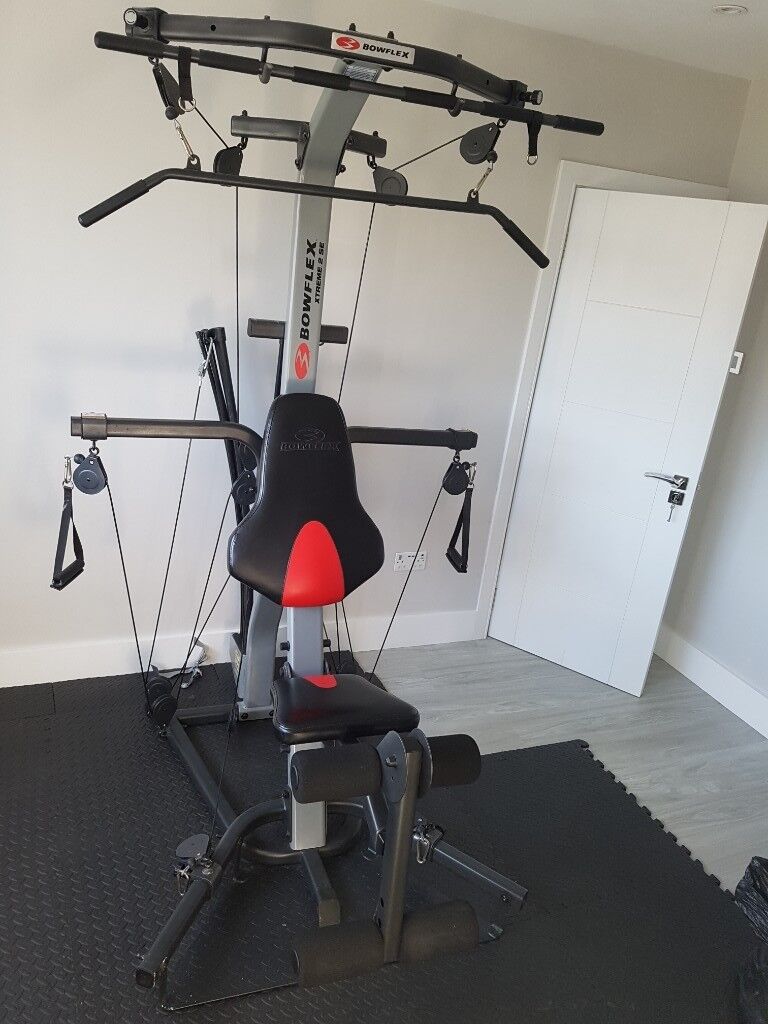 Bowflex Xtreme 2 SE Weight Limit
The sturdy construction means that the Xtreme 2 SE is suitable for users up to 300lbs which is the same as all Bowflex machines. 
Bowflex Xtreme 2 SE Assembly
The Xtreme 2 SE needs to be assembled once it has been delivered. It is fairly straightforward to do with just some basic tools required (wrench and screwdriver, not included). The assembly manual is well laid out and the instructions are clear. 
It is one of the more complex Bowflex gyms to put together but you should be able to get it built in around 3 hours. This isn't too bad considering how many years it will last and how many hours of use you will get out of it. 
Bowflex Xtreme SE Review – Quick Change System
One of the key features that make this machine worth the money is the quick-change pulley system that allows you to switch between exercises a lot faster. Bowflex gyms without this feature take a little time to set up the machine to switch between moves and this is one of the biggest drawbacks of the lower end machines. 
Depending on what exercises you are switching between, it can involve moving a few pulleys and re-routing a few cables in order to get the gym ready for the next exercise. This interrupts your workout and even though it isn't that hard, it may be enough of a hassle for you not to bother working on the next muscle group. 
Not so with the Xtreme 2 SE, you can switch straight between exercises without pausing for breath (ok, maybe take a breath or two!). This means that you don't waste time during your exercise or break your flow. The Xtreme 2 SE has extra pulleys and cables conveniently positioned so that you don't have to switch cables around.
The only other Bowflex gyms that offer this feature are the PR3000 and the Revolution. It is a key addition that means you can have short rest periods between exercises rather than spending several minutes switching cables and moving pulleys with your sweaty hands. 
You will still have to make occasional adjustments on the Xtreme 2se, for example, the horizontal bar in the middle of the lat tower has several pulley positions and this can be adjusted for different exercises. These changes are really quick though, taking only a few seconds.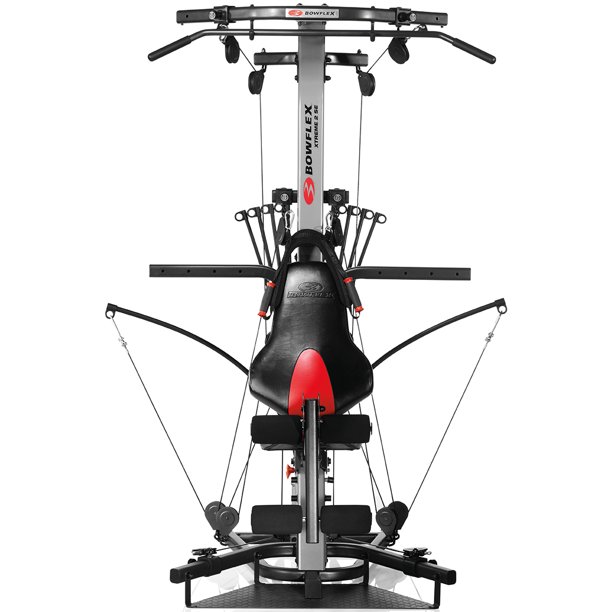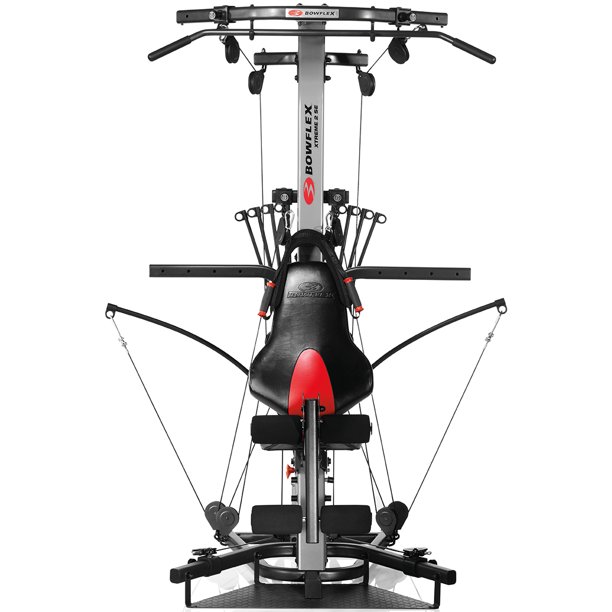 Is the Bowflex Xtreme 2 SE Worth It?
Investing in a home gym may seem like a steep expense, but the benefits of unlimited training opportunities are well worth it. While cost is a significant consideration, it's essential to look beyond the initial price tag and determine the best fit for your needs.
For instance, if you're considering the Bowflex Xtreme 2 SE versus a gym membership, keep in mind that the average gym-goer in the United States spends between $500 and $700 annually on dues but underutilizes approximately two-thirds of their membership.
Let's face it there are an awful lot of people out there who pay for a gym membership but rarely ever go there. Commute and lack of time are the most common reasons cited for not using memberships more often.
When you compare the dollar for dollar value, owning and consistently using the Bowflex Xtreme 2 SE for three years or more would cost less per month than the national average monthly gym membership fee of $58.
Additionally, you can save time and money on gas by avoiding the commute and don't have to deal with crowded workouts or limited hours of operation. Plus, you can skip the hassle of wiping down and returning equipment. Even better, Bowflex offers an installment plan, allowing you to begin working out immediately and pay later.
Overall, the upfront cost of the Bowflex Xtreme 2 SE is quite reasonable, especially since the convenience means that you will actually use it and get the fitness and health benefits that you are looking for.
Xtreme 2 SE Review – Final Thoughts
The Bowflex Xtreme 2Se is quite a big investment but we think that the Xtreme 2 Se justifies the price tag.
The quick-change pulley system really takes it to another level and allows for a more fluid workout without the staccato interrupts that you get on the cheaper Bowflex machines.
On top of this, you also get the most variety of exercises, loads of attachments, and it is upgradeable to 410 lbs of resistance. And just think of all the gym membership fees you will save!
We have written some full comparison reviews of the Xtreme 2 Se vs PR3000, vs Revolution and vs Xceed.
The PR3000 has the quick-change pulley system but has fewer exercises and only goes up to 310 lbs of resistance.  It has no squat bar or lat pulldown bar. 
Xceed is the cheapest and is upgradable up to 410 lb, it comes with a squat bar and lat pulldown bar but doesn't have the quick-change system.
Overall we think that the Xtreme 2 SE is the best of the power rod machines and makes for a great addition to anyone's home exercise experience. It offers a great full body workout, a huge variety of exercises and a great no-interruption workout thanks to the no-change pulley system. 
You May Also Like


*As an Amazon Associate I earn from qualifying purchases.