Bowflex Revolution Review [2023 – In Depth Analysis]
**We sometimes add affiliate links to our posts which mean we are compensated if you make a purchase after clicking on the links. This helps us offset the costs of running this site.**



We are obviously big fans of working out at home and some of the best home multi-gyms around are made by Bowflex. In this Bowflex Revolution review we will help you decide if this is the right home gym model for you.
Working out at home just makes so much sense, you can squeeze in a bit of exercise here and there. Before work, after work, and at the weekend. Whenever you like.
There's no need to worry about how busy the gym will be or if the machines you like are free.
In our Bowflex Revolution review, we take a look at their latest model, the Revolution which is a brand-new innovation from Bowflex.
For the first time, their home gym is not based on their patented power rod technology which they have used for the past 30 years, instead, the Revolution uses state-of-the-art Spiraflex technology. 
This is a big departure for Bowflex who have made such a name for themselves with their power rod resistance machines.
It's great to be innovative. But is this home gym any good? Keep reading our review of Bowflex Revolution to find out.
Bowflex Revolution Review – Quick Verdict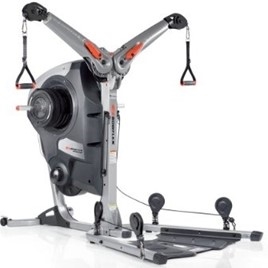 Pros
The Spiraflex technology creates consistent resistance without needing bulky weights

Over 100 different exercises

Resistance can be upgraded to 300 lb

Quickly switch between exercises
Includes all the accessories you need
Good warranty
Suitable for users up to 300 lb
Easy to assemble
Seat rail folds up for easy storage
Cons
It's quite a big, heavy machine 
It is a bit pricey (but often reduced so hit the button below to get today's price)
Bowflex Revolution Review 
What Is SpiraFlex? The New Resistance System
SpiraFlex is pretty cool. It is the technology that has been used by astronauts on the international space station and more than 50 NASA crew members have used it to maintain and improve their fitness.
Astronauts need to exercise to prevent the loss of bone mass whilst in zero gravity. But, of course, since there is no gravity they can't just pump some weights. 
The solution came from an inventor named Paul Francis who came up with the Spiraflex system that doesn't require gravity to provide resistance.
The system uses discs that use stretchy bands and spokes to provide resistance as they turn, this replicates the feel and benefits of free weights but without the weights or needing gravity.
If you have read any of our other Bowflex reviews, you will know that the normal Bowflex resistance power rods produce progressive resistance.
This is a bit like a bow and arrow or rubber band where the resistance increases the further you pull.
This has some benefits but it means that the muscle is not fully activated until full extension so is not working fully until this point.
SpiraFlex is different, it creates smooth linear isotonic resistance like free-weights, but without the weight.
The technology has been used in space for over 10 years, but now you can use it in the comfort of your own home thanks to the Bowflex Revolution Home Gym.
So what does this all mean for the Revolution? And how does it work?
The standard SpiraFlex bundle comes with 220 lb worth of resistance. This is split up into a number of different discs. In the standard package, you get:
These SpiraFlex discs can be attached to each other for a cumulative increase in the resistance level, just like adding more plates to a barbell.
If you are looking for a greater level of resistance, you can opt for the upgrade bundle which supplies a further 80 lbs worth of SpiraFlex discs giving you a total of 300 lb resistance. The extra 80 lbs come as 2 extra 40 lb discs.
The standard 220lbs of resistance is a decent amount and should be enough for the average home gym user.
It is just a bit more than all the other Bowflex machines that come with 210 lbs of resistance (many of these can be upgraded to 310 lbs, like the PR3000, or even 410 lbs in the case of the Blaze, Xceed and Xtreme 2 SE).
As mentioned above, the power rods used on other Bowflex home gyms offer resistance more like resistance bands whereas the Revolution has been designed to offer consistent resistance throughout the movement.
This gives it a feel more akin to a standard free weights set up and will be well received by gym-goers who are keen to track exactly how much they are lifting. 
The SpiraFlex system is far safer than free weights though. There are no heavy weights to worry about so there is no need for a spotter. This makes it a system that is well suited to use at home where you are more likely to be working out alone, and you have the freedom to use it whenever you like. 
>> Check out our Bowflex Revolution vs Xtreme 2 SE comparison
Bowflex Revolution – How Many Exercises Can I Do? 
The Bowflex Revolution allows you to do at least 100 different exercises. Being able to do so many different strengthening exercises on just one piece of kit is one of the main reasons for investing in a home gym.
100 different exercises is quite impressive and comfortably more than any other Bowflex machine – the PR1000 offers just 30, the Blaze allows 60, and the Xtreme 2 SE offers the most at 75.
The Revolution comes with a manual that describes in detail how to do all 100 exercises, with diagrams to help you and tips on how to make the most out of your exercises.
In addition to this, they go above and beyond by showing you how to set up your own workout schedule and provide nutritional advice. 
The versatility of exercises is thanks to the design of the Revolution which includes two independent arms that can be adjusted into 10 different positions to offer 170 degrees of mobility.
This is great as it doesn't just create a lot of different exercises but it gives you the freedom to adjust each exercise position to fit you properly so that you feel comfortable during the exercise. 
The Revolution has an adjustable seat and a sliding seat rail. We love the sliding seat as it allows you to use the Revolution as a rowing machine so that you can add some cardio exercises into your routine.
We think this is a great feature to have and only the entry-level PR1000 from Bowflex offers this. It also comes in handy for leg presses. 
When you buy the Revolution you can be sure that it comes with all the attachments that you need, these include:
Leg press plate

Preacher curl attachment

Leg press seatback

Foot harnesses

Curl/press down bar

Hand grips
The Revolution differs from most home gyms as there is no lat pulldown bar, it just wouldn't work with the design they have used for the independent arms.  
Despite this, the Revolution offers an incredibly diverse exercise regime and you can work on all of your different muscle groups.
With over 100 different exercises, the Revolution is well ahead of any other Bowflex home gym and only Total Gyms can offer the same level of variety. 
You May Also Like
Can I quickly switch between exercises on the Revolution?
It is worth noting that it is really easy to switch between different exercises on the Revolution. There is no need to move any cables or mess around with pulleys.
This means that you can continue your exercise program without pausing for breath (ok, you can allow yourself a few deep breaths!). 
I mention this because you may be considering other home gyms for Bowflex and this is a major differentiating feature on the power rod-based home gyms.
The latest power rod home gyms like the PR3000 and Xtreme 2 SE come with a quick change system that lets you quickly adjust and move on to the next exercise. The Revolution is similarly quick. 
Some of the cheaper Bowflex gyms like the PR1000, Xceed and Blaze, lack the quick-change system and it can take a few minutes to move bits around between working on different muscle groups.
It can be a bit annoying and it interrupts your flow, especially if you are trying to do circuit training with short rest periods between sets. 
Anyway, this is a Bowflex Revolution home gym review and you can rest assured that you do not need to worry about time-consuming pulleys and cables.
Is the Bowflex Revolution Easy to Assemble?
You will need to Assemble the Revolution when it arrives. Luckily Bowflex provides exceptionally good manuals with clear and detailed instructions.
There are diagrams and bullet points to help you to make sense of it all and it is always clear what tools you should be using and what to do in each step. 
You will need a few of your own tools to put it together (Phillips head screwdriver and 3/4″ wrench), and you should be able to get it built in around 3 hours.
It is quite a big machine so if you can rope someone in to help you out then so much the better but you should be able to manage on your own. 
Unlike the power rod-based gyms, this is a heavy bit of kit (336 lbs) so it is best to build it where you want to use it, and don't expect to be able to easily tuck it into the corner when you aren't exercising. 
The seat rail does fold away for storage, making it slightly smaller, but you should bear in mind that you need a space 10' by 7' to use this home gym safely and comfortably. 
Bowflex Revolution Review: The Verdict
The Bowflex Revolution is a fantastic piece of fitness equipment that can help you achieve your fitness goals from the comfort of your own home.
It offers a variety of workout options, including strength training, cardio, and flexibility exercises, all in one machine.
Whether you're looking to build muscle, lose weight, or simply improve your overall health and fitness level, the Bowflex Revolution is a great investment.
One of the best things about the Bowflex Revolution is its versatility. With its innovative design and range of attachments and accessories, you can customize your workouts to suit your individual needs and preferences.
The Bowflex Revolution has a lot going for it, in fact, we think it's the best Bowflex home gym. You get a huge range of exercises (100+) and enough versatility to carry out a full-body workout.
We like that it has the feel of using a free weights machine, but without the bulkiness or safety hazards that you associate with standard weights. 
Whether you're a beginner or an experienced fitness enthusiast, you'll find that the Bowflex Revolution offers a challenging and effective workout that will help you achieve your fitness goals.
Plus, with its relatively compact size and easy-to-use interface, it's the perfect addition to any home gym. So why not give the Bowflex Revolution a try today and see the results for yourself? You won't be disappointed!
It's often heavily discounted on the Bowflex site. You can check the latest price here
Bowflex Revolution FAQ's
Is the Bowflex Revolution Worth It?
In short, yes. Whilst there is no denying that this is one of the more expensive home gyms out there, we think that if you can afford the price tag you will be very pleased with your purchase and the results that it can produce. 
What comes with the Bowflex Revolution?
A preacher curl attachment, leg press plate, leg press seatback, foot harnesses, and curl/pulldown bar are included as standard with the Bowflex Revolution
How heavy is the Bowflex Revolution?
The Bowflex Revolution weight 336.2 lbs. The machine is built with a sturdy heavy steel frame that makes it quite a heavy piece of equipment. 
What is the maximum weight capacity of the Bowflex Revolution?
The Revolution has a maximum user weight of 300 lb.  This is fairly standard for home gyms and is the same as all other Bowflex machines. If you are heavier you might want to look at the Total Gym Fit which is safe for users that weigh up to 450 lbs. 
Does the Bowflex Revolution fold up?
Yes, the Bowflex Revolution folds to a relatively compact size of 55" x 38". You need a workout area of 10′ x 7′.
How long is the Bowflex Revolution Warranty?
The Bowflex Revolution comes with a 10 year warranty for the machine and parts (including the SpiraFlex discs). This is pretty good and shows that the machine is built to last, but some home gyms have a lifetime warranty.
Is Bowflex Revolution Discontinued?
The Bowflex Revolution has not been discontinued. You can still buy one directly from Bowflex themselves. There is a little bit of confusion around this because there used to be three different versions of the Revolution, these were known as the XP, FT, and standard Revolution.
The XP and FT are no longer made and have indeed been discontinued but the Bowflex Revolution lives on and is very much still available.


*As an Amazon Associate I earn from qualifying purchases.