Bowflex vs Total Gym – Which Home Gym is Right for You?
**We sometimes add affiliate links to our posts which mean we are compensated if you make a purchase after clicking on the links. This helps us offset the costs of running this site.**



So, you're looking to get yourself a home gym and have come across the two biggest names in the business, Bowflex and Total Gym.
But, of course, you're wondering which of these two brands is the right choice for you and are looking for a Bowflex vs Total gym comparison. Well, fear not, you have come to the right place! 
I can tell you right now that both of these brands are excellent and are known for their well built all-in-one home gym machines.
But the home gyms that they make are quite different from one another so it's worth reading our Total Gym vs Bowflex post to learn which one is the best for you and your home. 
Total Gym vs Bowflex in a Nutshell
| Total Gym | Bowflex |
| --- | --- |
| | |
| Adjustable bodyweight resistance | Polymer rods for resistance |
| Compact and foldable | Fairly big and heavy |
| Ideal for general fitness and toning | Perfect for strength training |
| Huge range of exercises | Huge range of exercises |
| 30 Day Risk-Free trial | |
| Try out Risk Free HERE | Check Price HERE |
Total Gym uses a gravity-based system and your own body weight to provide resistance, allowing you to perform a variety of exercises in your own home.
They have a compact design, making them suitable for small spaces, and some models come with accessories like a leg pulley, dip bars, and a Pilates bar.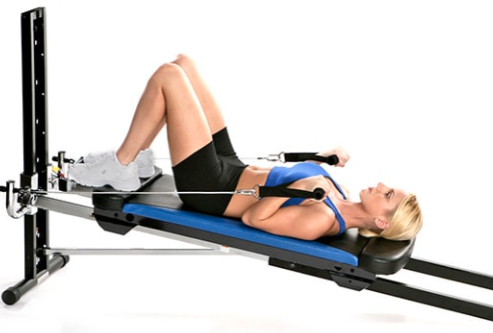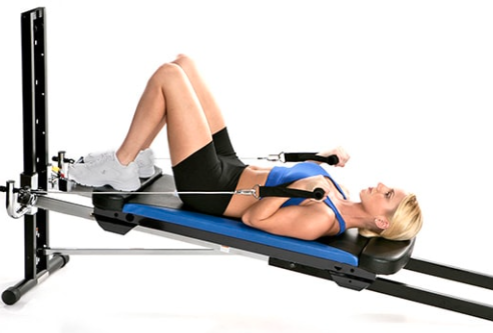 Bowflex usually uses its patented power rods to provide resistance and has a more traditional gym setup with a bench (vertical or horizontal).
This allows you to perform a wide range of exercises including strength training, cardio and stretching.
Bowflex machines are mainly focused on strength training but some of their machines (Revolution/Blaze) can be used as rowing machines for some added cardio workouts.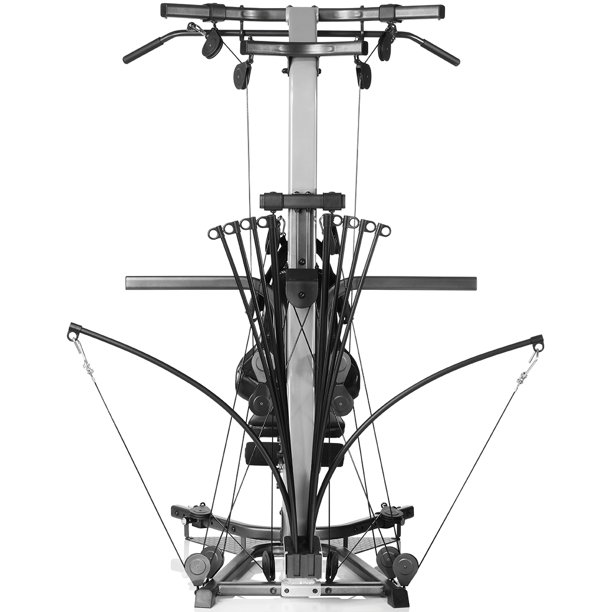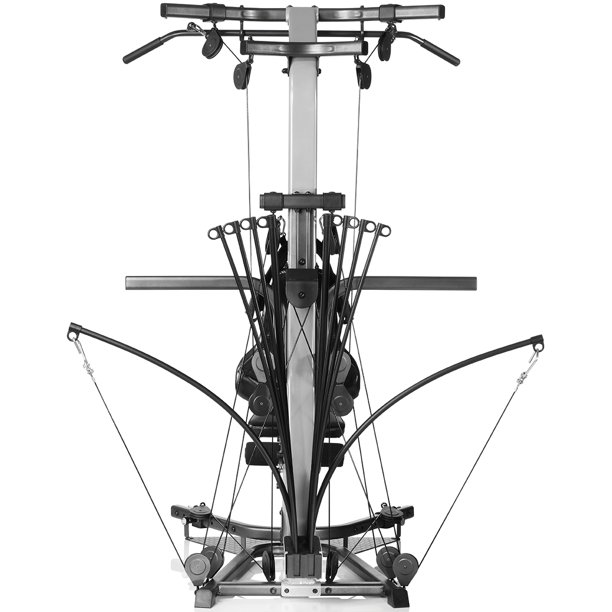 So, which one is better? Well, that's a tough question to answer. It really depends on your personal preference and what you hope to achieve with your home gym. 
Both Total Gym and Bowflex are capable of providing a great full-body workout, and it is the way that they offer resistance that is the biggest difference between the two.
Total Gym offers gravity-based resistance against your own body weight while Bowflex uses polymer power rods (or Spiraflex on the Revolution) to provide resistance.
Keep reading this Bowflex against Total Gym comparison to find out how this difference affects each home gym.
Personally, I think that they are both great and the variety they offer means you can ditch that gym membership and enjoy exercising at home without the time-wasting hassle of driving to a gym.
But, to give you a clue of how this Total Gym vs Bowflex comparison review is going to go I will let slip that I LOVE the Bowflex machines and these are the ones that I find myself using again and again (which is kind of what you want!!).
So if I could only choose one brand of the two it would be Bowflex and my top pick is the Bowflex Revolution which I think is the best Bowflex gym machine. 
Bowflex Revolution – Quick Verdict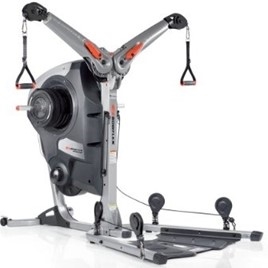 Pros
The Spiraflex technology creates consistent resistance without needing bulky weights

Over 100 different exercises

Resistance can be upgraded to 300 lb

Quickly switch between exercises
Includes all the accessories you need
Good warranty
Suitable for users up to 300 lb
Easy to assemble
Seat rail folds up for easy storage
Cons
It's quite a big, heavy machine 
It is a bit pricey (but often reduced so hit the button below to get today's price)
Total Gym vs Bowflex Brand Comparison
What is Total Gym?
Total Gym has a long and successful history in the world of home gym equipment. It was first released in 1974 and has grown in popularity ever since. 
Initially, it was popular among athletes and rehab clinics and it wasn't until the 1990s, when its famous infomercials aired, that its popularity really took off. They have managed to stay high profile by teaming up with movie star Chuck Norris and Fitness expert Christie Brinkley.
Total Gym is known for its high-quality and effective gym equipment that allow you to do loads of different exercises from the comfort of your own home. 
Total Gym uses your body weight as resistance, eliminating the need for changing weights or finding a spotter. There have been so many Total Gym models released over the years that I have lost count, but they all work in a similar way: using an adjustable angle sliding board and pulleys. 
The angle of the slide board can be adjusted to increase or decrease the resistance. These home gyms are simple in design but offer a lot of versatility.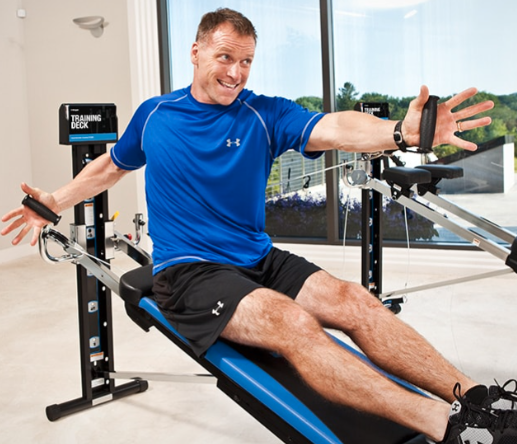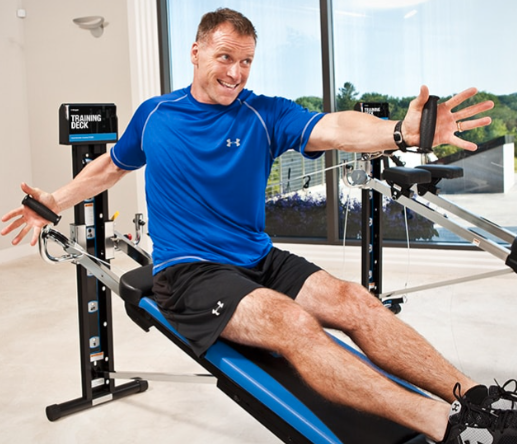 The Total Gym home workout machines all have an inclined glide board where you sit or lie to do your exercises. You can increase the resistance to use up to 56% of your body weight by simply adjusting the incline level of the machine (start lower and work your way up as you get stronger).
If you want to push yourself further then look out for a model that allows you to attach a weight bar.
Bodyweight systems are perfect for anyone just starting out who wants to increase their strength gradually. It is also good when you are rehabilitating from physical injuries as you can easily control the intensity of your workouts.
Total Gym XLS – Quick Verdict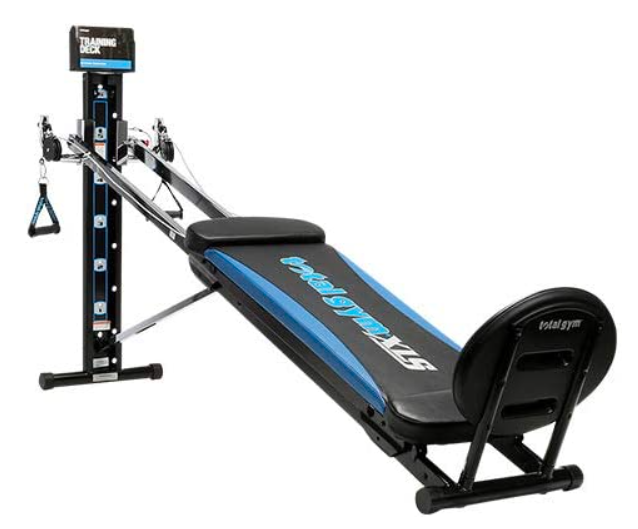 Pros
Huge variety: The innovative design offers over 85 exercises.
Well built: 1¼"x2" steel tubing with chrome-plated upper rails and powder-coated lower rails.
Six resistance levels (6 to 26 degrees to use 6% to 54% of body weight)
Compact: It's small any way plus it folds and has rollers so you can easily slide it under a bed.
1,000 lb vinyl-coated cables and soft synthetic rubber padded handles.
Upgraded pulley system.
High-density foam padding on glide board for extra comfort.
400 lb weight capacity.
Cons
Not ideal if you are focused on strength and muscle building.
Total Gyms are a good option no matter what fitness goals you have – weight loss, aerobic exercises or strength training thanks to the wide range of exercises.
Depending on the attachments included, you can perform between 60-80 different moves on most Total Gyms (and over 200 on the commercial grade Total Gym GTS). 
Another great feature of the Total Gym is that it's easy to set up. Most models come pre-assembled, so all you have to do is unfold them whack in a few pins and you are ready to go. 
The Total Gym is user-friendly and offers a lot of workout variety, but it may not be suitable for everyone. While you can increase the resistance by adjusting the slide board angle, it may not provide the level of resistance needed for advanced strength training. 
It's better for toning and strengthening rather than bulking up. If you prefer heavy, powerlifting-style workouts, the Total Gym may not be the best choice for you.
However, if you're looking for a full-body, low-impact workout and want to increase strength without doing high-resistance/low rep style workouts, the Total Gym is a great option. 
Total Gyms are also great for cardiovascular training due to the ability to switch between exercises quickly, which reduces rest time between moves. The pulleys allow for a wide range of motion, allowing you to adapt your motion to your fitness level and improving flexibility and stabilization. 
Something worth knowing about Total Gym home gyms is that they have very few parts that are prone to breakdown (as long as you look after them properly).
If anything does ever go wrong then you can be reassured that Total Gym offers a good warranty. The length of the guarantee is good but varies between models (higher-end models such as the Total Gym Fit and Total Gym XLS offer lifetime frame guarantees). 
There are differences between the Total Gym models (it's not like they just put a different name on it and hope you'll buy another one!) specifications like the max weight capacity (usually an impressive 400lbs) and warranty vary from model to model.
If you want to learn more about the differences between the various models, check out my full guide to the best Total Gyms. 
Or, check out what's available at Total Gym Direct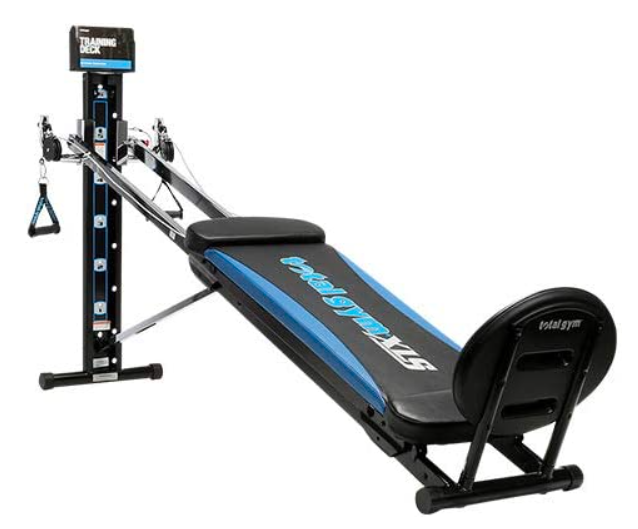 Check out our Total Gym Reviews
What is Bowflex?
Bowflex has been a well-known name in the fitness industry since 1986. They started out with a single home gym machine that used power rods instead of weight plates or a stack. 
In the years since, they've expanded their product line to include cardio equipment, home gyms, and dumbbells. They're known for their innovative products, such as the SelectTech Dumbbells and Max Trainers.
More recently, they've introduced the Bowflex Velocore, a stationary bike that allows you to lean from side to side during your workouts. 
Despite their success, Bowflex hasn't stopped pushing the boundaries and continues to offer some of the best home gyms and cardio equipment in the market, especially in the moderate price range ($2000-$3000).
They have a wide range of home gym models available, though not as many as Total Gym.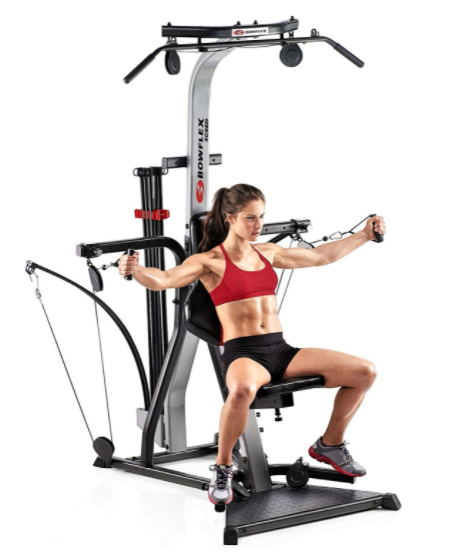 Like Total Gym, most Bowflex home gyms use a similar setup, with some slight differences between the models.
The exception to this rule is the Bowflex Revolution, which uses a different type of resistance – SpiraFlex – rather than the famous Bowflex bows.  
All the other Bowflex home gyms utilize their patented power rods as the source of resistance. These polymer rods function similarly to resistance bands, providing smooth resistance that increases as they're stretched. 
Some people prefer this because certain moves are easier at the beginning of the movement and become more challenging toward the end.
Some purists may not like the changing resistance throughout the arc of movement (unlike dumbbells, which provide consistent resistance), but it has been shown that this form of resistance is better for your muscles and joints.
Bowflex machines are great for low impact exercise thanks to the progressive tension of the power rods. 
The power rods can be adjusted so that you can increase the level of resistance as your own strength improves, or to adjust the intensity of your workout. 
Most Bowflex home gyms come with 210 lb of power rod resistance and some of them can be upgraded to 410 lb.
They also offer a good amount of workout variety, though not quite as much as a Total Gym.
The number of exercises you can perform with a Bowflex home gym ranges from 25-100+ depending on the model.
Bowflex Xtreme 2 SE – Quick Verdict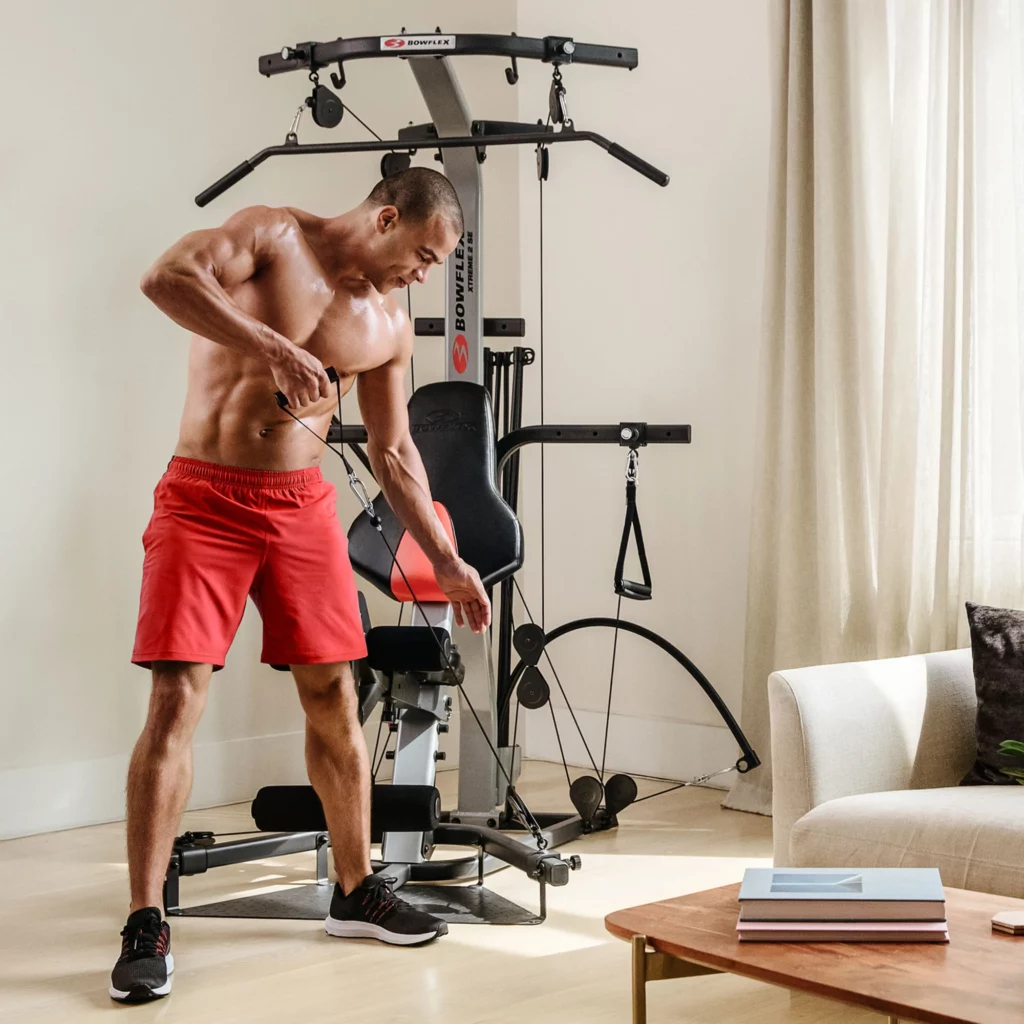 Pros
Over 70 exercises for a great full-body workout
Quickly switch between exercises for different muscle groups
Upgradable to 410lbs resistance
Good warranty
Suitable for users up to 300 lb
Easy to assemble
Cons
A bit expensive
No horizontal bench or rowing machine
The Xtreme 2 SE is one of the very best home gyms you can buy. The quality of the machine, the variety of exercises on offer, and the convenience of working out at home will make you wonder why you ever trekked down to the gym. 
Bowflex home gyms come in different shapes and sizes. Most have vertical benches, making them more compact, but some, like the Bowflex Blaze, come with horizontal ones (handy if you want to use it as a rowing machine).
These home gyms provide comprehensive, full-body workouts that can challenge people of most fitness levels. 
Unlike the Total Gym, you can achieve higher levels of resistance with a Bowflex system, making it easier to use for hypertrophy training.
However, it takes longer to switch between exercises on most Bowflex home gyms, which is fine for a "lift-rest" type of workout, but you won't be able to alternate between exercises as quickly as you can on a Total Gym (the more expensive Bowflex machines have a quick changeover system so if this is an issue for you look at the Xtreme 2 SE or Revolution). 
Another important difference to note is that there is considerable assembly required for Bowflex home gyms – they don't come pre-assembled like Total Gyms do.
If you're really hesitant about assembly, this is something to consider but to be honest it's only a couple of hours versus years of use so I don't personally think that this is a big deal.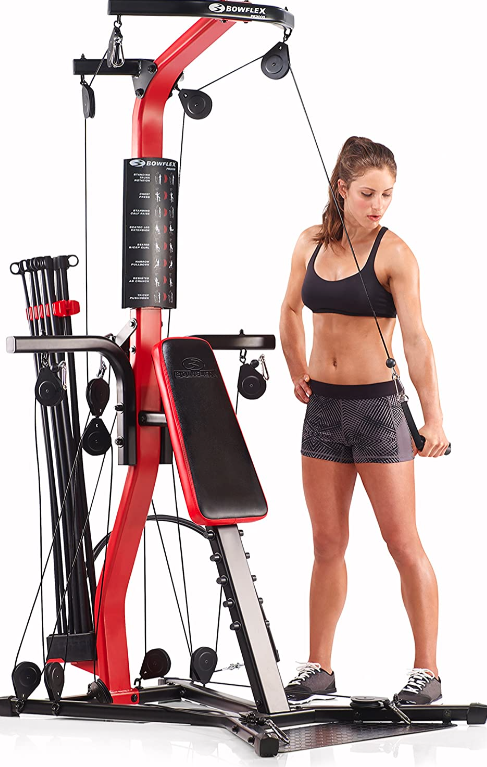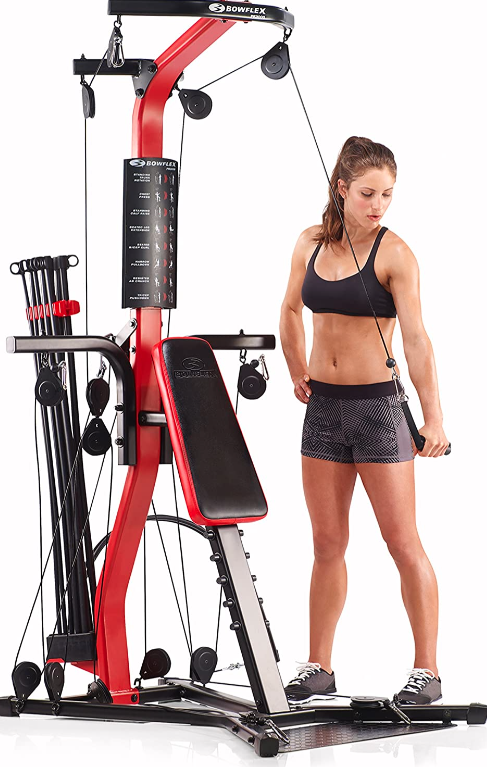 The specifications and warranties for each Bowflex home gym vary, but they generally come with fair guarantees. Many of their home gyms come with lifetime power rod warranties and several years of coverage on parts.
For more information on all the specific Bowflex home gyms, check out my comprehensive guide to the Best Bowflex home gyms. 
In short, I believe a Bowflex home gym is a great choice for most people that are looking to increase their home exercise options. You can perform a huge variety of strengthening exercises on it and can easily adjust the resistance so they are machines that will grow with you as your fitness and strength improve. 
Bowflex vs Total Gym – Which is cheaper?
Both Bowflex and Total Gym have a range of different machines at different price points. You can get a basic Total Gym set up for around $400 whereas the cheapest Bowflex machine is around $700.
Both brands have models going up into the thousands and I would say that they are comparable in value. Yes, you can get a very basic Total Gym for less than a Bowflex but it is fairer to compare models in the price bracket that you have budgeted for.
The top-of-the-range models do offer a lot more and are worth the extra, especially if you are more experienced and know that you will make use of it.
If you are new to home gyms then it might be worth looking at a lower-priced model to begin with.
I would say that if you are just starting to exercise at home and are looking to improve your overall fitness, then the Total Gym is probably the best machine for you.
It's a bit cheaper and can be folded away easily so it requires less of a dedicated workout area.
If, on the other hand, you know that you want to focus on strength building and are happy to dedicate a sorner of a room or your garage to exercise equipment then the Bowflex machines will be perfect for you.
If you are still undecided then you might be swayed by the 30 day risk free option that Total Gym offers. If you don't like it or don't use it then you can just sent it back for a full refund. What's not to like?
Prices do fluctuate so keep an eye out for sales, especially at Bowflex.com and TotalGymDirect.com
Is a Bowflex Home Gym bigger than a Total Gym?
Bowflex home gyms are bigger than Total Gym machines. Both companies have a range of models and sizes vary between them but if size (or lack of it) is important then a Total Gym is smaller and will take up less space.
Total Gyms measure 19″ W x 90″ L x 43″ H when you have them folded out for use. When you aren't using them you can easily fold them up to a fairly compact 19″ W x 51″ L x 9″ H which is small enough to put under a bed or in closet..
The Total Gym can be folded up and moved out of the way relatively easily while the Bowflex machine is actually pretty hard to move anywhere once you have it built, so it really needs a dedicated space.
As an example, the Bowflex PR1000 measures 82″ H x 86″ W x 76″ L. This is just the size of the machine though, you will need a workout space of at least 100″ x 72″.
Bowflex machines are much taller than Total Gyms so if ceiling height is an issue, this may affect your decision. Don't forget that both of these machines offer a huge range of exercises in a relatively small unit so it's well worth finding the space for one in your home.
Is Total Gym Easier to Assemble than a Bowflex?
Total Gyms are easier to assemble than a Bowflex machine. In fact, they don't need any assembly, just take them out of the box! Bowflex home gyms will require a bit more time but after a bit of effort the machine will be built and will last you many years.
Final Thoughts on Bowflex vs Total Gym
I hope that you have enjoyed reading this Bowflex vs Total Gym review. Both Total Gym and Bowflex are great choices for home gym equipment. 
If you're looking to improve strength and cardiovascular health, and you want a low-impact, full-body workout with a lot of exercise variety, a Total Gym might be the best choice for you. 
It is also the best option if you have a smaller home and need to be able to tidy the machine away when not in use.
On the other hand, if you prefer a more traditional home gym machine, and are more focused on building your strength and muscles, a Bowflex gym is probably the one to go for. 
Bowflex's also give you more precise control over the level of resistance and are upgradeable to higher resistance (with more power rods) so they are able to grow with you as your strength increases.
Ultimately, it's important to carefully consider your needs and preferences before making a decision. If you want more information on the differences between the individual Total Gym and Bowflex models, check out my guides for each.
Bowflex vs Total Gym Comparison FAQs
What's the difference between a Total Gym and a Bowflex?
Total Gym uses a simple, gravity-based system and your body weight to help you build strength, while Bowflex uses their patented power rods to provide resistance. Total Gym is better for toning and strengthening, while Bowflex is better for more intensive strength training. 
Can you build muscle with Total Gym?
Yes, it is possible to build muscle with Total Gym. A Total Gym uses bodyweight and gravity as resistance, which can be sufficient to build muscle and strength if the exercises are performed with proper form and enough intensity. It's worth noting that the amount of muscle that can be built with Total Gym alone may be limited, especially for those who are already at an advanced level of fitness. 
To continue making progress and increasing muscle mass, you may need to incorporate additional forms of resistance, such as free weights or resistance bands into your exercise routines. 
Is Bowflex or Total Gym better?
I prefer the Bowflex home gyms but it is difficult to say definitively which home gym is "better,". The most suitable option for you will depend on your individual needs and preferences. The big difference is the type of resistance and range of exercises available. 
Bowflex machines use power rods or SpiraFlex to provide resistance whereas Total Gym uses body weight and gravity. The Bowflex machines are a better choice if you are already at a more advanced strength/fitness level. 
Is a Total Gym worth the money?
A Total Gym is worth the money on one proviso…. That you actually USE IT!!! If you regularly make use of your Total Gym then you will definitely see strength and fitness gains. If it sits in the corner then no, it's not worth it. Assuming that you do use it you can save gym membership fees and after a year or so you will be saving money vs going to the gym. 
You May Also Like


*As an Amazon Associate I earn from qualifying purchases.