Can You Use Hydrow Without Subscription? [And Would You Want To]
**We sometimes add affiliate links to our posts which mean we are compensated if you make a purchase after clicking on the links. This helps us offset the costs of running this site.**



"Can you use Hydrow without a subscription?" This is a question I get asked all the time!!
Maybe you are considering purchasing a Hydrow rowing machine, but are hesitant about committing to the monthly subscription fee.
Or perhaps you've already invested in this state-of-the-art fitness equipment, but now find yourself unsure whether it's possible to use Hydrow without a subscription.
Well, you're not alone!
In this blog post, we'll explore whether or not you can use Hydrow without a subscription and what limitations you may encounter if you do.
So grab a cup of coffee, sit back, and let's dive into the world of Hydrow rowing without a subscription.
Can you use Hydrow Rower without subscription?
Yes, you can use a Hydrow rower without a subscription. However, membership is an essential component of the Hydrow rowing experience and without it, you will only be able to use the 'Just Row' mode.
If you do not have a membership, Hydrow offers an alternative option called the 'Just Row' mode.
This mode allows you to use the Hydrow rower without full access to the workout programs and content provided by the subscription.
So, if you choose not to pay for the monthly membership, you can still enjoy the benefits of rowing on the Hydrow but it will be just rowing with none of the interactive elements Hydrow is famous for.
It's worth remembering that there are no pre-recorded, preloaded, or free workout videos available without the membership.
To be honest, it's not what the machine was designed for and even Hydrow pdon't want you to buy a machine without the intention of getting a subscription
This is taken from their website:
Membership is an integral part of the Hydrow experience and should not be considered an optional part of purchasing.  Everything that makes Hydrow unique, including all of our premium workout content and connected fitness elements,  will require an active membership…….We do not suggest purchasing Hydrow with the intent of using it in "Just Row" mode.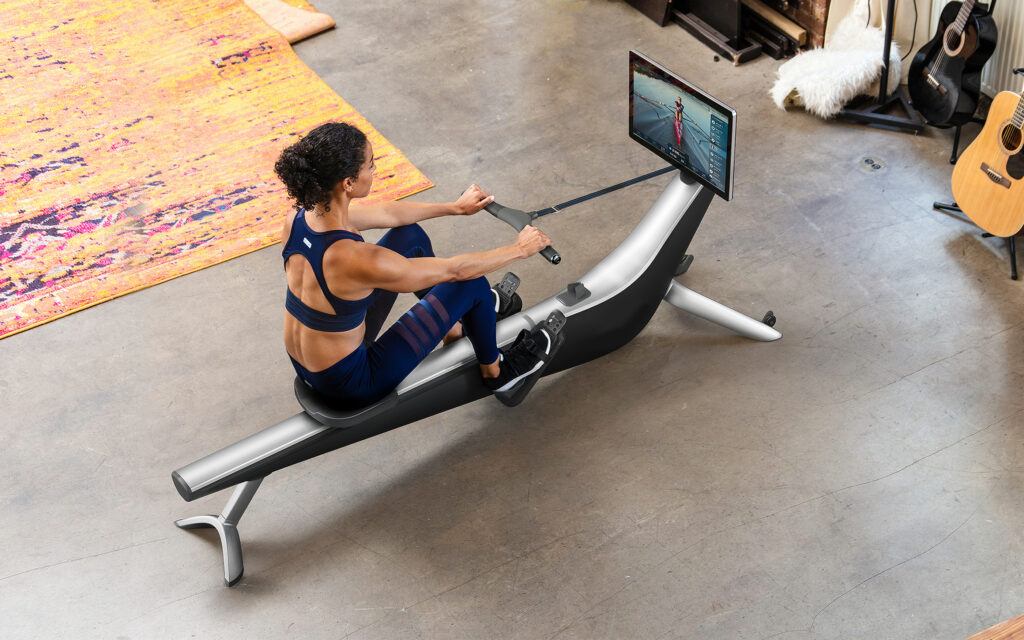 What can you do in Hydrow Just Row mode?
If you're looking to use your Hydrow machine without a subscription, you may be interested in the "Just Row" mode.
This feature allows you to row without access to the full range of Hydrow's features and workout programs.
However, keep in mind that you'll still need an internet connection and electricity for the machine to work.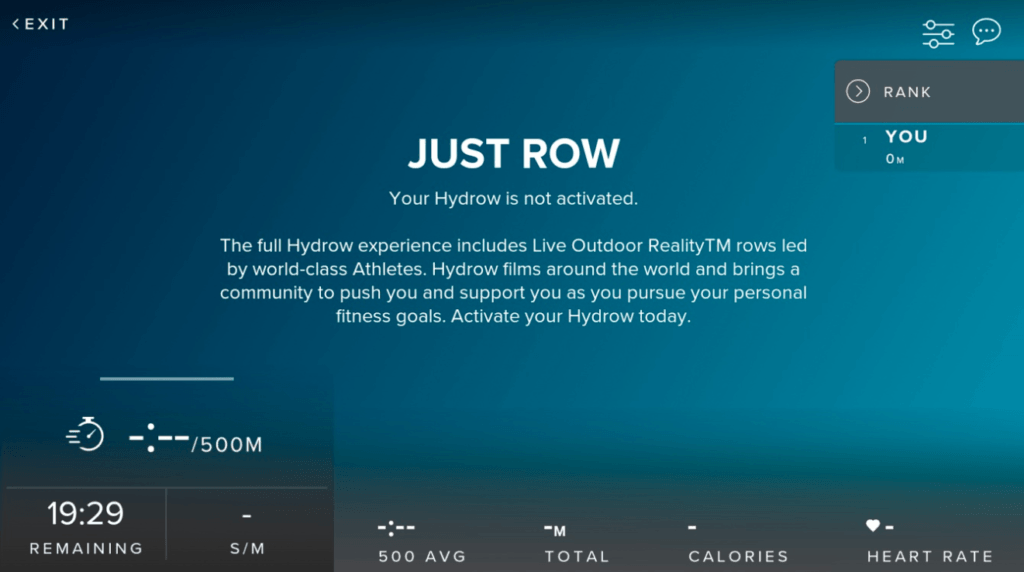 When your Hydrow membership expires, you'll see a notice on the monitor indicating that you're in Just Row mode. While the functionality of the machine will be limited in this mode, you can still enjoy the basic rowing experience.
To access Just Row mode, all you need to do is touch the screen where it prompts you to choose the option of using Hydrow without a membership.
Once you do that, you'll be taken to the next screen where you can either choose Row Mode or reactivate your subscription.
Features Available in Just Row mode:
Manual adjustment of the resistance level.
"Hydrow 101" introductory videos (not workouts).
Display of rowing metrics during your workout.
Bluetooth connectivity for heart rate monitoring.
Features Not Available in Just Row mode:
Computer-controlled resistance.
Recorded or live workout videos.
Playback of music or audio files.
Access to saved workout records and statistics.
Participation in weekly racing challenges.
Scenic water rowing workout routines.
Visibility of other users on the leaderboard.
Access to streaming workouts via the Hydrow companion app.
So, without a subscription, your Hydrow will function as a regular indoor rower without access to specialized content.
What can you do with Hydrow membership?
With Hydrow Membership you gain access to a wealth of resources and the famous workout sessions that have been filmed on water.
You can also immerse yourself in a world of fitness challenges, community meetups, and exciting events.
Here's what you can expect:
Live workouts in real time on the water with Hydrow Athletes, including renowned Olympians and world-class rowers.
Choose from over 4,000 on-demand rowing workouts, with new additions constantly being added to keep you engaged.
Explore a variety of off-the-rower workouts, including On the Mat yoga, pilates, strength training, and mobility sessions.
Stay motivated with progress incentives, such as Hydrow merchandise, badges, and certificates as you reach new milestones.
Every stroke you take contributes to a donation to water.org, making a positive impact with every row.
Create multiple user profiles to enable everyone in your household to track their individual progress and achievements.
Connect with a vibrant community of fellow rowers, sharing experiences, insights, and inspiration along your fitness journey.
With a Hydrow Membership, you'll enjoy an unparalleled fitness experience, which will help you to reach your goals and stay connected with a thriving community of like-minded individuals.
If you want to save a few dollars then the new Hydrow Wave model has the same features for a lower price.
hydrow membership cost
A Hydrow subscription currently costs $44 USD/month (plus applicable tax). You can also pre-pay for a year, but there is no cost saving and it is $528 USD/year (+ tax).
The good news is that this fee is assessed per machine, not per user, which means you can create unlimited profiles for your family and friends to use.
Is Hydrow just a rower normal without subscription?

Without a membership, the Hydrow rower loses its distinctiveness and becomes just another rowing machine.
While it still provides the physical benefits of engaging multiple muscle groups and improving cardiovascular fitness, it lacks the immersive and captivating workout content that sets Hydrow apart.
Using the Hydrow without a membership means missing out on the extensive library of scenic water rowing workouts, recorded and live workout videos, access to the Hydrow community and leaderboard, and the ability to track your progress and compete in weekly challenges.
These elements are what make the Hydrow Experience truly unique and impactful.
To fully enjoy the comprehensive Hydrow Experience, it is highly recommended to get the Hydrow membership.
The membership unlocks the full potential of the Hydrow rower, providing an immersive and rewarding workout journey that goes beyond just physical exercise.
can i use hydrow without membership – Final Thoughts
Hopefully, you are no longer sitting there wondering "can I use Hydrow without a membership?"
In the end, it's all about the unparalleled membership experience that sets the Hydrow rower apart from the rest. Having tried numerous indoor rowers, I can confidently say that Hydrow is one of the best rowing machines you can buy.
But don't just take my word for it; browse through the reviews of hundreds of satisfied Hydrow users, and you'll see that its rowing capabilities are unmatched.
If you are thinking of buying one then you should factor in the costs of subscription and if you don't want the ongoing cost you should look elsewhere, like the Concept2 RowErg (no subscription) or Aviron (much cheaper subscription + games)
If, for any reason, you find yourself using your Hydrow without a membership, that's understandable. But, I encourage you to reactivate your membership as soon as possible.
By doing so, you'll unlock the full potential of the Hydrow experience, gaining access to a wealth of engaging workout content that will enhance your fitness journey.
Remember, it's the Hydrow experience that truly sets it apart and makes it the ultimate rowing machine.
FAQ
Is a subscription required for Hydrow?
Yes, to fully access all the incredible features and benefits of Hydrow, a subscription is required.
Can I use Hydrow without a membership?
Yes, while your membership is inactive, you can still use your Hydrow rower in the limited "Just Row" mode. However, please note that this mode restricts access to the full Hydrow experience that you initially invested in.
Can I just row on Hydrow?
Yes. Even without an active subscription, you can still enjoy the rowing functionality of your Hydrow. When your membership expires, your Hydrow will display a notification indicating that you are in the Just Row mode.
How do I access the Just Row mode on Hydrow?
To enter the Just Row mode, ensure your Hydrow is connected to a power source and has an internet connection. The display will automatically prompt you that Hydrow is not activated, and you will be in the Just Row mode.
In this mode, you can access introductory material and videos, manually adjust the resistance, view rowing metrics, and connect your heart-rate monitor via Bluetooth.
Can I resubscribe to Hydrow later?
Absolutely! If you wish to reactivate your subscription, simply touch the "activate" button on the home screen of your Hydrow rower, and you can once again enjoy the exceptional Hydrow rowing experience.
What other workout content is available besides rowing?
In addition to rowing workouts, Hydrow offers a wide range of exercises to provide a comprehensive full-body workout. You can explore yoga workouts with yoga blocks, strength training using resistance bands, and even mat exercises such as stretching.
Can I purchase accessories like a workout mat later on?
Yes, you can! Hydrow offers various accessories to enhance your experience. Whether it's a workout mat for stability, a foam roller, a Polar heart rate monitor, or the comprehensive Hydrow Pro Package, you have the flexibility to add accessories to your setup. The Hydrow upright storage kit allows you to store your rower in a compact space.


*As an Amazon Associate I earn from qualifying purchases.