Aviron Strong Rower Review [2023] – The Ultimate Rowing Experience?
**We sometimes add affiliate links to our posts which mean we are compensated if you make a purchase after clicking on the links. This helps us offset the costs of running this site.**



I think that it's about time that I did an Aviron Strong rower review!
The Aviron Strong Series Rower is a heavy-duty home rowing machine that incorporates the same innovative, game-inspired software that made the Aviron Impact incredibly popular.
However, the Strong Series Rower brings some notable enhancements to the table.
For a start, there's a rotating screen that immerses you in captivating virtual environments as you row.
Adjustable-width pedals ensure a comfortable fit, while the added sensation of a cool breeze during your workout adds an extra touch of realism.
But perhaps the most important upgrades are the lower rail and the sturdy non-folding frame, providing extra stability and durability (and inspiring the name).
With a maximum weight capacity of just over 500 lb, the Strong Series Rower accommodates individuals of all sizes and shapes, making it an inclusive option for anyone seeking a heavy-duty workout machine.
If you're searching for a versatile rowing machine with numerous workout options, Aviron's Strong Series Rower is a fantastic choice.
However, before making your decision, it's essential to have a clear understanding of what this machine offers and whether it has the right features for how you like to workout.
That's where I come in to help.
In this review, I'll delve into all the features of the Strong Series Rower, and I'll also highlight the key differences between this model and the more affordable Impact Rower.
By the end of this Aviron Strong review, you'll have the information you need to determine if the Strong Series Rower is the perfect fit for your home gym.
Aviron Strong Review – Quick Verdict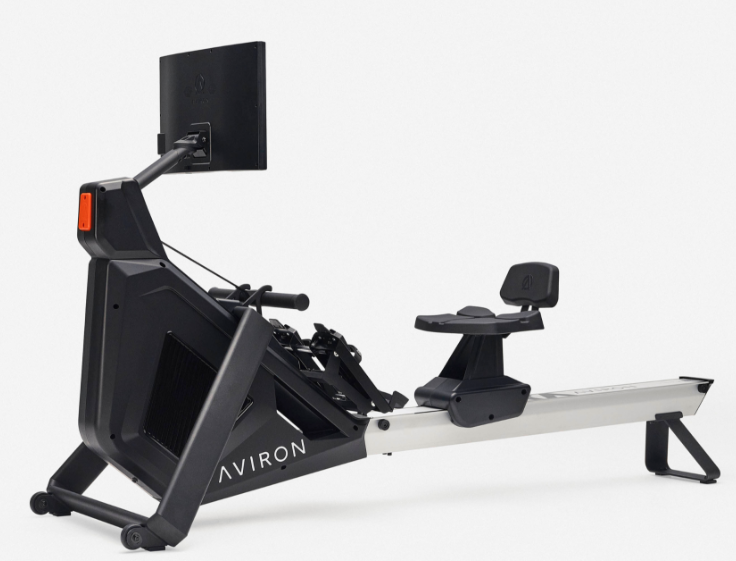 Pros
22″ HD rotating touchscreen c
8 workout modes
Tonnes of games
Sturdy and durable frame
Dual resistance system
Too many to list here
Cons
Requires ample floor space
Fairly high cost
I love this rower.
The way that Aviron has turned rowing into a game is fantastic.
If you are the kind of person that needs a bit of motivation to exercise, then this is a game changer.
You will soon find yourself returning to the machine to beat your scores or race other people.
It's fun, but guess what? You get fit at the same time with a full-body workout that is hard to beat.
What is the Aviron Strong Rower?
Hydrow may have pioneered the concept of streaming media for rowing machines, but with the remarkable success of Peloton and iFit, it was only a matter of time before the market expanded.
Now, we're spoiled for choice when it comes to streaming rowers, each brand adding its own unique twist to the experience.
Aviron, in particular, focuses on discovering captivating ways to enhance your workout sessions.
Their first rower, now called the Impact Rower, broke new ground by offering users a variety of workout options. We'll dive into the specifics later, but in essence, you have the freedom to choose between engaging games and more traditional workout programs.
Clearly, the Impact Rower struck a chord with fitness enthusiasts, as Aviron has now introduced their latest model: the Strong Series Rower, affectionately known as the "Strong Rower."
The Strong Rower utilizes the same cutting-edge software as the Impact Rower, but it goes a step further with a heavy-duty frame and other notable upgrades that promise an enhanced rowing experience.
As of now, the Strong Rower is priced at $2299, a modest $300 increase compared to the Impact Rower.
Considering the Hardware: The Backbone of the Aviron Strong Rower
While software and streaming options may grab our attention, it's crucial to evaluate the hardware of a rower. After all, if the performance falls short, the allure of streaming media won't matter much in the long run.
The Strong Rower adopts a combination rowing system, blending magnetic and air resistance to create the challenging force you work against. This hybrid approach capitalizes on the advantages of both resistance types, a trend seen in many modern rowing machines.
By employing a magnetic and air system, the Strong Rower ensures a consistent baseline resistance, independent of rowing speed (courtesy of the magnetic component).
However, when you pick up the pace, the air system kicks in, amplifying the resistance for a more intense workout.
It's worth noting that the spinning fan does generate some noise, although not excessively. However, if you plan to exercise early in the morning with sleeping family members nearby, it's something to keep in mind.
Aviron ingeniously harnesses the power of the fan by redirecting the airflow toward you. This neat design feature not only adds a self-powered cooling effect during your workouts but also enhances the overall experience.
The Strong Rower offers 16 magnetic resistance levels, with no damper settings for the air fan.
Aviron states that level 16 corresponds to a remarkable 100 lb of resistance. This substantial range is purposeful, as the Strong Rower (and the Impact as well) is built not only for rowing but also for upper-body strengthening exercises.
With the ability to dial up the resistance, you can focus on targeted strength training exercises, such as rows, bicep curls, and tricep extensions.
In summary, the Strong Rower combines a thoughtful blend of magnetic and air resistance, providing versatility and ample challenge for a holistic workout experience.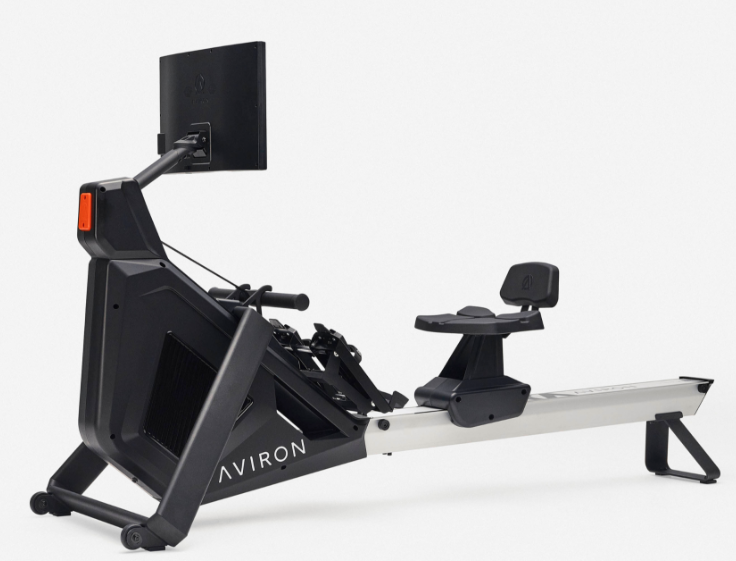 Built to Last: The Sturdy and Versatile Aviron Strong Rower
The Strong Rower boasts an impressive assembled weight of 114 lb, indicating its robust construction and durability.
With a weight limit of 507 lb, this machine is designed to accommodate users of all sizes, ensuring a secure and stable workout experience.
According to Aviron, individuals up to 6'8″ should find comfortable rowing positions on the Strong Rower. Its thoughtful design takes into account the needs of a wide range of users.
Although the Strong Rower does not fold, it can be stored vertically, offering a space-saving solution similar to folding models.
The frame of the Strong Rower sits just 10″ above the ground, allowing for easy step-over access.
However, the seat is elevated to a height of 20″, providing enhanced convenience for getting on and off the machine. It's worth noting that both the Strong and the Impact models share the same 20″ seat height, but the Strong Rower features a lower rail.
The handlebar of the Strong Rower is connected to a nylon belt, ensuring quiet operation during your workouts.
Additionally, the handlebar can rotate, accommodating natural wrist movement for a more comfortable rowing experience.
One notable and intriguing feature of the Strong Rower is its fully adjustable pedals.
Not only can you customize the pedal length to match your shoe size, but you can also adjust the distance between the pedals.
This unique capability allows users of all sizes to find their ideal rowing position. It sets the Strong Rower apart from other rowers in the market, including the Impact model.
In summary, the Strong Rower shines as a heavy-duty machine with a dual-resistance system, capable of providing substantial resistance levels. Its sturdy build, versatility, and thoughtful design make it a standout option for those seeking a dependable and adjustable rowing experience.
The level of adjustability also makes it ideal for anyone planning to share the machine with a partner.
Aviron Strong Review: A Smart Streaming Rower
Aviron takes great pride in offering a diverse range of workout options, so let's delve into the details.
First and foremost, it's important to note that the Strong Rower operates as a streaming rower, meaning you need to subscribe to a monthly streaming service to unlock the full smart rower experience.
At the time of writing, this subscription fee amounts to $25 per month. The subscription grants you access to unlimited user profiles, and it remains notably more affordable compared to Hydrow's $38 monthly fee.
While it is possible to use the Strong Rower without a membership, you will not be able to access the games or structured workouts.
Without a membership, you can still manually row, view and track your workouts, add and follow friends, as well as create a profile—a generous offering compared to some other rowing machines.
But, to be honest, if you don't plan to use this with the streaming options you are missing out on the main reason to buy it.
With an Aviron rowing machine, you have the luxury of choosing from eight distinct workout modes, each catering to various fitness preferences and goals.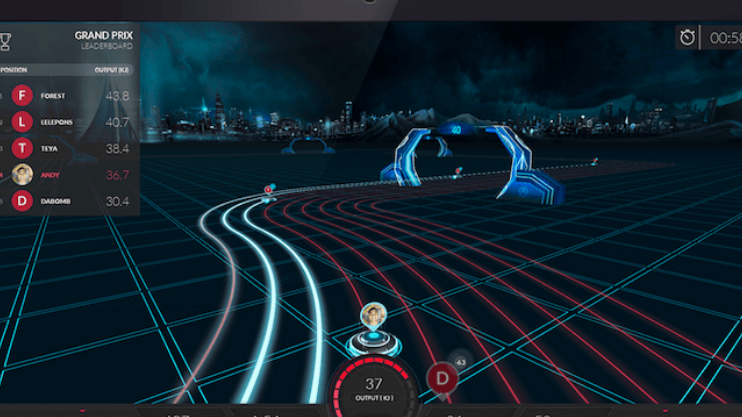 Aviron Strong Rower Review: Workout Options
Games
Experience interactive video games where you can shoot robots, evade zombies, or demolish bricks.
These immersive games respond to your rowing speed and force, making your workouts engaging and enjoyable.
Aviron's games set them apart from other streaming rowers and are unanimously praised for breaking the monotony of rowing.
Coached Programs
Follow along with personalized rowing instructor Austen as he guides you through tailored rowing and strengthening workouts.
This option provides a similar experience to traditional, instructor-led workouts, ensuring proper form and effective training.
Streaming
Access popular streaming entertainment apps directly from the 22″ HD touchscreen console.
Whether you want to binge-watch your favorite shows on Hulu, Netflix, Disney+, Prime Video, or enjoy music on Spotify, Aviron lets you stay entertained while working out.
Scenic Rows
Immerse yourself in serene and picturesque waterways as you exercise from the comfort of your home.
These scenic rowing experiences allow you to relax and enjoy captivating virtual environments during your workouts.
Power Play
Combine the thrill of games and guided workouts with Power Play.
You can take part in races against friends and the computer, focusing on different aspects of your rowing technique. Power Play adds a competitive element to your training while helping you improve your stroke.
Live Competition
Embrace the exhilaration of live races with Aviron's no-holds-barred competition mode.
Challenge friends to a real-time race or aim for the top spot on the leaderboard.
Aviron occasionally organizes community-wide live events, fostering a sense of camaraderie and shared achievement.
Guided Programs
Similar to coached programs, guided workouts take you through a series of rowing and off-the-rower exercises tailored to your goals and fitness level.
These programs offer a comprehensive approach to training, catering to your specific needs and helping you progress.
Pros vs Joes
Experience the thrill of racing against elite athletes in the Pros vs Joes feature.
Challenge yourself against pre-recorded competitions featuring athletes from various sports and disciplines. Measure your performance against some of the fittest individuals, including Olympic rowers, if you dare.
What I love about Aviron's extensive range of workout modes is that you won't have to worry about getting bored with your routine.
Having a rowing machine is one thing, but the added entertainment options that Aviron provides increase the chance that you will actually want to use it.
Both the Strong and Impact Rowers feature a 22″ HD touchscreen console, but the Strong's console offers the added convenience of rotating side to side, ensuring easier viewing even when you're off the rower.
Warranty: Aviron Stands Behind the Strong Series Rower
When it comes to warranty, Aviron demonstrates its commitment to customer satisfaction with the following coverage for the Strong Series Rower:
10-year frame warranty
1-year parts warranty
This warranty package is really generous.
Aviron surpasses other leading rowing machine brands, such as Hydrow, Concept2, and Ergatta, who typically offer 5-year frame warranties.
The 1-year parts warranty is also decent.
Notably, Aviron extends this warranty to cover commercial usage as well, highlighting the brand's confidence in the durability and quality of its product.
All in all, Aviron rowers come with a highly competitive warranty that ensures peace of mind and underscores their commitment to delivering a reliable and long-lasting rowing machine.
Aviron Strong Series Review: Price
At present, the Strong Series Rower is priced at $2299. While this may be considered expensive for a home rowing machine, it falls within the range of other elite streaming rowers in the market.
For comparison, the Hydrow is priced at $2495, and the Ergatta at $2499 (although prices are subject to change).
NordicTrack's RW900 is relatively more affordable, priced around $1800. Nevertheless, the Strong Series Rower holds its own with competitive pricing, especially when considering its impressive features and capabilities.
It's worth noting that Aviron's Impact Rower, a similar model to the Strong Series, is available at around $1999, making it a more budget-friendly option, approximately $300 cheaper.
Overall, while the Strong Series Rower may have a higher price tag, it aligns well with its competitors in the elite streaming rowing machine category, and its value proposition is enhanced by its exceptional streaming options (at an affordable monthly price).
Aviron Strong Pros and Cons
Aviron Strong Rower Pros
22″ HD touchscreen console that rotates
8 workout modes
Wide selection of entertaining games
Sturdy and durable frame
507 lb weight limit
Low frame height
20″ seat height
Dual resistance system
16 levels of magnetic resistance
Rotating handle for natural motion
Nylon belt for smooth operation
Adjustable pedals for a customized fit
Cooling effect from built-in fan
Compatible with lumbar support attachment
Good warranty coverage
Aviron Strong Cons
Requires ample floor space
Relatively high cost
Aviron Strong Series Rower Review: Final Thoughts
To sum up this Aviron Strong rower review, Aviron has taken its already successful Impact Rower and elevated it further with the Strong Series. Let's recap the key upgrades compared to the Impact:
Sturdier frame
Rotating screen
Lower frame height (while maintaining the same seat height)
Vertical storage capability (no folding)
Adjustable-width pedals
Directed cool air flow from the fan
Phone holder
Compatibility with lumbar support
While it's important to note that the Strong Series Rower requires quite a bit of floor space (it's 7 feet long), and it comes with a significant price tag, it is reasonably priced when compared to other streaming rowers in the market.
It's also supported by an impressive warranty so you know that your investment is safe.
In terms of workout options, Aviron's Strong Series Rower stands out as one of the best around.
Offering a diverse range of exercise possibilities, from engaging games and guided rowing workouts to streaming apps and scenic rows, Aviron has ensured there's something for everyone.
Honestly, with the Strong Series Rower, Aviron has delivered an awesome product that demands attention.
Its robust design and extensive workout options make it one of the best rowing machines money can buy.
I think it's the comprehensive streaming options that make this such a great buy.
With the choice of games, coaching, or watching your favorite shows there are plenty of reasons to get on your Aviron Strong.
And once you are on it you will improve your fitness in no time.


*As an Amazon Associate I earn from qualifying purchases.