Hydrow Wave Review [2023] – Enjoy a Hydrow Workout For Less
**We sometimes add affiliate links to our posts which mean we are compensated if you make a purchase after clicking on the links. This helps us offset the costs of running this site.**



Let's check out this exciting new rower in a Hydrow Wave Review.
Hydrow has just launched a smaller, more affordable model called the Hydrow Wave Rower. This is great news for anyone that liked the idea of the Hydrow but was put off by the price or size of the original streaming rower.
The Hydrow Wave Rower offers the same immersive and realistic rowing experience as its bigger counterpart, thanks to its computer-driven electromagnetic drag resistance system.
The best part is, it comes at a lower cost than the original Hydrow rower, making it more accessible to a wider range of people.
But is it right for you?
In this post, I'll walk you through all the details in this Hydrow Wave Review so that you'll have a better sense of whether it's the right fit for your home gym.
Hydrow Wave Review – Quick Verdict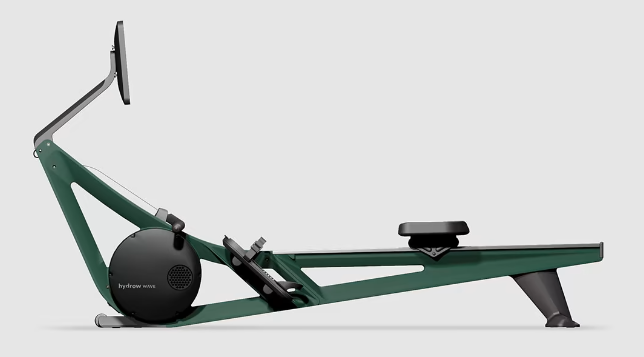 Pros
Uses brilliant computer-controlled, magnetic resistance system
Provides a realistic rowing experience that mimics the feel of rowing on water
Operates quietly, ensuring a peaceful workout environment
Adjustable drag levels ranging from 0 to 300, allowing for personalized intensity
Features a sleek and stylish frame design
Supports users up to 375 lbs in weight
Accommodates users with up to a 36″ inseam comfortably
Equipped with a 16″ HD touchscreen console for an immersive workout experience
Bluetooth and ANT+ compatibility for seamless connectivity
Access to a vast library of instructor-led workouts
Workouts filmed on actual water, enhancing the authenticity
Offers the option of 1:1 personal coaching for personalized guidance
Adjustable foot pedals for a customized fit
Ergonomically designed handle for comfortable grip
Occupies a smaller footprint, ideal for space-conscious individuals
Easy assembly process for convenience
Cons
Warranty could be longer to provide additional peace of mind
Vertical storage kit not included, requiring separate purchase for storage convenience
This is a brilliant rowing machine with exceptional streaming workouts. Its a bit smaller and cheaper than the original Hydrow but offers the same great workout and still looks incredible.
Hydrow Wave
With its original rower, Hydrow has established a solid reputation thanks to a high level of customer satisfaction.
This is particularly important for a luxury brand like Hydrow, as happy customers are key to spreading positive word-of-mouth and enticing potential buyers to invest in their products.
However, for many prospective buyers, the primary stumbling block has been the hefty price tag associated with the Hydrow.
This is where the brand's strategic move to introduce a more affordable model that still offers compatibility with its streaming platform truly shines.
The Hydrow Wave is priced at around $1500 for the rowing machine itself, which is significantly less than the original Hydrow.
By offering a more accessible option, Hydrow has made a brilliant move to cater to the needs and budgets of a wider range of home gym enthusiasts.
Hydrow Wave Review – Resistance
Let's talk about resistance, a key factor to consider when evaluating any rowing machine.
Rowing machines come in various types, categorized by the kind of resistance they utilize: hydraulic, magnetic, air, or water. Some models even combine magnetic and air systems, although magnetic resistance tends to be more prevalent in these cases.
Now, the Hydrow Wave takes a unique approach and doesn't neatly fit into any of these traditional categories.
The innovative minds behind the brand have developed their own patented form of resistance specifically for their rowers.
They describe it as "computer-controlled electromagnetic drag technology," but essentially, they have created a magnetic rower that emulates the feel of rowing on water.
Typically, magnetic rowers provide a consistent level of resistance regardless of your rowing speed, requiring you to manually adjust the resistance settings.
Water rowers offer resistance that directly correlates with your rowing intensity: the faster you row, the greater the resistance; row slower, and the resistance decreases.
With the Hydrow Wave, although the resistance is magnetic (there is no water tank involved), the level of resistance you experience is still responsive to your rowing speed and force.
This is precisely what Hydrow means when they describe their resistance as "dynamic and responsive." It offers the perfect blend of magnetic and water systems, combining the quiet operation of a magnetic rower with the authentic sensation of rowing on actual water.
Speaking of tranquility, users unanimously agree that the Wave is exceptionally quiet, making it an ideal choice if you're concerned about disturbing other household members during your workouts.
While the Hydrow Wave doesn't offer specific resistance levels, you have the ability to adjust the drag to customize the "feel" of your workout session.
The drag settings on the Wave can be adjusted anywhere from 0 to 300 (Hydrow recommends starting around 104 and making adjustments from there), with higher numbers corresponding to a heavier boat sensation.
Now, I must admit that grasping the concept of drag versus resistance can be a bit perplexing when it comes to rowers.
However, I read a quote from a trainer that likened drag to altering the size or weight of your boat. This analogy resonated with me because regardless of your rowing speed, it logically requires more energy to maneuver a larger boat.
Anyway, it's crucial to remember that with the Hydrow Wave, regardless of the drag setting you choose, the resistance you experience is directly tied to your rowing speed: row faster for increased resistance and row slower for reduced resistance.
By the way, it's worth noting that this same exceptional resistance system can be found in the pricier Hydrow model as well.
All in all, the patented resistance system of the Wave (and Hydrow) stands out as one of its best features, guaranteeing a serene and lifelike rowing experience.
If you're seeking a quiet workout reminiscent of being out on the water, the Wave is sure to exceed your expectations.
Hydrow Wave Review – Frame
Similar to the original Hydrow, the Wave boasts a single-piece frame design, which means there is no pivot joint between the rail and the frame that houses the console.
This design choice likely enhances structural stability while also lending the Wave a sleek and stylish appearance.
It's also available in a range of bright colors.
However, there is a trade-off with a single-piece frame — the Wave cannot be folded for storage. While it can be stored vertically, it's important to note that the anchor kit needed for this storage method is not included with the purchase and is sold separately for $190.
Constructed with a stainless steel rail and a robust polymer frame, the Wave ensures a durable and lightweight structure capable of accommodating rowers weighing up to 375 lb.
Compared to the original Hydrow, the Wave is notably smaller and lighter, making it a more suitable option for apartments and smaller homes.
The Hydrow Wave dimensions are 80″L x 19″W x 43″H. Which makes it 30% smaller than the original Hydrow rower.
That being said, it still requires a considerable amount of space and you'll need nearly 7 feet of open floor area for comfortable usage.
On the bright side, weighing only 102 lb when assembled, the Wave is relatively easy to move around, especially since it comes equipped with transport wheels.
(For comparison, the original Hydrow is 6 inches longer, 6 inches wider, and weighs approximately 40 lb more.)
Despite being slightly shorter than the Hydrow, the Wave can still accommodate tall rowers with up to a 36″ inseam, typically individuals in the range of 6'4″ to 6'6″ in height.
Overall, while the Wave may not exude the same level of sleekness as the original Hydrow, it still earns high marks with its sturdy frame construction. And the fact that it takes up slightly less floor space is always a welcome advantage.
Hydrow Wave Review – Console
The Wave is equipped with a 16″ HD touchscreen console, slightly smaller than the 22″ screen found on the original Hydrow.
However, rest assured that it's big enough to comfortably view streaming workouts and track your workout metrics.
The console of the Wave is compatible with WiFi and ethernet connections, as well as Bluetooth and ANT+ heart rate monitors and headphones.
Similar to the Hydrow, the Wave is designed to integrate with Hydrow's own streaming platform, which requires a subscription fee of $44 per month.
This platform grants you access to a wide range of instructor-led workouts, comprehensive metric tracking, and more.
Like most streaming platforms, Hydrow provides live and on-demand workouts, including off-the-rower sessions such as yoga, Pilates, and various strength training exercises.
What sets Hydrow apart from the rest is that all their rowing workouts are filmed with instructors rowing genuine boats on real bodies of water.
This unique feature allows you to experience the sights and sounds of actual water as you follow along, which can be a significant advantage for those seeking an authentic rowing experience.
Hydrow also offers one-on-one personal training options with their expert trainers. Whether you wish to refine your technique or elevate your rowing performance, you have the flexibility to book individual sessions or join group training sessions.
It's worth noting that the console on the Wave is fixed, meaning you can't adjust its viewing angle like you can with the original Hydrow. However, this is unlikely to pose an issue for most users.
In summary, while the Wave's console is smaller than the original, it functions in the same way and provides access to the same high-quality instructor-led workouts, allowing you to fully enjoy your rowing experience.
If you are not sure you need a rower with a fancy screen, check out my Hydrow Wave vs Concept2 comparison.
Hydrow Wave Rower Review – Assembly
When it comes to assembling the Wave, you can breathe easy because the process is incredibly straightforward, and Hydrow provides helpful instructional videos to guide you along the way.
Unlike the Hydrow, which features a single solid frame piece, the Wave's frame consists of two separate pieces that need to be connected. Once assembled, the frame appears seamless, but the use of two parts makes shipping and handling much more convenient.
During the assembly process, you'll attach the front foot, connect the frame pieces, secure the footrests, attach the monitor arm, and then connect the console itself. Of course, let's not forget the important step of sliding the seat onto the rail.
Rest assured that Hydrow includes all the necessary hardware, and you'll only need a hex key to put it together.
Overall, the assembly couldn't be much easier. In fact, you should be able to have the rower set up and ready to go in under 30 minutes.
Hydrow Wave Review – Warranty
The Hydrow Wave comes with the following residential warranty:
5 years for the frame
1 year for parts
1 year for labor
When evaluating the warranty, I would say that Hydrow's coverage is okay, but not exceptional.
The frame and parts warranties are ok but not as good as some brands in this price bracket
The 1-year warranty on labor aligns with standard industry practices, so there are no particular concerns in that regard.
Overall, while Hydrow's warranty is not that bad, it would be nice to see a longer warranty period, especially for a rower of this caliber.
Should you get the Wave or the original Hydrow Rower?
Here are some things to consider when weighing the Hydrow Wave against the original Hydrow:
Pros
Space and Budget: If you have limited space or are working within a tighter budget, the Hydrow Wave is a great alternative to the original model. Starting at around $1,500, it offers a more affordable option. However, keep in mind that there are additional costs for accessories like a machine mat or storage kit. Don't forget to factor in the monthly membership fee for accessing workouts.
Compact and Portable: The Hydrow Wave boasts a more compact design compared to the original Hydrow, making it easier to fit into smaller spaces and easier to move around.
Durable Frame: The Wave features a sturdy polycarbonate frame, ensuring durability and long-lasting performance.
HD Touchscreen Display: With a 16″ HD touchscreen display, the Wave provides a clear and immersive visual experience while following along with live and on-demand workouts.
Live and On-Demand Workouts: Access to a wide range of live and on-demand workouts is available with the Hydrow Wave, allowing you to customize your fitness routine according to your preferences and schedule.
Financing and Assembly Options: Hydrow offers financing options for convenient payment plans. Additionally, if you prefer professional assembly, in-home assembly services are available for an additional cost.
Cons
Storage Kit Sold Separately: The storage kit for the Hydrow Wave is not included with the purchase and needs to be bought separately.
Monthly Subscription: To stream workouts and access the full range of features, a monthly subscription fee of $38 is required.
Non-Folding Frame: Unlike the monitor, the frame of the Hydrow Wave does not fold. This may be a consideration if space-saving storage is a priority for you.
Price: Although the Hydrow Wave is more affordable than the original Hydrow, starting at around $1,500, it is still a significant investment compared to other rowing machines on the market.
Remember to factor in these points to make an informed decision about whether the Hydrow Wave aligns with your space, budget, and fitness needs.
Hydrow Wave Rowing Machine Review – Final Thoughts
And there you have it, my review of the Hydrow Wave.
To be honest, there's very little to nitpick about here.
Hydrow has delivered a fantastic option with the Wave, providing a smaller and more affordable alternative to their immensely popular Hydrow Rower (which, in my opinion, remains one of the best rowing machines).
The Wave retains the same impressive resistance system and can accommodate users of all sizes while featuring a smaller and lighter frame along with a slightly reduced HD console.
Sure, it may not have the same eye-catching appeal as the original model, but with a lower price point and multiple color choices, any minor aesthetic sacrifices are easily forgotten.
The main downsides worth noting are the relatively short warranty (a common drawback for both the Wave and the original Hydrow) and the absence of the vertical storage kit, which is sold separately.
Aside from these considerations, the Wave presents a compelling choice for individuals seeking the Hydrow experience within the constraints of limited space or budget. I highly recommend it.


*As an Amazon Associate I earn from qualifying purchases.