Best Rowing Machines For a Tall Person [2023 Detailed Review]
**We sometimes add affiliate links to our posts which mean we are compensated if you make a purchase after clicking on the links. This helps us offset the costs of running this site.**



If you're a tall person looking for a rowing machine, then this guide to the best rowing machines for tall people is for you!
It's not uncommon for tall individuals to feel cramped and uncomfortable on a standard rowing machine, which can negatively affect their workout experience and even lead to injury.
Fortunately, there are rowing machines out there that are designed with features like longer rails and higher weight capacity that accommodate the needs of taller rowers.
For the purpose of this discussion, we define "tall" as individuals who are 6'2″ or taller, as this is the height range where users may start to have issues using a rower.
In this blog post, we'll be taking a closer look at the best rowers for a tall person, so you can find the perfect machine to help you reach your fitness goals without sacrificing comfort or performance.
Whether you're a serious athlete or just looking for a great workout, we've got you covered. So, let's dive in!
The Importance of Inseam Length
When it comes to finding the perfect rowing machine for tall individuals, there is a key measurement that takes precedence over total height: inseam length.
It's a way of measuring the length of your legs and this is the key area where taller people can have issues on an indoor rower as they are unable to fully extend their legs as they push back.
The inseam measurement that is vital because people of the same height can have varying inseam lengths.
Understanding the significance of inseam length is valuable, but it does not necessarily make the process of finding the best rowing machine for a tall person any easier since this figure is often not included in the description of home rowing machines.
Luckily, for all you tall folks out there, conducting thorough research is my forte and I have found some stats to help tall people find the right rower.
The Top Rowers for Tall People
Aviron Strong Series Rower
If you are looking for a high-tech rower that will keep you engaged and motivated then the Aviron Strong Series Rower is a great choice.
I think this is one of the best rowers for tall people that need a little extra motivation to use their machine since it has a huge variety of interactive games, coached programs, scenic rows, and even competitive races to choose from.
You'll never run out of new ways to challenge yourself!
Aviron states that this rower is suitable for people up to 6'8″ but annoyingly they don't state an inseam length. Still, it's a good guide as to whether it's going to be big enough.
The seat height is 20″ from the floor which is higher than a lot of rowers, and it will be easier for taller users to sit at this height than on a lower machine.
Another feature that is ideal for taller users is the adjustable width of the foot position which helps rowers of all shapes and sixes to find a comfortable position. This is pretty much unique to the Aviron Strong rower.
The Strong Series Rower is slightly better for tall people than the Aviron Impact series which is for users up to 6'7″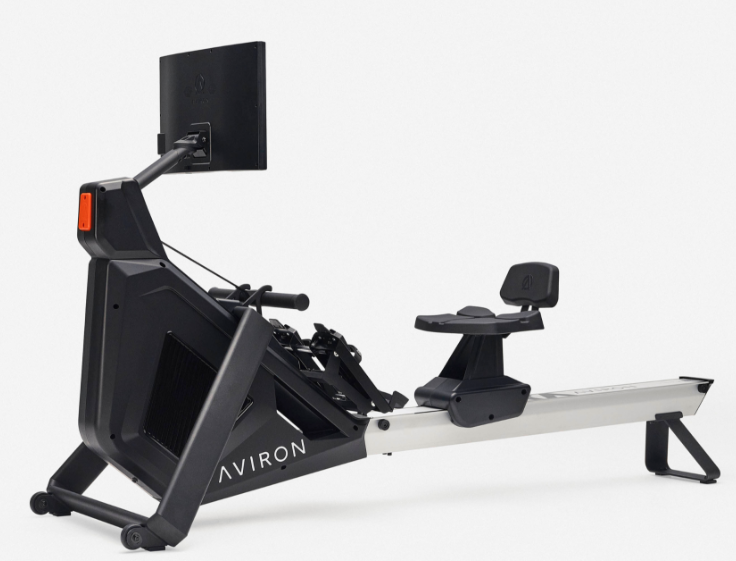 With 16 magnetic levels and a combo system utilizing both magnetic and air resistance, the Impact Series offers a wide range of resistance options to keep your workouts challenging and effective. And with a maximum user weight capacity of up to 397 lb, this rower is built to last.
But what really sets the Impact Series apart is Aviron's impressive streaming platform which is accessed via the 22″ HD touchscreen console.
There are a whole host of entertaining rowing options and if you need a break from your workout, you can even access your favorite entertainment apps directly from the console.
Best of all, Aviron's streaming service is one of the most affordable around, at just $25/month.
So if you're looking for the best rower for tall person that combines high-tech features with a wide range of streaming options, the Aviron Strong Series Rower is definitely my top pick.
Concept2 Model D Indoor Rowing Machine
When it comes to the best rowing machine for tall people, the Concept2 RowErg is a standout choice. Manufactured by Concept2, a renowned brand known for top-quality rowers, this machine is designed to meet the needs of tall individuals.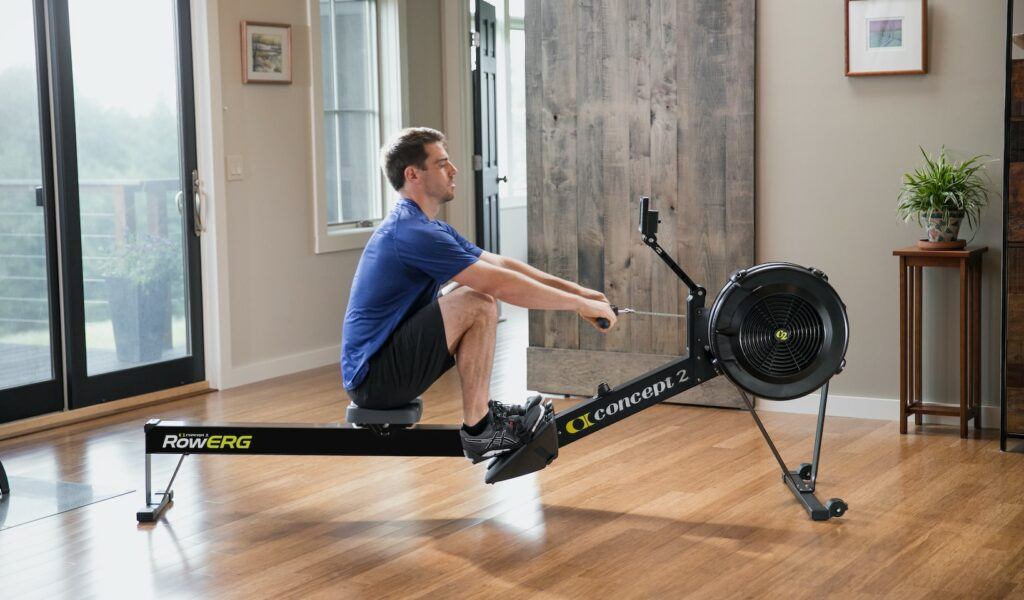 Built with commercial-grade durability, the Concept2 Model D is suitable for both commercial and home use. Its air-resistance system adjusts to your rowing intensity, making it ideal for users of all fitness levels.
Olympic rowers often use Concept2 rowers, attesting to their performance for tall individuals.
Equipped with the advanced PM5 performance monitor, the Concept2 RowErg tracks vital workout statistics and offers features like racing against previous data and guidance on proper form.
The design includes a stock monorail accommodating up to 38.0″ inseams, and an optional rail add-on extends the capacity by another 5.0″ for taller users. Professional rowers, including those around 6'4″ in height, commonly use the Model D.
The Concept2 Model D is highly regarded for its exceptional quality and durability, backed by numerous 5-star reviews. Despite its lower price point compared to other options, it doesn't compromise on performance.
With a solid steel frame supporting tall users up to 500 lb, the Concept2 RowErg is a steal at just under $1k.
Hydrow
You've probably already heard of the Hydrow, with its catchy commercials all over TV.
Dubbed as "the Peloton of rowers", the Hydrow offers a huge 22″ HD touchscreen display for streaming workouts, making it an incredible hi-tech addition to any home gym.
But there's more to the Hydrow than just its stunning display. With a single piece frame that can support up to 375 lb, and can be stored vertically, the Hydrow is both sturdy and space-saving.
Plus, the one-of-a-kind magnetic resistance system allows you to digitally select the drag on a 0-300 scale, giving you a smooth and quiet workout that can be customized to your skill level.
The streaming workouts on the Hydrow are filmed on real bodies of water all over the world, so you can truly experience the sensation of rowing on water.
And with a monthly subscription fee of $44, you get access to over 4,000 on-demand workouts, including Pilates, yoga, and strength training, along with live on-the-water workouts with Olympians and world-class rowers.
But the Hydrow is not just about offering the most advanced rowing machine on the planet. They also give back, with every Hydrow workout contributing towards a donation to water.org, a foundation that provides access to clean water around the world.
The Hydrow Rower and the slightly cheaper Hydrow Wave are tested for members with up to a 36-inch inseam.
So the Hydrow will not accommodate the very tallest rowers but it is a good option for tall rowers looking for world-class instruction videos to accompany their workout.
Sure, the Hydrow isn't cheap, but if you're looking for the ultimate rowing machine with a touch of luxury, then the Hydrow is definitely worth the investment.
So what are you waiting for? Get ready to row your way to a healthier and happier you!
(Psssst – The Hydrow Wave, is a cheaper, nearly as good, lighter, more colorful and foldable rowing machine)
WaterRower Club Rowing Machine 
The WaterRower Club Rowing Machine is an excellent choice for tall people with different models accommodating an inseam from 37 to 41 inches.
This beautiful rower is a water resistance rowing machine that replicates the feel of rowing with oars on a boat, while producing the soothing sound of water swooshing.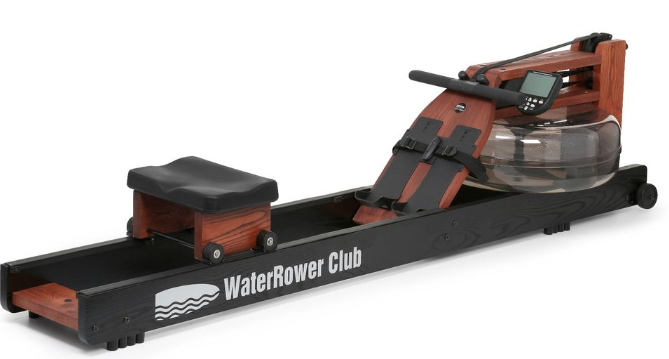 Its Ash hardwood frame is both beautiful and durable, and can withstand heavy commercial use.
The machine comes with a sophisticated display monitor that tracks advanced metrics and built-in workout programs.
Although it cannot fold, the WaterRower Club Rowing Machine can be stored vertically when not in use. It can also support up to 700 lbs without the hi-rise attachment, making it safe for users of all sizes.
Available in several finishes and at different price points, this rowing machine is an ideal choice for anyone (even very tall people) who wants to experience rowing on the water from the comfort of their own home gym.
Sunny Health & Fitness Magnetic Rowing Machine (SF-RW5515)
When it comes to finding a rowing machine that caters to exceptionally tall individuals, the Sunny Health & Fitness, the SF-RW5515 stands out as a top contender.
With an impressive inseam capacity of up to 46.5 inches, this rower is designed to accommodate even the tallest users.
While the SF-RW5515 may not offer much in the way of advanced features, it has earned its reputation as the top-selling rowing machine on Amazon, with an average rating of over 4 out of 5 stars from satisfied customers.
And with a price tag under $300, it delivers exceptional value for your money.
Featuring 8 levels of magnetic resistance, easily adjustable through a front dial, the SF-RW5515 allows you to tailor your workouts to your preferred intensity.
While the small LCD monitor provides basic workout information, such as time, count, and calories burned, it offers all the essential tracking features you need to monitor your progress effectively.
Despite its compact size, the SF-RW5515 can support users weighing up to 250 lbs, making it suitable for a wide range of individuals.
Additionally, its folding design allows for convenient storage when not in use, ensuring that it doesn't take up unnecessary space in your home.
Plus, you can enjoy the same reliable warranty as the Obsidian Surge, another popular rower by Sunny Health & Fitness, with a 3-year warranty on the frame and a 180-day warranty on parts.
With its impressive inseam capacity and unbeatable value, this is probably the best budget rowing machine for a tall man or woman. it's the perfect solution for exceptionally tall individuals looking to achieve their fitness goals comfortably and efficiently.
BodyCraft VR500 Rower
If you're a tall person in search of a rowing machine that can accommodate your height, look no further than the BodyCraft VR500 .
This exceptional rower not only holds its own against the best in the market but also offers features that make it a perfect fit for taller users, with an inseam capacity of up to 38.5 inches or approximately 6 feet 8 inches.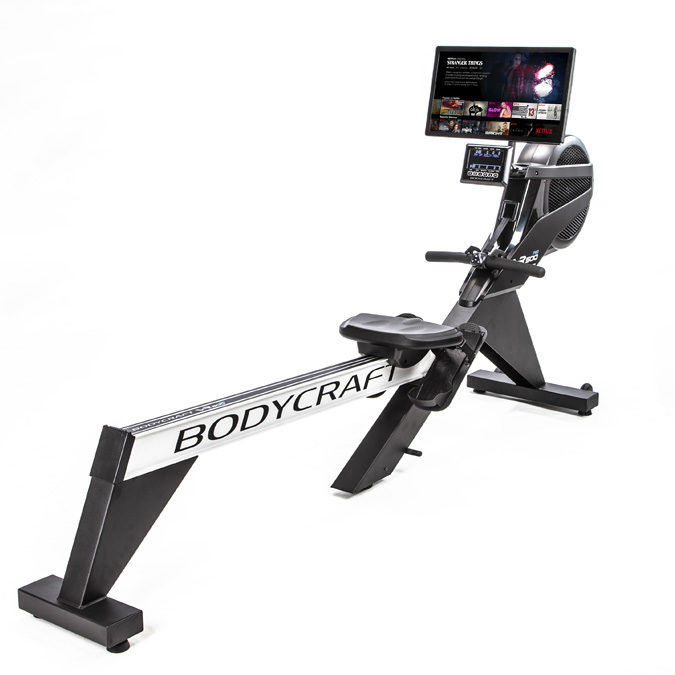 The BodyCraft VR500 combines the advantages of both magnetic and air resistance systems, delivering a powerful and versatile workout experience.
With this machine, you'll enjoy the strength and intensity associated with air rowers, while benefiting from the quiet and consistent resistance provided by magnetic rowers.
Featuring 32 levels of magnetic resistance, the VR500 offers a wide range of options to challenge yourself and customize your workouts according to your fitness level.
What sets this rowing machine apart is the convenience of adjusting the resistance level directly from the handlebar while you're rowing, allowing you to seamlessly transition between intensity levels without interrupting your rhythm.
The VR500 seat is extra padded to ensure a comfortable workout experience even during extended sessions, while the long slide rail and sturdy frame provide stability and support, making it an ideal choice for taller and larger users.
The VR500 boasts an advanced monitor that surpasses what you typically find on home rowers.
With 12 workout programs, heart rate monitoring functionality, and even racing modes, this monitor offers a comprehensive range of options to keep your workouts engaging, varied, and effective.
The VR500 comes with an outstanding residential warranty, including a lifetime warranty on the frame, 7-year warranty on parts, 1-year warranty on wear items, and a 2-year labor warranty.
This level of warranty coverage demonstrates the confidence BodyCraft has in the VR500's durability and reliability. In fact, it is even rated for light commercial use, further attesting to its robust construction and long-lasting performance.
If you're seeking a rowing machine that offers a quiet operation, exceptional durability, and unmatched comfort, all while accommodating taller individuals up to 6 feet 8 inches in height, the VR500 is a top contender that deserves your consideration.
Factors to Consider When Choosing a Rowing Machine for Tall Person
When it comes to selecting a rowing machine that fits tall people, there are several crucial factors to keep in mind.
It's not just about finding a model with an extended seat rail; other important features and criteria play a significant role in ensuring a comfortable and effective rowing experience.
Design
A rowing machine suitable for tall people should have an ample seat rail length that allows for full leg extension.
This ensures that taller individuals can comfortably engage in the rowing motion without feeling cramped or restricted.
Additionally, the rower must function and feel the same for users of different heights, maintaining a consistent rowing experience for individuals of all heights.
The design should also accommodate a slight forward lean and the ability to fully extend the arms forward.
Moreover, tall users should be able to easily see the fitness monitor without having to strain their necks, and access resistance controls and other buttons without any issues.
The footrests should be designed to accommodate larger feet or shoes, ensuring a secure and comfortable fit.
Quality
Apart from meeting the physical requirements of tall users, a suitable rowing machine should offer overall quality.
Consider the resistance type and ensure that it is suitable for your needs, offering smooth, adjustable, and strong resistance.
Evaluate the functionality and reliability of the monitor or control panel, ensuring it accurately tracks vital workout statistics.
Assess the build quality, including the sturdiness of the frame, durability, and the potential for squeaking noises.
Comfort is also an important aspect, so pay attention to the seat and handle, ensuring they provide a comfortable and ergonomic grip.
Storage Options
If space is a concern, look for a rowing machine that offers convenient storage options.
Consider whether the machine can be easily folded to save space when not in use, making it practical for home use.
Dimensions
Before making a purchase, check the dimensions of the rowing machine to ensure it fits within your exercise space.
Ensure that it can be accommodated comfortably without hindering your movement or causing any obstructions.
Assembly
Consider the ease of assembly when choosing a rowing machine. Look for models that offer a straightforward assembly process, saving you time and frustration.
Warranty
Protect your investment by considering the length and coverage of the warranty. A longer warranty period provides peace of mind, ensuring that you are covered in case of any manufacturing defects or issues.
Price
Finally, evaluate the price of the rowing machine and determine if it aligns with its features, quality, and overall value. Consider your budget and the long-term benefits of investing in a durable and reliable rowing machine.
By carefully considering these factors, you can narrow down your options and find a rowing machine that not only accommodates your height but also provides excellent quality, comfort, functionality, and value for your fitness journey.
Best Rowing Machine for Tall Person: Final Thoughts

Finding the best rowing machine for tall people can be a challenging task, but it's not impossible.
We've explored some top contenders in the market, and two standout options that we highly recommend are the Aviron Strong Series Rower and the Concept2 RowErg.
The Aviron Strong Series Rower combines innovative technology with a sturdy design, making it an excellent choice for tall individuals. With its robust construction and adjustable features, it provides a comfortable and efficient workout experience.
The immersive gaming elements and interactive challenges add an extra layer of motivation, keeping you engaged and eager to reach your fitness goals.
On the other hand, the Concept2 RowErg has long been hailed as the gold standard in rowing machines.
Trusted by Olympic rowers and fitness enthusiasts alike, the Concept2 RowErg delivers exceptional performance and durability. Its adjustable inseam length and user-friendly features make it an ideal choice for tall individuals who seek reliability and precision in their workouts.
Ultimately, the right rowing machine for you will depend on your specific needs and preferences.
If you are self-motivated and looking for a great rowing machine at a low price then the Concept2 RowErg fits the bill.
If you want something a bit more advanced with an incredible streaming feature then the Aviron Strong Series rower will give you every possible reason to actually get on and use the rower.
Both the Aviron Strong and the Concept2 RowErg offer outstanding options for tall individuals, providing the necessary features and comfort to accommodate a range of inseam lengths.
So, if you're ready to take your fitness to new heights and experience the joy of rowing, consider the Aviron Strong and the Concept2 RowErg as your go-to options.
Get ready to push your limits, achieve your fitness goals, and enjoy the incredible benefits of rowing as a tall person. Let the journey begin!


*As an Amazon Associate I earn from qualifying purchases.