Aviron vs Ergatta – Which is the Best Gamified Rower in 2023?
**We sometimes add affiliate links to our posts which mean we are compensated if you make a purchase after clicking on the links. This helps us offset the costs of running this site.**



It's time for an Aviron vs Ergatta comparison review!
If you're in the market for a new rowing machine that offers gamified streaming workouts and entertainment options, then you've likely heard of the Ergatta and Aviron rowers.
Both of these machines have been making waves in the fitness world, captivating users with their innovative and immersive experiences that go beyond just a regular workout.
With the Ergatta and Aviron, you're not just rowing, you're gaming your way to a healthier lifestyle.
One of the standout features of both the Ergatta and Aviron rowers is their gaming-inspired workouts.
These workouts inject an element of fun and excitement into your exercise routine, making you feel like you're competing in virtual challenges or embarking on epic adventures. Say goodbye to monotonous workouts and say hello to a new level of engagement.
But how do these two rowing machines compare when it comes to delivering the ultimate gaming experience?
That's what we're here to find out. In this comprehensive comparison of the Aviron vs Ergatta, we'll delve deep into their key performance specs and streaming features.
We'll explore everything from the intensity and variety of gaming workouts they offer to the seamless integration of entertainment apps that will keep you motivated and entertained during your sessions.
By the end of this article, you'll have all the information you need to make an informed decision about which rower is the perfect fit for your home gym.
So, buckle up and get ready to embark on a head-to-head showdown between the Ergatta and Aviron rowers. Let's dive into the world of gaming workouts and discover which rowing machine reigns supreme.
Aviron vs Ergatta Rowers – Comparison Table
Aviron Rower (Impact)
Ergatta Rower
Resistance Type
Magnetic/air combo
16 resistance levels
Water
Frame
Steel/aluminum
Assembled weight: 97 lb
Weight limit: 397 lb
American cherry wood
Assembled weight: 76.5 lb (103 lb with water)
Weight limit: 500 lb
Storage
It can be folded
Can't fold but can be stored vertically.
Warranty
10 year frame
1 year parts
5 year frame
3 year parts
1 year labor
Streaming Features
Lots of games
Entertainment apps (Netflix, etc)
Coached programs
Competitions
Pros vs Joes
Virtual destinations
Plenty of social features
Game-inspired
Goal oriented
Intervals
Races
Scenic rowing
Group challenges
Adjusts based on performance
Cost
Around $2200
Check Price Here
Around $2200

Indepth Comparison of the Aviron and Ergatta Rowers
While Ergatta has been in the market for a few years now, it's during the pandemic that they truly skyrocketed in popularity.
With countless gym-goers seeking at-home alternatives, Ergatta emerged as a go-to option for streaming rowers.
But now there are quite a few smart rowing options to choose from including the Hydrow, the NordicTrack RW900, and the Aviron Rowers.
Among these streaming rowers, we're starting to see variations in the types of rowing machines used and the streaming services provided.
This diversity is fantastic because it allows us to find the perfect streaming experience tailored to our specific needs.
Aviron has actually been around for a few years as well, initially targeting gyms and light commercial settings. However, they have now shifted their focus directly to home users.
Aviron currently offers two home rowers to choose from: the Impact Series Rower and the Tough Series Rower.
While the Tough Series Rower is essentially a sturdier version of the Impact, it also features a lower rail height. However, the streaming services remain identical for both models.
For the purpose of this Aviron vs Ergatta smart rower comparison, we will be focusing on Aviron's Impact Rower, when it comes to stats but I have tried to cover both Aviron rowers as far as possible.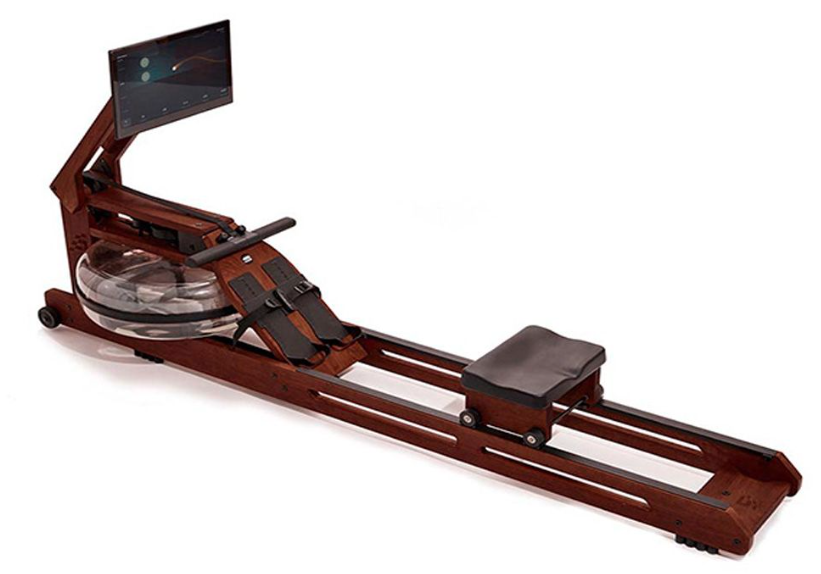 Ergatta vs Aviron – Resistance
When it comes to categorizing rowing machines, one of the quickest ways to distinguish them is by the type of resistance they employ.
There are essentially four types of rowers based on their resistance mechanisms: hydraulic, magnetic, water, and air (or five if you count air/magnetic combinations).
Each type of resistance has its own set of advantages and disadvantages. For a more detailed exploration of these distinctions, I encourage you to refer to my comprehensive guide to the best rowing machines.
For now, let's delve into how the Aviron and Ergatta differ in terms of resistance.
The Aviron utilizes a combination of magnetic and air resistance, providing users with the best of both worlds.
With 16 levels of magnetic resistance to choose from, the Aviron ensures that your chosen level becomes the baseline resistance for your workout.
It's worth noting that the Aviron delivers substantial resistance, particularly at higher levels.
In fact, levels 11-16 are specifically designed for strength training exercises like bicep curls, tricep extensions, and rows.
While the magnetic resistance serves as the consistent baseline, the fan provides supplemental resistance as you increase your rowing rate.
An added bonus of the Aviron's design is its quieter operation compared to traditional air rowers, emitting only 60 decibels of sound during use.
The Ergatta is a classic water rower. It relies on a fan turning in a tank of water to create resistance.
Similar to air rowers, the resistance level directly corresponds to the intensity and speed of your rowing.
There are no specific resistance levels to set; the faster and harder you row, the greater the resistance, and vice versa.
Water rowers closely mimic the sensation of rowing on actual water, providing a more realistic experience for those seeking that particular feel.
Additionally, the soothing sound of water swishing in the tank accompanies your workout, adding to the immersive rowing experience.
It's worth noting that water rowers tend to be slightly noisier than magnetic rowers due to the nature of their operation, but many find the sound to be pleasant and enjoyable.
Considering the differences in resistance mechanisms between the Aviron and the Ergatta, this factor alone could play a significant role in your decision-making process.
If you have a preference for one type of resistance over the other, this distinction may guide you toward the rower that aligns best with your preferences and goals.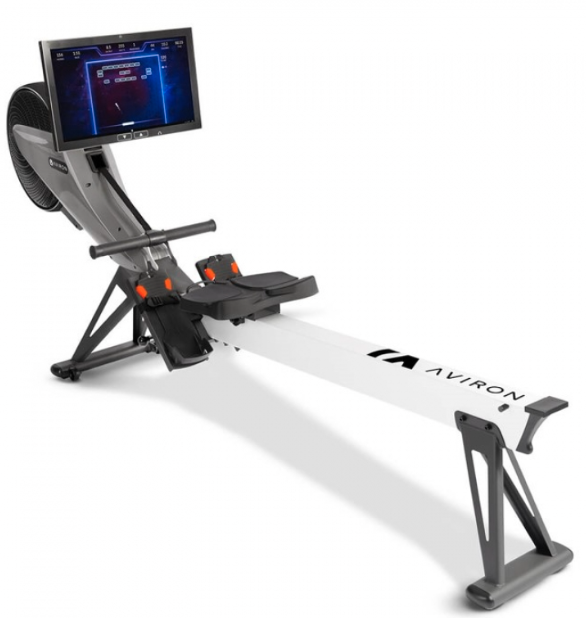 Aviron vs Ergatta – Frame
When evaluating rowing machines, it's important to consider the frame and its durability as well.
We all appreciate the idea of having a stable and robust rower that feels solid during workouts. Fortunately, with both the Aviron and Ergatta rowers, you won't have to worry about stability.
The Aviron Impact Rower boasts an assembled weight of 93 lb and a maximum weight capacity of 397 lb.
For those seeking an even sturdier option, the Tough Series Rower weighs in at 125 lb and can accommodate individuals up to 507 lb. These impressive statistics indicate that the Aviron rowers are exceptionally well-constructed.
During use, the Aviron Impact model occupies a floor space of approximately 97″ x 21″.
It can conveniently fold away for storage, making it ideal for rooms with limited space.
The seat height on both Aviron rowers is slightly higher than that of traditional rowing machines, measuring 20″ from the floor. This elevated height makes getting on and off the Aviron rowers easier on the joints.
The Ergatta also excels in frame construction. The decision to pair Ergatta's software with WaterRower's hardwood rowers was an inspired choice.
WaterRower is renowned worldwide for crafting some of the finest water resistance rowing machines available.
The Ergatta rower, featuring a frame made of American cherry wood, not only delivers exceptional durability but also exudes a gorgeous aesthetic.
The Ergatta has an assembled weight of 76.5 lb without water (103 lb with water) and a weight capacity of 500 lb.
It utilizes a double rail system, which further enhances stability during use. While the Ergatta cannot fold in half for storage, it can be stored vertically to save space.
When in use, the Ergatta occupies approximately 80″ x 23″ of floor space, making it slightly shorter than the Aviron.
Nonetheless, it can comfortably accommodate individuals with up to a 40″ inseam (approximately 6'8″ in height).
Both the Aviron and Ergatta rowing machines are impressively built and designed to withstand heavy use.
However, they differ significantly in terms of appearance and materials used. The Aviron has a more traditional rowing machine look, while the Ergatta showcases a luxurious and artistic cherry wood frame.
Ergatta Rowing Machine vs Aviron Rowers – Warranties
Let's dive into the warranty coverage provided by both the Aviron and Ergatta rowers for residential use.
The Aviron Rowers offer the following warranty:
10 years for the frame.
1 year for parts.
The Ergatta comes with the following residential warranty:
5 years for the frame.
3 years for parts.
1 year for labor.
It's worth noting that while Aviron offers a longer warranty period for the frame, Ergatta's parts warranty is more extensive.
Considering the Ergatta's solid cherry wood frame, it's highly unlikely that you'll encounter any issues with its durability.
Don't forget to register your Ergatta within the first year to be eligible for the above warranty coverage. Failure to register will result in only a one-year warranty for parts.
Both the Aviron and Ergatta warranties also extend to commercial settings.
Which Gamified Rower is Best? Aviron vs Ergatta
Now let's explore the exciting world of streaming experiences offered by the Aviron and Ergatta home rowing machines, both of which incorporate gaming-inspired workouts so that you get a kind of rowing machine video game mash-up.
Ergatta Streaming Experience
The Ergatta rower features a 17.3″ HD touchscreen console that serves as your hub for selecting and viewing rowing workouts and data. The console is compatible with Bluetooth heart rate monitors and headphones, enhancing your overall experience.
With Ergatta, your journey begins with an assessment workout, which allows the software to gauge your skill level. Based on this assessment, the Ergatta tailors your workout intensities to suit your individual capabilities.
Speaking of workouts, Ergatta offers four different ways to engage in rowing:
Push Programs: These workouts are designed to help you achieve specific goals, providing targeted training for desired outcomes.
Interval Workouts: Inspired by high-intensity interval training (HIIT) and endurance exercises, these workouts can be customized based on time, distance, or difficulty.
Races: Get ready for head-to-head competitions against other Ergatta users who possess similar skill levels. While most races are pre-recorded, Ergatta now also offers some exciting live race options.
Scenic Rows: Immerse yourself in the experience of rowing at your own pace while enjoying breathtaking virtual scenery from various locations around the world.
Ergatta constantly releases new workouts on a weekly basis and offers a wide range of group challenges and competitions to keep you motivated and engaged.
It's important to note that Ergatta doesn't provide instructor-led workouts. If having an instructor guide your sessions is something you value, then you will need to look elsewhere.
Aviron Streaming Experience
Prepare to be immersed in a captivating streaming experience with the Aviron rower, which boasts an impressive 22″ HD touchscreen display loaded with all the tech you'd expect.
When it comes to workout themes, Aviron takes gaming to a whole new level.
Their games are delightfully video-gamey, featuring thrilling scenarios like escaping from zombies or evading a giant squid – it's a fun and engaging twist to keep you motivated.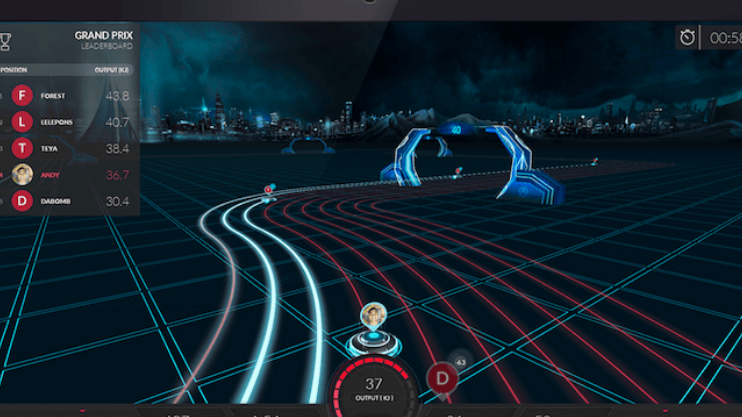 Aviron offers 8 different ways to enjoy their streaming content:
Games: Immerse yourself in interactive video games, where you'll find yourself being chased by various creatures, engaging in cool shooter games, or solving block puzzles.
Entertainment Streaming: Enjoy your favorite streaming services such as Netflix, Hulu, Disney+, Prime, or YouTube while simultaneously tracking your workout metrics.
Power Play: Combine guided workouts with games as you strive to reach your fitness goals. It's a dynamic fusion that keeps your workouts challenging and exciting.
Coached Programs: Aviron's closest offering to instructor-led workouts, these programs are led by trainer Austin, who guides you through diverse workout routines tailored to your goals.
Competitions: Test your skills and race against other Aviron users, adding a competitive edge to your fitness journey.
Guided Workouts: Benefit from expertly designed workouts by Aviron's trainers, helping you achieve specific goals. These workouts encompass both rowing and non-rowing exercises.
Pros vs Joes: Experience the thrill of racing against elite athletes from various sports worldwide, even though it's not in real-time. It's a unique feature that adds an element of excitement to your workouts.
Virtual Rowing: Embark on a freestyle rowing adventure while admiring scenic waterways from different parts of the world, creating a visually captivating and immersive experience.
Furthermore, Aviron's software incorporates social media elements, allowing you to connect with friends, participate in community challenges, explore global leaderboards, and even utilize their matchmaking service.
The inclusion of an entertainment streaming option alongside the wide variety of workout choices sets Aviron apart, elevating your workout experience to new heights. It's a brilliant addition that adds an extra touch of enjoyment and versatility to your fitness routine.
Ergatta Rower vs Aviron Rower: Cost Comparison
Let's talk about the cost of these rowers, is the Ergatta rower cheaper than Aviron rower?
Please note that prices may have changed since the time of writing, but as of now, here's the breakdown:
So, the Ergatta and the Aviron Impact are priced similarly, with the Aviron offering a $200 discount if you sign up for their newsletter, making it quite a good deal.
The Aviron Tough Series Rower is priced around $200 higher than the Ergatta, but they are not far a[art when it comes to price.
When considering the cost, it's important to take into account the monthly streaming fees as well.
To access all of Ergatta's software features, you'll need to pay $29 per month. Aviron's membership also costs $29 per month (or $25 per month if billed annually).
So, in terms of membership costs, both rowers are quite similar once again.
It's worth mentioning that you can still use both rowers without a membership, but you'll have access to manual rowing mode only (though you can still view real-time metrics).
To be honest, purchasing either of these rowers without intending to use the streaming services doesn't make any sense.
The whole point of these machines is the extra benefits that you get from the streaming services so you should factor that cost in as well or look at an alternative if you don't like the idea of an ongoing cost.
Aviron vs Ergatta Rowers – Final Thoughts

In the ultimate showdown between the Ergatta and Aviron rowers, we've explored their unique features and compared them head-to-head.
It's time to make a decision!
Are you a thrill-seeker who craves excitement? Aviron's gaming-inspired workouts and entertainment streaming options will keep you on the edge of your seat.
Picture rowing for your life while being chased by zombies or competing in virtual races against elite athletes from around the world. It's an adrenaline rush like no other!
Or, are you more of a focused individual with specific fitness goals in mind? If so, Ergatta's personalized approach could be your ticket to success.
Their tailored workouts and skill-based intensity adjustments will push you to your limits, helping you achieve your desired results.
Still uncertain?
Take a moment to reflect on what is more likely to get you motivated to actually use your new rowing machine.
Do you crave variety and love the idea of gaming your way to fitness? Aviron has you covered.
Or are you a more seasoned rower seeking a purpose-driven experience? Then Ergatta is the perfect match.
No matter which rower you choose, you're embarking on a journey towards a healthier, fitter you.
So trust your instincts, weigh your options, and get ready to row your way to greatness!


*As an Amazon Associate I earn from qualifying purchases.