Best Rowing Machines for a Heavy Person [2023 In-depth Review]
**We sometimes add affiliate links to our posts which mean we are compensated if you make a purchase after clicking on the links. This helps us offset the costs of running this site.**



Are you in search of the perfect home rowing machine for a heavy person?
If you're carrying some extra pounds but still want to enjoy intense full-body cardio workouts without straining your joints and muscles, a heavy-duty rowing machine is an ideal solution.
However, with so many models available, finding the best rower for overweight people can be a bit challenging.
But worry not, I'm here to help!
After thorough research, I've selected the top-rated and most durable rowing machines that are perfect for heavy people.
I've also put together a useful buying guide to give you a better idea of the most important factors to consider when buying a rowing machine for a heavier person.
Whether you're a serious athlete or just looking for a great workout, we've got you covered. So, let's dive in!
Aviron Strong Series Rower – The Best Rower for Heavy People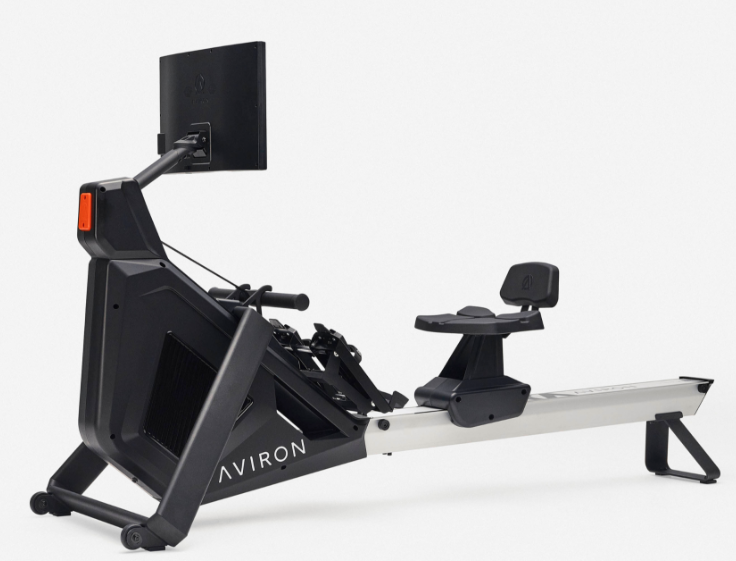 The Aviron Strong Series Rower is one of the best interactive rowing machines you can buy.
With a body made of flat anthracite polymer and supported by a commercial-grade aluminum and steel structure, this rower is designed to withstand heavy-duty use.
Aviron offers a variety of workout options to keep you engaged.
You can choose from interactive games, guided programs, scenic rows, live competitions, and even racing against elite athletes.
The Aviron Strong Rower provides tonnes of opportunities to challenge yourself and maintain motivation.
Honestly, this is what I love about Aviron, there is something for everyone to enjoy when they use this machine, which means that they will actually use this machine!
And that's what it's all about. If you use it you'll get fit and I think you are more likely to use this than most other rowing machines.
The 22″ HD touchscreen console also allows for seamless access to popular streaming entertainment apps (Netflix, Disney+, etc.), which just adds another reason to take up your rowing position.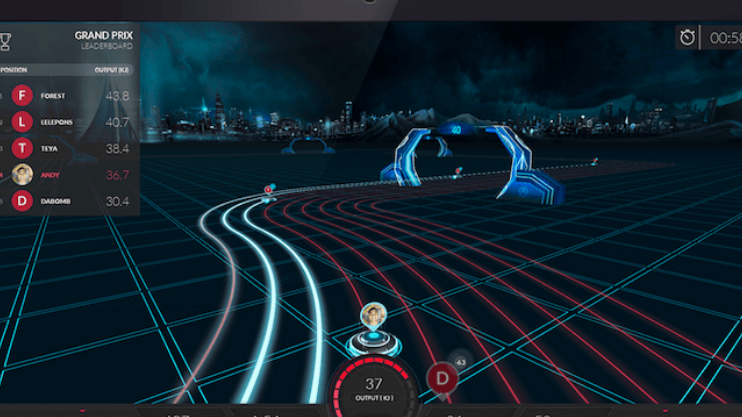 The Strong Rower uses a combination of magnetic and air systems to create resistance, providing a baseline resistance level and adding more resistance as you row faster.
The spinning fan is cleverly designed to provide a cooling effect during workouts but it may generate slightly more noise than a purely magnetic rower.
In terms of build quality, the Strong Rower weighs 114 lbs and can accommodate users up to 507 pounds and 6'8″ in height.
This makes it an ideal choice for heavier rowers as it will provide a super stable and comfortable rowing experience.
If you are looking for a rowing machine with a high weight limit then this definitely fits the bill.
Although it does not fold, it can be stored vertically to save space.
Aviron stands behind the Strong Series Rower with a solid warranty, providing peace of mind for your investment.
Aviron Strong Series Rower combines durability, versatility, and interactive features to deliver an exceptional rowing experience.
With its heavy duty frame, dual-resistance system, and extensive workout options, it caters perfectly for larger individuals seeking a robust and engaging workout routine.
Pros:
22″ HD touchscreen rotating console for convenient viewing
Eight different workout modes, including games, coached programs, streaming options, scenic rows, power play, live competition, guided programs, and Pros vs Joes feature
Heavy-duty frame for added durability
Impressive weight limit of 507 lbs
Low frame height of 10″ for easy access
Comfortable 20″ seat height
Dual resistance system combining magnetic and air systems for versatile resistance options
Sixteen levels of magnetic resistance
Rotating handlebar for natural wrist motion during workouts
Adjustable pedals for customizable foot positioning
Built-in cooling fan for a refreshing workout experience
Compatible with lumbar support attachment for added comfort
Good warranty coverage with a 10-year frame warranty and 1-year parts warranty
Cons:
Needs a good amount of space
Relatively high price point
I love this rower. If you are ok with the price then you should go for it without hesitation.
Concept2 Model D Indoor Rowing Machine
Concept2 RowErg must be one of the best rowing machines for heavy people. Concept2 is well known for its top-quality rowers and this machine can easily cater for the needs of heavy individuals.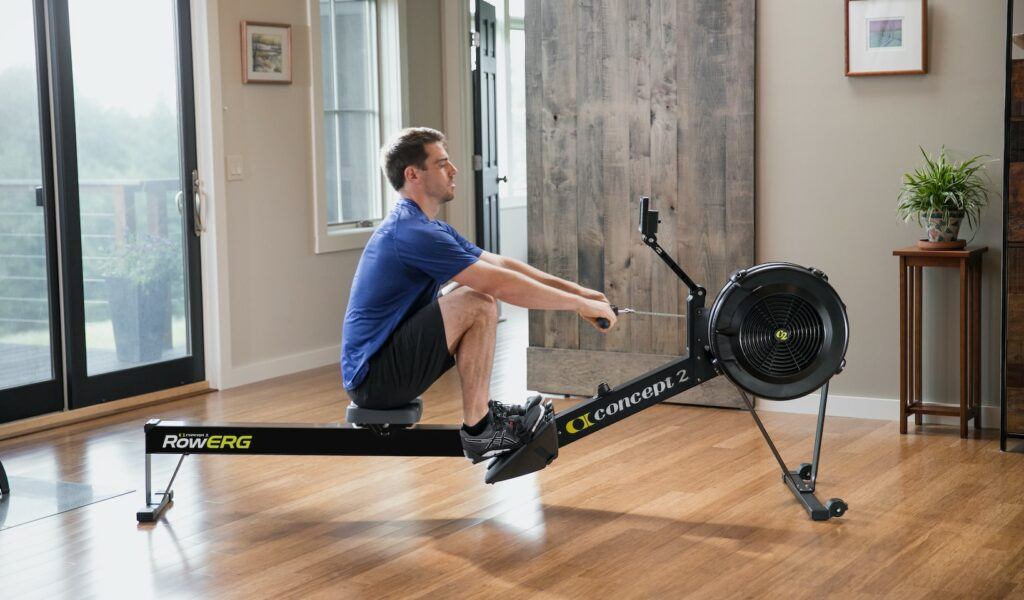 Built with commercial-grade durability, the Concept2 Model D is suitable for both commercial and home use and is designed with an impressive user weight capacity of up to 500 pounds.
Its air-resistance system adjusts to your rowing intensity, making it ideal for users of all fitness levels.
Olympic rowers often use Concept2 rowers, and it is one of the most popular rowers throughout the world.
It's equipped with the advanced PM5 performance monitor, which tracks vital workout statistics and offers features like racing against previous data and guidance on proper form.
There is no touchscreen so you'll not be able to access interactive streamed workouts through the Concept2.
The Concept2 Model D is renowned for its exceptional quality and durability, and is backed by numerous 5-star reviews. Despite its lower price point compared to other options, it doesn't compromise on performance.
With a solid steel frame supporting heavy users up to 500 lb, the Concept2 RowErg is a steal at just under $1k.
Pros:
A heavy duty rowing machine built to last a lifetime
5-year warranty on the frame ensures peace of mind
Easy assembly process for hassle-free setup
The machine can be separated into two pieces, allowing for convenient storage
Exceptional user reviews reflect widespread satisfaction with the product
Cons:
There is no touchscreen or streamed workouts
Hydrow
The Hydrow rowing machine has rightfully earned its reputation as "the Peloton of rowing machines," and it's easy to see why.
Engineered as a heavy-duty fitness equipment, its body is constructed with flat anthracite polymer, supported by a commercial-grade aluminum and steel structure that ensures exceptional durability.
This single piece frame can support a heavy person that weighs up to 375 lb.
When not in use it can be stored vertically so the Hydrow is both sturdy and space-saving.
What sets the Hydrow apart is its computer-controlled electromagnetic drag mechanism, which replicates the sensation of rowing on water.
This innovative technology provides users with a truly immersive and realistic rowing experience.
With state-of-the-art features, the Hydrow rower takes you on an unrivaled journey through its "Live Outdoor Reality" workouts, combining diverse workout options, stunning visuals, and interactive elements that make each session truly one of a kind.
One of the standout aspects of the Hydrow is its ability to turn mundane workouts into exciting experiences.
It engages you from day one and keeps you motivated even during those dull workout days.
For individuals aiming to lose a significant amount of weight, maintaining a regular rowing routine is crucial, and the Hydrow's ability to transform the ordinary into something captivating is undeniably advantageous.
But the Hydrow is not just about offering the most advanced rowing machine on the planet. They also give back, with every Hydrow workout contributing towards a donation to water.org, a foundation that provides access to clean water around the world.
The Hydrow rowing machine offers a remarkable combination of performance, technology, and immersive workout experiences.
With its durable build, realistic rowing feel, and cutting-edge features, it is a standout option for fitness enthusiasts, particularly heavy individuals seeking a transformative fitness journey.
Sure, the Hydrow isn't cheap, but if you're looking for the ultimate rowing machine with a touch of luxury, then the Hydrow is definitely worth the investment.
So what are you waiting for? Get ready to row your way to a healthier and happier you!
Pros:
Exceptional build quality and heavy-duty construction
Computer-controlled electromagnetic drag mechanism for a realistic rowing experience
"Live Outdoor Reality" workouts provide diverse options and stunning visuals
High-tech features, including a 22-inch HD touchscreen and live on-demand workouts
Dynamic online team support enhances the overall experience
Suitable for heavy individuals, including those who are morbidly obese
Cons:
The machine's weight may make it challenging to move or store
Premium price point compared to traditional rowing machines
(Psssst – The Hydrow Wave, is a cheaper, nearly as good, lighter, more colorful and foldable rowing machine)
WaterRower Club Rowing Machine with S4 Monitor
The WaterRower Club Rowing Machine is a beautifully crafted machine that can accommodate even a very heavy person.
The WaterRower Club combines the elegance of an ash wood structure with a durable metal slide rail, all powered by a water flywheel resistance system.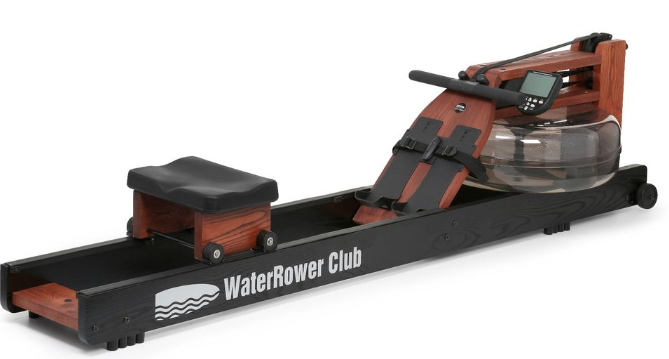 This innovative design ensures a smooth and quiet stroke with the soothing sound of water, while the ash wood construction absorbs any remaining noise.
Equipped with a Series 4 performance monitor, this rowing machine tracks essential workout metrics such as intensity, stroke rate, and heart rate, among others. With its full-motion design, every stroke engages your entire body, delivering a comprehensive workout experience.
Despite its lightweight nature, weighing only 117 lb, this rowing machine can be conveniently stored upright, saving space in your home.
Don't be fooled by its compact size, as it boasts an impressive maximum weight capacity of 1,000 lb, making it one of the sturdiest rowing machines available.
This high maximum user weight capacity makes it a good rowing machine for overweight people and one of the best rowing machines for obese people.
With several finishes available at different price points, the WaterRower Club Rowing Machine is a fantastic option for heavy people looking to bring the experience of rowing on the water into their home gym.
Pros:
Aesthetically pleasing design adds elegance to your space
Upright storage for convenient space-saving
Effective resistance system for versatile workouts
Provides a realistic rowing experience
High weight capacity of up to 700 pounds, ideal for heavy users
Cons:
Not foldable, which may require dedicated storage space
The water tank may need to be replaced over time, depending on usage and age of the rower
Merax Water Rowing Machine
If you're seeking the authentic feel of rowing with the serene sound of water, the Merax Water Rowing Machine is an excellent option at a low price.
This machine has been designed with durability in mind and has been made from high-quality steel.
The adjustable footrests with Velcro straps offer added comfort and security, reducing the risk of slips or falls during your workout.
The ergonomically designed handlebars and well-padded seat ensure a comfortable exercise experience, even for larger rowers on extended sessions.
The Merax rower provides eight different resistance levels that are easily adjustable, allowing you to customize your workout intensity.
The LCD monitor conveniently tracks your progress by displaying essential metrics such as time, distance, calories burned, and more.
With a simple button press, you can effortlessly start or stop this reliable rowing machine. Additionally, built-in transportation wheels facilitate easy movement of the equipment from one location to another.
Pros:
330-pound user weight capacity
Low noise operation for a peaceful workout environment
Foldable design for convenient storage
Option for heart rate monitoring
Ergonomic handles and comfortable seat for enhanced comfort during workouts
Cons:
Warranty period could be improved
The LCD monitor lacks LED backlighting, which may affect visibility in low-light conditions
The Merax Water Rowing Machine combines the tranquility of water rowing with a durable build. With adjustable resistance levels, user-friendly features, and a comfortable design, it provides an enjoyable and effective workout experience.
It's one of the cheapest rowing machines for heavy users on this list so although the warranty period could be better and the LCD monitor lacks LED backlighting, it is still a quality rowing machine that represents great value.
Echelon Smart Rower
Echelon's Smart Rower offers a budget-friendly option for heavy rowers who want to enjoy the benefits of streaming rowing workouts without breaking the bank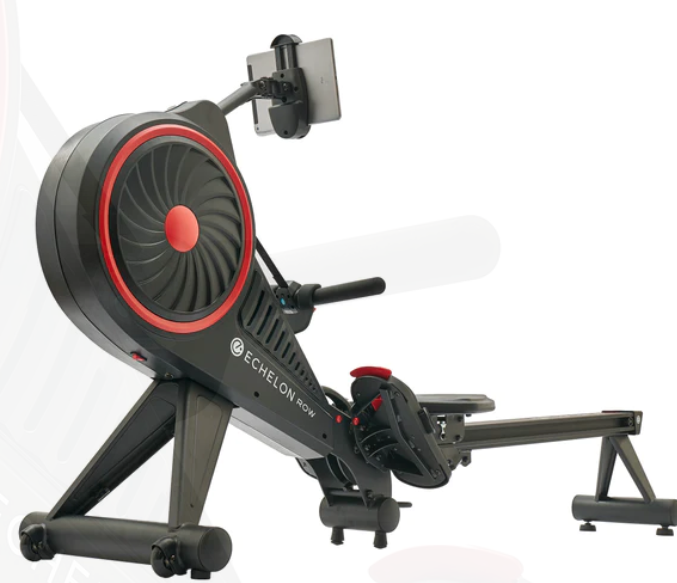 Unlike other high-tech machines, the Smart Rower allows you to use your own device as a console, which saves you a lot of money (if you prefer a built-in display, Echelon's got you covered with their Row-S model).
This magnetic rower is more traditional, without any fancy computer-controlled systems or dual-resistance mechanisms. You simply choose one of the 32 resistance levels and start rowing.
And with the resistance controls conveniently located on the handle, you can adjust your intensity on-the-go without disrupting your flow.
The Smart Rower features a sturdy frame that can support users up to 300 lbs.
It is solidly built and heavy people will feel confident rowing on this machine without it getting wobbly.
One plus point if you are short on space is that this is a foldable rowing machine that can be stored easily.
Echelon's streaming app is available for on-demand workouts and stats, plus it has Spotify integration if you like to work out with some music.
It costs $30 per month but there are discounts if you buy a year or two years subscription which brings it down to the equivalent of $20 per month.
The only downside to this rower is its warranty, which is relatively short. But if you're looking for a budget-friendly option to access streaming rowing workouts, Echelon's Smart Rower is definitely one of the best rowers for a heavy person on the market.
Key Considerations When Choosing a Heavy-Duty Rowing Machine for Heavy Individuals
Weight Capacity
When searching for a rowing machine for heavy people, pay close attention to the max weight capacity.
Many average-quality rowers can only support up to 250 pounds due to their construction with cheaper materials.
However, for heavy people, it's important to opt for a heavy-duty rower that can handle at least 300 pounds—the standard rowing machine weight limit. This ensures a safe and secure workout experience.
Track Length
If you're tall and in need of a rowing machine, consider the track length as a crucial factor.
While rowing is an excellent choice for taller individuals, most rowers aren't specifically designed to accommodate their height.
Finding a rowing machine with an appropriate track length can be tricky since manufacturers often don't display this information alongside resistance levels and other specifications.
Warranty
Although the warranty period for rowing machines designed for home gym use may not be as extensive as those for commercial models, having a warranty is still essential.
Look for high-quality rowers that boast sturdy frames and construction, as they typically offer longer warranty coverage.
Before making a purchase, ensure that the company provides no less than 3-5 years of warranty, giving you peace of mind and protection for your investment.
Type of Resistance
Rowing machines come in various types of resistance: magnetic, air, water, hydraulic, or a combination of these.
Hydraulic resistance rowers are often the more budget-friendly option, but they can generate heat during longer workouts.
Water rowers mimic the natural rowing experience and offer exceptional durability.
Air rowers may produce some noise, but they provide increased resistance for improving stamina. Magnetic rowers may not replicate the exact feel of rowing (except the Hydrow and Hydrow Wave), but they still offer a physically demanding workout.
Dimensions
If you've only got a small space but still want to invest in a rowing machine, consider opting for a foldable model that offers space-saving capabilities. Another option is to choose a fixed frame rower that is compact and occupies less floor area or one that can be stored vertically.
Other Considerations
In addition to the above, there are a few other important features to keep in mind. Check the seating size, grip, and handlebars to ensure a comfortable rowing experience that accommodates a larger body type.
A well-lit monitor with clear displays of essential metrics such as calories burned, workout time, and speed is invaluable for tracking your progress and making improvements as needed.
You will also need to consider whether you want a basic rowing machine or one with a nice touchscreen and streamed workouts and even games to help you stay motivated and get the most out of your machine.
Final Thoughts
In conclusion, if you're a heavy person looking for a reliable and effective rowing machine, then any of the rowers on this list will do you proud.
My top pick is the Aviron Strong Series Rower which impresses with its heavy-duty frame, dual-resistance system, and versatile workout options.
Whether you're craving interactive games, guided programs, or live competitions, the Aviron Strong has got you covered. With its huge weight limit, the Strong is perfect for larger rowers.
Remember, investing in a rowing machine is not just about losing weight or building strength; it's about embarking on a journey toward a healthier lifestyle.
So, choose the rowing machine that resonates with you, provides the necessary features, and brings joy to your fitness routine.
Take the first step towards a fitter and stronger version of yourself with one of the best rowers for heavy people.
Best Rowers for Heavy People – Frequently Asked Questions
Can obese people benefit from using a rowing machine?
Yes, rowing machines are highly effective for weight loss, making them a great choice for obese individuals looking to shed excess pounds.
However, it is important for people who are overweight or obese to consult with their physician before starting a rowing program, as they may have other medical conditions that need to be taken into consideration.
Once cleared by their doctor, it is advisable for obese individuals to seek guidance from a rowing coach or fitness instructor to ensure they are rowing correctly and safely.
Do rowing machines have weight limits?
Yes, rowing machines have weight limits that indicate the maximum user weight they are designed to support.
It is crucial for your safety to never exceed the weight capacity recommended by the manufacturer. Always choose a rowing machine with a weight capacity higher than your own weight to ensure stability and proper functioning of the equipment.
Can a rowing machine help with weight loss?
Absolutely, rowing machines are highly effective for weight loss. To achieve weight loss goals, it is recommended to engage in cardiovascular workouts that elevate your heart rate to around 70%-85% of its maximum capacity and maintain this level for at least 20 minutes.
When performed correctly, rowing can burn up to 900 calories per hour, making it an excellent exercise for weight loss.
For optimal results, it is essential to combine rowing workouts with a balanced and healthy diet to support your overall fitness and weight loss journey.
You May Also Like


*As an Amazon Associate I earn from qualifying purchases.