NordicTrack RW700 Review [2023] A Mid-priced Bargain?
**We sometimes add affiliate links to our posts which mean we are compensated if you make a purchase after clicking on the links. This helps us offset the costs of running this site.**



Let's do a NordicTrack RW700 Review. It's NordicTrack's mid-range rower, but is it any good?
If you're on the hunt for a rowing machine that has a bunch of features but an affordable price tag, then look no further than the RW700.
The NordicTrack RW700 brings together the standout features and specifications of the lower-end RW600 and the higher-end RW900, to deliver a power-packed performance that'll leave you in awe.
But is it the best of both worlds and a bargain machine or a compromise too far?
In this comprehensive NordicTrack RW700 Review, we'll dive deep into everything you need to know about the RW700.
Not only that, but we'll also compare it to NordicTrack's other rowers, allowing you to see how it stacks up against the competition.
By the time you're done reading, you'll have a crystal-clear understanding of whether the RW700 is the perfect fit for your fitness journey.
NordicTrack RW700 Review
NordicTrack, a highly respected brand with a long-standing history and a multitude of satisfied customers, has made a name for itself in the fitness industry over the past few decades.
What sets NordicTrack apart is its extensive range of cardio and strength training products, all of which are now iFit compatible.
This makes NordicTrack an excellent choice for fitness enthusiasts who enjoy streaming workouts, but it may not hold the same appeal for those who prefer alternative approaches to training.
Now, let's focus on NordicTrack's rowers. In their current lineup, you have three options to choose from: the high-end RW900, the entry-level RW600, and the model we're here to discuss in detail—the RW700, positioned right in the middle of the pack.
As of the time of writing, the RW700 is priced at approximately $1300, offering a compelling balance between features and affordability.
NordicTrack RW700 Review – Quick Verdict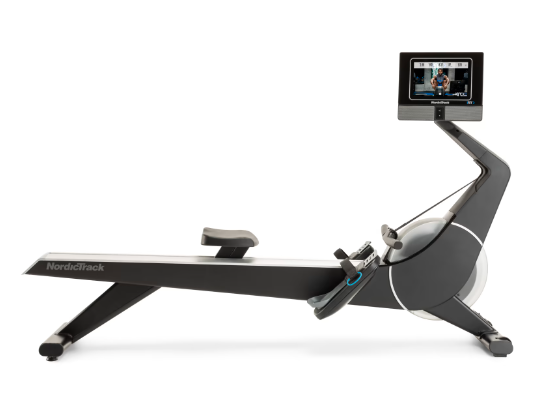 Pros:
Impressive 10″ HD touchscreen console
Smooth and quiet magnetic resistance system
Offers 26 levels of resistance for versatile workouts
iFit ready for access to a wide range of interactive training programs
Supports Automatic Trainer Control feature through iFit
Bluetooth headphone compatibility for a personalized audio experience
Large and adjustable pivoting pedals for comfortable and secure footing
Stylish and sleek design that enhances any workout space
Easy assembly process for hassle-free setup
Backed by a solid warranty for added peace of mind
Cons:
Lacks folding capability for compact storage
Weight capacity is limited to 250 lb, which may not accommodate heavier individuals
NordicTrack RW700 Resistance System
When it comes to rowing machines, they can be categorized into four main styles based on the type of resistance they employ.
This classification can be quite helpful when deciding which one suits you best: hydraulic, magnetic, air, and water. Well, if we're being technical, there's actually a fifth style that combines magnetic and air systems.
For now, let's focus on the RW700, which falls into the classic magnetic rower category, and skip discussing the other types.
If you're interested in learning more about different rowing machine styles, feel free to check out my comprehensive guide to the best rowing machines.
As a magnetic rower, the RW700 utilizes a spinning flywheel and a series of magnets to create resistance.
This system is similar to what you find in most indoor cycles and offers several benefits.
One notable advantage is that you experience consistent resistance regardless of how hard you pull, and magnetic rowers are nearly silent.
However, it's important to note that magnetic rowers don't provide the same level of realism as air or water rowers.
Nevertheless, the RW700 compensates with its impressive offering of 26 digital resistance levels, giving you extensive control over the intensity of your workouts.
Both the RW700 and the higher-end RW900 feature the same nearly silent magnetic resistance system with 26 levels.
On the other hand, the RW600 employs a magnetic/air combination system.
While the combo system provides some benefits from both types of resistance, it doesn't offer the full advantages of either.
With the RW600, you get the consistent minimum resistance of the magnetic system, but as you pull harder, you also experience additional resistance from the air system. However, due to the presence of the fan, the RW600 won't operate as quietly as a purely magnetic rower.
This means that there are significant differences between the RW600 and the RW700 in terms of their resistance systems, but the RW700 shares the same system as the RW900.
Overall, the RW700 excels with its smooth and quiet magnetic resistance system, and the 26 resistance levels provide you with ample options to challenge yourself during workouts.
NordicTrack RW700 Rower Review: Frame
The new RW700 immediately catches the eye with its sleek frame design. By removing the fan and damper system, this rower elevates its style game.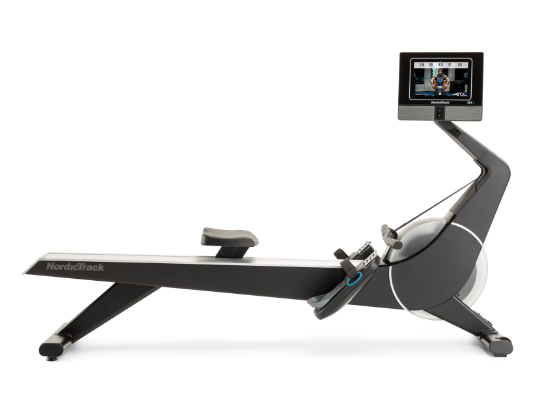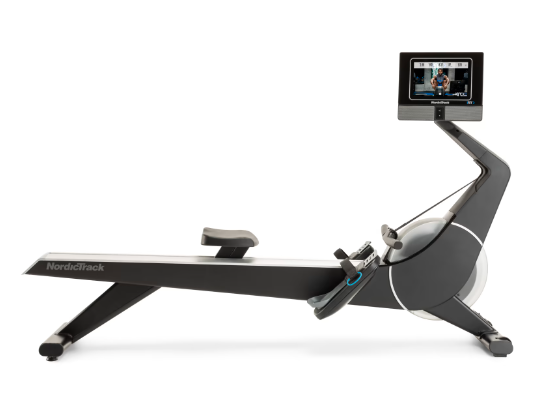 However, there are other essential factors to consider when evaluating its frame.
First and foremost, unlike the RW600, the RW700 does not offer folding capability.
This means you need to ensure you have sufficient space to keep the rower fully displayed even when it's not in use. While the lack of folding may pose a challenge for homes with limited floor space, it also contributes to a sense of enhanced stability and security.
It's worth noting that the RW700 has an in-box weight of 146 lb. Although the precise assembled weight is not specified, it is likely to exceed 100 lb, which indicates its heavy-duty construction for a home rower.
For comparison, Concept2's renowned RowErg weighs approximately 60 lb.
Personally, I appreciate a heavier rower, as the added weight should minimize movement and ensure stability during workouts.
With its substantial assembled weight, the RW700 is unlikely to cause any concerns in this regard.
However, it's important to highlight that the RW700 has a weight capacity limit of only 250 lb, which is surprisingly low.
Most high-quality rowers typically offer a weight capacity of at least 300 lb, with some even accommodating up to 500 lb.
Considering that the RW700 is a non-folding rower (all of NordicTrack's rowers have the same 250 lb weight limit), one might expect a higher weight capacity.
If you fall within the specified limit, there should be no issues, but individuals who exceed this threshold may need to explore alternative options for their rowing needs.
Lastly, the RW700 is a full-length rower, occupying slightly over 7 feet of floor space. Therefore, it is essential to ensure you have sufficient room available before making a purchase.

NordicTrack Rower RW700 review: Features
The NordicTrack RW700 Rower is packed with the following features:
10″ HD Touchscreen Console: The rower boasts a spacious console that, although smaller compared to other NordicTrack models, provides ample screen real estate. It can pivot for easy viewing off the rower and includes upgraded speakers for enhanced sound quality.
iFit Compatibility: The rower's touchscreen console allows seamless integration with iFit, NordicTrack's streaming platform. With iFit, you gain access to an extensive library of instructor-led workouts, both on and off the rower. Enjoy scenic rows, track your metrics, and more. You receive a complimentary 30-day iFit membership upon purchase, followed by a monthly subscription fee of $39.
Automatic Trainer Control: A notable iFit feature, Automatic Trainer Control enables the rower's resistance to automatically adjust based on the instructions provided by the instructors. However, if you prefer manual control, you can always make your own resistance adjustments.
Bluetooth Compatibility: The console supports Bluetooth connectivity, allowing you to pair your rower with compatible headphones for a more private and immersive workout experience.
Pivoting Pedals: Designed with comfort in mind, the rower features large pedals that pivot slightly during use. This mechanism enhances ankle comfort and ensures a smoother workout session.
Comfortable Handle: The rower's handle is ergonomically designed with a gentle bend and cushioning, providing a comfortable grip during your rowing sessions.
Contoured Seat: For added comfort, the seat is contoured to provide a better fit and support while rowing.
These features combine to enhance your overall rowing experience, making the RW700 NordicTrack rower a feature-rich option for your fitness journey.
NordicTrack RW700 Review: Assembly
When it comes to assembling the NordicTrack RW700 Rower, you can breathe easy as the process is straightforward and hassle-free.
The rower's design includes a single-piece rail, eliminating the need for connecting or attaching the rail to the main frame. This simplifies the assembly.
Your primary tasks will involve attaching the front and rear stabilizers, connecting the pedals, attaching the console, and sliding the seat onto the oversized steel seat rail. You'll need to secure a few covers in place, and that's essentially it.
To assist you during the assembly process, NordicTrack provides the BILT app. Using this app, you can easily follow step-by-step instructions for seamless assembly.
Overall, assembling the RW700 should be a breeze, allowing you to get up and running with your rowing workouts in no time.
NordicTrack RW700 Review: Warranty
The NordicTrack RW700 Rower comes with a comprehensive home warranty that provides peace of mind. The warranty coverage for this rower includes:
10-year frame warranty: NordicTrack stands behind the durability and quality of the rower's frame with an impressive 10-year frame warranty. This extended coverage surpasses the industry standard, as many other brands typically offer 5-year warranties for frames.
2-year parts warranty: The RW700 is backed by a solid 2-year warranty for its parts. Compared to the 1-3 year warranties offered by most other brands, this warranty duration provides added assurance for the longevity and reliability of the rower's components.
1-year labor warranty: NordicTrack's warranty includes a standard 1-year coverage for labor. This aligns with the industry norm, ensuring any potential labor-related issues are addressed within the initial year of ownership.
Overall, the warranty package for the RW700 is pretty decent.
NordicTrack consistently utilizes this warranty coverage across its product line, and in the case of the RW700, it is a fitting choice.
The 10-year frame warranty, combined with the 2-year parts warranty, demonstrates the brand's confidence in their product's durability and longevity.
Final Thoughts on the NordicTrack RW700
I hope that you have enjoyed reading this NordicTrack RW700 rowing machine review.
The NordicTrack RW700 is a fantastic rower that offers a range of impressive features.
If you value a smooth and quiet rowing experience, the magnetic resistance system will not disappoint. Despite its lower weight limit, the rower is built to be sturdy and durable, with a sleek one-piece rail design.
One of the key highlights of the RW700 is its similarity to the higher-priced RW900 model. By choosing the RW700 with its smaller screen, you can enjoy significant cost savings while still receiving a comparable performance.
Overall, the RW700 is an excellent choice for individuals seeking a budget-friendly option for streaming workouts.
With its combination of affordability and features, this rower offers a compelling option for those looking to enhance their fitness journey.


*As an Amazon Associate I earn from qualifying purchases.